It's a new season, a new era, a new design, and we're back to football with fans. It's time to pick some football games in the shortest way possible.
Previous one sentence predictions: 2010 | 2011 | 2012 | 2013 | 2014 | 2015 | 2016 | 2017 | 2018 | 2019 | 2020
Now let's see how 2021 will go…
Sept. 4 – Akron – The Bryan Harsin era gets off to an exciting start with a fresh offense and a fresh Bo Nix throwing 4 first half touchdowns to 3 different receivers and a nasty defense that feeds on a MAC doormat.
Worry level: 2. Score: Auburn 42, Akron 3
Sept. 11 – Alabama State – The talent difference is too much and it shows with both Bo Nix and TJ Tinley running and throwing for two scores a piece while Tank adds two more.
Worry level: 1. Score: Auburn 52, Alabama State 0
Sept. 18 – at Penn State – The white shirts and shakers only scare Big Ten opponents and prove to be no problem for Smoke Monday as he takes a pick-six to the house to start the game.
Worry level: 8. Score: Auburn 27, Penn State 17
Sept. 25 – Georgia State – The Panthers will drive down I-85, take their beating, take their check, and add some football upgrades to Turner Field.
Worry level: 3. Score: Auburn 38, Georgia State 7
Oct. 2 – at LSU – The stupid, dumb, ridiculous, inconceivable curse is finally lifted as Auburn goes to Baton Rouge and beats LSU so badly that TJ Finley gets in to put one late touchdown on his old team.
Worry level: 6. Score: Auburn 35, LSU 21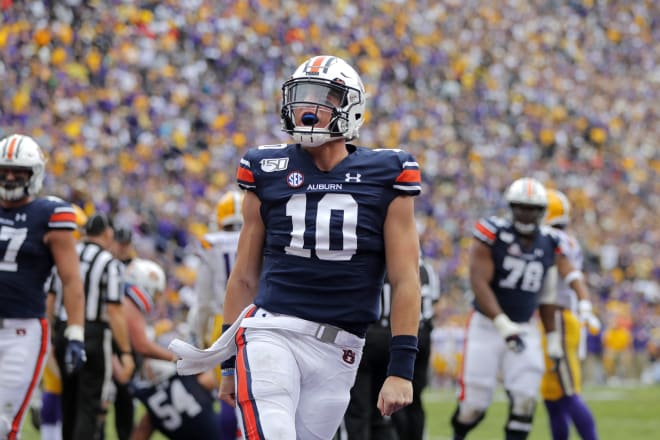 Oct. 9 – Georgia – Coming off a huge win, Auburn gives Georgia their 2nd loss, in another deserved beating of consistently overhyped rivals.
Worry level: 7. Score: Auburn 24, Georgia 20
Oct. 16 – at Arkansas – This one feels stupid.
Worry level: 8. Score: Auburn 32, Arkansas 30 (5OT)

Oct. 30 – Ole Miss – With students back in the stadium, Lane Kiffin can't keep his head out of the stands long enough to call a play.
Worry level: 5. Score: Auburn 41, Ole Miss 21
Nov. 6 – at Texas A&M – One day I'll stop being scared of playing in College Station, considering Auburn has never lost there, but this one will be close and could determine who wins the SEC West.
Worry level: 9. Score: Auburn 21, Texas A&M 20
Nov. 13 – Mississippi State – The Maroons will be staring down loss #8 by the time this one rolls around, as Tank scores 7 touchdowns to take his position coach's record.
Worry level: 3. Score: Auburn 49, Mississippi State 13
Nov. 20 – at South Carolina – With the gift of playing in Columbia for the 2nd year in a row, Auburn avenges last year's very dumb loss with Mike Bobo putting a beatdown on his former team. 
Worry level: 4. Score: Auburn 38, South Carolina 10
Nov. 27 – Alabama – An Iron Bowl in Auburn with a new coach and a stacked roster?
Worry level: 10. Score: Auburn 34, Alabama 30
Now give me your predictions and/or tell me how smart I am in the comments section below.