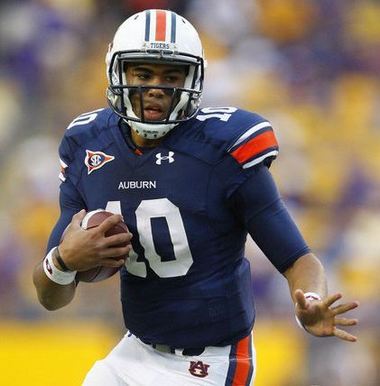 In 2010, I predicted that Auburn would go 11-0 in the regular season with a toss-up against Alabama. Auburn went 12-0 in the regular season. In 2011, I predicted that Auburn would go 9-2 in the regular season with a toss-up against Alabama. Auburn went 7-5 in the regular season.
So what does that mean? It means that I should not and will not predict an Auburn loss ever again. You gonna argue with me? I'm 18-4 over the last two seasons. Seriously, though, I really like this schedule. All the tough ones at home (besides the Iron Bowl) gives Auburn a decent shot to win them all. Here's how I think it will go as of right now, before we've seen a snap of football.
Sept. 1 – Clemson (Georgia Dome) – Kiehl Frazier will show the world why he was such a highly sought after recruit as Clemson returns to their rightful place in the land of overhype and ACC football.
Worry level: 8. Score: Auburn 31, Clemson 23.

Sept. 8 – at Mississippi State – The cowbells won't ring quite as loud at 11 am, but will be enough to make this one a slight defensive battle.
Worry level: 5. Score: Auburn 21, Mississippi State 14.
Sept. 15 – UL-Monroe – The first home game of the season will bring some extra excitement to an otherwise boring opponent.
Worry level: 1. Score: Auburn 41, UL-Monroe 10.
Sept. 22 – LSU – LSU's first road game and first tough opponent (no, Washington is not tough) will be more than Mettenberger will be able to handle.
Worry level: 9. Score: Auburn 17, LSU 14.
Oct. 6 – Arkansas – A normally high worry level took a back seat when Jessica sat on the back seat of Petrino's hog, but the passing game will still be scary.
Worry level: 7. Score: Auburn 35, Arkansas 31.
Oct. 13 – at Ole Miss – Just because Auburn should dominate Ole Miss, they probably won't, as the Rebel Black Bears hold on until the Auburn running game takes over in the 4th.
Worry level: 3. Score: Auburn 34, Ole Miss 17.
Oct. 20 – at Vanderbilt – Vanderbilt could be 1-5 at this point, or they could have a few upsets under their belt, but they won't beat Auburn in Nashville this time.
Worry level: 5. Score: Auburn 27, Vanderbilt 13.

Oct. 27 – Texas A&M – The Aggies' first trip to Jordan-Hare won't be a good one, as the Tigers start to take back the series (currently 0-2).
Worry level: 6. Score: Auburn 38, Texas A&M 21.
Nov. 3 – New Mexico State – More Aggies come to the Plains and leave with with their… whatever Aggies can put between their legs.
Worry level: 1. Score: Auburn 45, New Mexico State 7.
Nov. 10 – Georgia – Aaron Murray sees Nick Fairley on the side of the stadium, goes into shock, and the backup takes a beating.
Worry level: 8. Score: Auburn 28, Georgia 24.
Nov. 17 – Alabama A&M – I wonder if they'll let me play quarterback in the 2nd half.
Worry level: 0. Score: Auburn 52, Alabama A&M 0.

Nov. 24 – at Alabama – I don't know why I'm always so worried about Auburn playing in Tuscaloosa given the lopsided record.
Worry level: 10. Score: N/A.
Now call me a Barner homer. Bring it.