As I've done since 2010 — my only perfect year (see a pattern?) — I will keep this short and sweet and predict all of Auburn's 2017 games with one soothsaying sentence each. Here's why: people used to read, then that took too long. Then people tweeted, but now 140 characters is too much for some people. Now we just like looking at pictures. Well I'm not posting pictures for each game prediction, so you think you can maybe read a sentence, you dolts?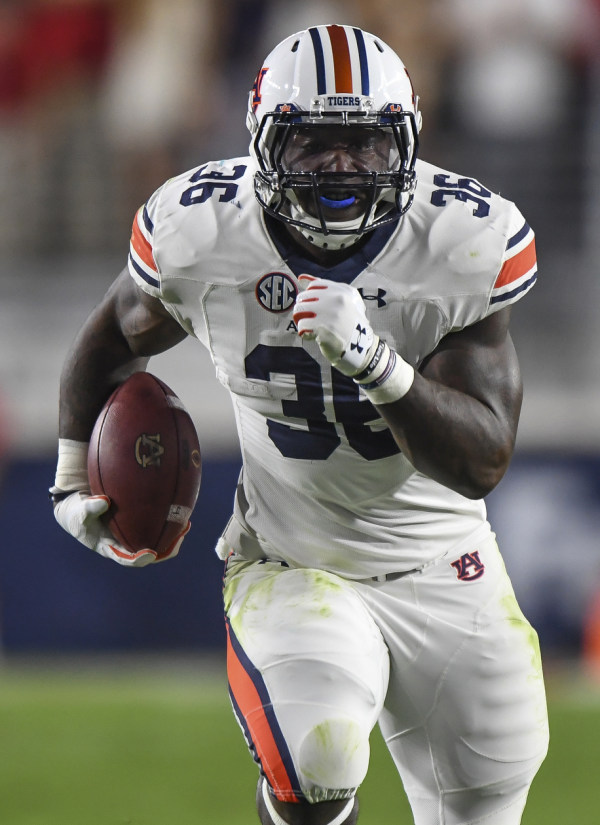 – In 2010, I predicted that Auburn would go 11-0 in the regular season with a toss-up against Alabama. Auburn went 12-0 in the regular season.
– In 2011, I predicted that Auburn would go 9-2 in the regular season with a toss-up against Alabama. Auburn went 7-5 in the regular season.
– In 2012, I vowed to never pick another Auburn loss because of the results of 2010. I did just that and Auburn won 3 games. ¯\_(ツ)_/¯
– In 2013, I went less homer, but maybe full homer, and picked a 9-2 regular season with a toss-up against Alabama, and the Tigers went 11-1.
– In 2014, I picked Auburn to go 11-0 in the regular season with a toss-up against Alabama. Auburn went 7-4 in the regular season. Maybe I should stop picking undefeated seasons.
– In 2015, I bought into the hype that never came to fruition. What are you gonna do? Everybody believed, then 3 little things (Duke, Jeremy, Carl) happened, and the season wasn't what we wanted.
– In 2016, I went with mathematical logic, and it got me closer to 100% than most people. Four losses wasn't bad, but it wasn't great. The middle of the season kept me alive, though.
Now let's check my approach for 2017…
Sept. 2 – Georgia Southern – A weird offense to shake off the rust against might keep this one close for a quarter, but the new shiny quarterback shows what he's made of in front of a bright-eyed crowd.
Worry level: 3. Score: Auburn 41, Georgia Southern 10
Sept. 9 – at Clemson – A little 2011 revenge is exacted as a plug-and-play defensive eats Clemson's new quarterback alive, while showing the nation that these aren't your 2016 tigers (in both cases).
Worry level: 8. Score: Auburn 28, Clemson 17
Sept. 16 – Mercer – Auburn shows no mercy on Mercer in front of an early Homecoming crowd, while Sean White uses the 2nd half to show that he can still play, too.
Worry level: 1. Score: Auburn 56, Mercer 3
Sept. 23 – at Missouri – Auburn's first trip to Missouri will start shaky before the ground game reminds the home crowd of the 2013 SEC Championship Game
Worry level: 4. Score: Auburn 45, Missouri 20
Sept. 30 – Mississippi State – Mullen's tall, running quarterback gives Auburn fits for a half before Tre Williams and Deshaun Davis combine for 22 stops in the 2nd half.
Worry level: 6. Score: Auburn 31, Mississippi State 14
Oct. 7 – Ole Miss – The Rebels have all but given up at this point while Auburn runs for 400 yards and Jarrett Stidham throws for 250.
Worry level: 4. Score: Auburn 49, Ole Miss 21
Oct. 14 – at LSU – The Guice is not loose as Auburn finally ends the Baton Rouge streak with a hardnosed defensive effort and a gritty ground game.
Worry level: 8. Score: Auburn 31, LSU 24

Oct. 21 – at Arkansas – Twelve Arkansas fans show up to hold up anti-Bert signs as the Hawgs limp to another big loss to Gus.
Worry level: 5. Score: Auburn 38, Arkansas 14
Nov. 4 – at Texas A&M – For the second year in a row, Auburn gets another coach fired behind Jarrett Stidham's four touchdown performance, one of those on a 20-yard scamper. 
Worry level: 7. Score: Auburn 34, Texas A&M 13
Nov. 11 – Georgia – The Dawgs don't score an offensive touchdown, but this time Auburn is able to overcome with six offensive touchdowns of their own.
Worry level: 9. Score: Auburn 45, Georgia 12

Nov. 18 – UL-Monroe – The team that beat Nick Saban ain't walkin' through that door!
Worry level: 1. Score: Auburn 48, UL-Monroe 10
Nov. 25 – Alabama – With a spot in the SEC Championship Game on the line, Auburn makes it a little bit easier than 2013 as Kamryn Pettway wears down the Alabama defense.
Worry level: 10. Score: N/A
Oops, I did it again. I played with your heart. Now you'll get infuriated that I picked Auburn to win all their games. Oh baby, baby.
As I said last year, Auburn will have a winning record, so picking them to win them all just makes mathematical sense. I am ensured a high percentage. Smart.
Now give me your predictions and/or tell me how smart I am in the comments section below.