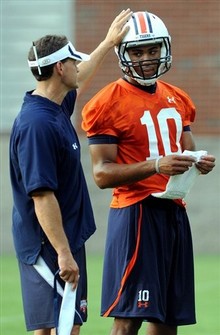 When I tried this out last year, I ended up 14-0 in my predictions. Who would have thought that being "such a homer" would ever make me look like I knew what I was talking about? Plus, and I don't mean to brag (yes I do), the accuracy of some of the details I predicted was downright scary.
So in an attempt to replicate everything I did before last season to keep the good mojo going, I guess I'll predict how things will turn out this year. I'm not as nice this time around, but I think it's probably more positive than most are predicting. I just hope we'll win one game, don't you? I mean with a team full of random students they just pulled off the concourse…
Sept. 3 – Utah State – Auburn shakes off the rust and gets many newcomers some much needed real game experience in a slow 1st half/dominant 2nd half victory.
Worry level: 2. Score: Auburn 42, Utah State 13.
Sept. 10 – Mississippi State – The Tigers remind the "surging" Bulldogs that they are still from Mississippi State in a confidence-boosting, but very hard fought win.
Worry level: 5. Score: Auburn 27, Mississippi State 17.
Sept. 17 – at Clemson – Both teams are almost completely different than last year's version, but the drop off was much less for Auburn, so the good Tigers will eek out their first road win.
Worry level: 7. Score: Auburn 24, Clemson 20.
Sept. 25 – Florida Atlantic – By halftime, Auburn will be more worried about Schnellenberger returning the 1983 National Championship trophy to its rightful owner.
Worry level: 1. Score: Auburn 49, FAU 10.
Oct. 1 – at South Carolina – The Gamecocks are not the better program, but will beat the defending national champion in Columbia in the 5th game of the season for the second year in a row.
Worry level: 9. Score: South Carolina 31, Auburn 21.
Oct. 8 – at Arkansas – Tyler Wilson is not as good as everyone thinks he is, but he'll be good enough on this day.
Worry level: 8. Score: Arkansas 34, Auburn 24.
Oct. 15 – Florida – Barrett Trotter does his best Tim Tebow impression for the rebuilding Gators as the Tigers beat Florida for the third straight time in Jordan-Hare Stadium.
Worry level: 6. Score: Auburn 24, Florida 21.
Oct. 22 – at LSU – In Les Miles's last season at LSU, Auburn will break a five game streak of losses at Tiger Stadium in one of the most dominating wins in the series history.
Worry level: 6. Score: Auburn 34, LSU 10.
Oct. 29 – Ole Miss – At this point in the season, Auburn will be surging while Ole Miss will still be Ole Miss.
Worry level: 3. Score: Auburn 35, Ole Miss 17.
Nov. 12 – at Georgia – The underachieving Dawgs will have their crowd hype with new uniforms made out of actual Bulldog fur, but Auburn will use their experience from the LSU road win to be able to look past such hoopla and send another coach behind an ESPN set desk.
Worry level: 7. Score: Auburn 38, Georgia 24.
Nov. 19 – Samford – This one has me so worried that I forgot to put it in the original version of this post.
Worry level: 1. Score: Auburn 49, Samford 3.
Nov. 26 – Alabama – Revenge for 2009 and revenge for Toomer's will be taken this day, but seriously, we'll see what happens.
Worry level: 10. Score: N/A.
You don't know how much it hurts to put two losses on the schedule. I don't know if they will come exactly on the two games I picked, but I'm feeling around two. I'd be happy with that, and I think most Auburn fans would be, too. I'll take a 10 win season after a National Championship, especially when the world expects somewhere around 6-6.
Call me delusional. Call me a homer. I don't care. I was right last year, were you?