For the EIGHTH consecutive year, War Blogle will be THE PLACE to get all of the no-frills Auburn info on National Signing Day. For most outlets, this day is like Christmas and they have a shiny new pet full of all the bells and whistles ready to overload your brains with every signing announcement. Who cares, right? That's why I'm here.
Keep hitting refresh on this post and you'll see who signed when and where and maybe even a few predictions and rumors. It's simple. It's straight-forward. It's all you need.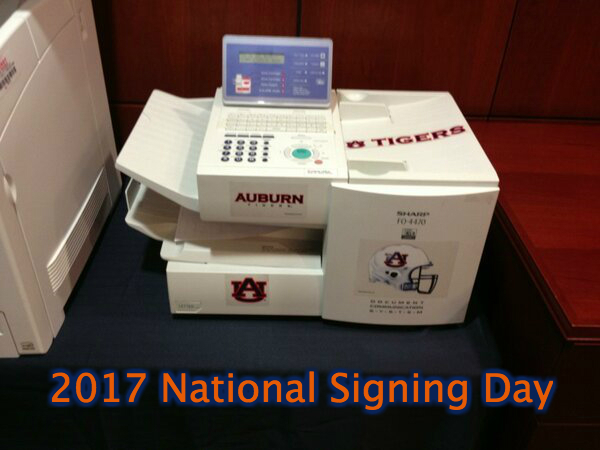 As has become custom for the seven previous years of the National Signing Day Running Posts, I'll be pulling together all of the best news, pictures, videos, rumors, etc. and putting it all right here. There's no need to sift through 5,000 tweets to read about a guy signing on the dotted line. I'll do it for you. All right here. It's cozy. Stay a while.
In fact, I've already got all of Auburn's early enrollees, hard commitments, and hopeful targets that will pick up a hat at some point listed below. Note: don't expect many Auburn hats. This class is already pretty much wrapped up. Ain't no drama, mama. Either way, as the faxes roll in throughout the day, I will post updates here in reverse order to make it easier for you.
---
10:00 pm – Alright, I'm gonna shut her down. No live chat tonight. This class was good and over and done with too early and we've already moved on to the basketball win coming up on Saturday. I will post a list of all commits with their highlight videos and details tomorrow to put a nice little bow on everything.
It was a good, easy day. It was a great class. Auburn got what it needed. Auburn now fully has what it takes to win it all next year.
7:43 pm – What should be close to the last rankings of the day have Auburn with a consensus Top 15 class. If we're averaging them all together, Auburn lands around 10th. Pretty good day.
ESPN – 9th nationally (+3), 4th in SEC (+1)
Rivals – 14th nationally (+2), 6th in SEC (–)
Scout – 11th nationally (-2), 6th in SEC (-1)
247 Sports – 9th nationally (–), 4th in SEC (–)
7:41 pm – I quickly recapped the class and what Auburn's "boring" day really means in BlogleSpot #192. Take a listen.
4:30 pm – Gus Malzahn spoke to the media a little over an hour ago and recapped the 2017 Signing Class. He's happy. You can watch him speak here.
3:00 pm – Auburn adds another preferred walk-on: Alex Medary (FB – Orlando, FL). Gus is speaking about the class now. Transcript forthcoming.
1:08 pm – As of this time, Auburn has moved up or held steady from where they were at the start of the day in every recruiting services' rankings. Here is where the Tigers stand now.
ESPN – 10th nationally (+2), 4th in SEC (+1)
Rivals – 13th nationally (+3), 6th in SEC (–)
Scout – 9th nationally (–), 4th in SEC (+1)
247 Sports – 8th nationally (+1), 4th in SEC (–)
10:22 am – And another small surprise, JaTarvious Whitlow (2-star ATH, Lafayette, AL) has chosen the Tigers over the likes of UAB, Troy, Tulane, and Georgia Southrn. This likely means that a spot opened up and Auburn had one to fill. This is much like Daniel Thomas last year. You'll remember he had two picks in this year's Iron Bowl.
10:13 am – If you need hats to feel like this class is a success, you got one. Markaviest Bryant (4-star DE – Cordele, GA) has just picked Auburn over Georgia and LSU. That's a big pickup and probably the only surprise of the day.
Here is the coaches' reaction:
🎥 | @CoachGusMalzahn & staff were pretty 🔥'd up about @MarkaviestB's decision to become a 🐅.#WarEagle | #AUNSD17 pic.twitter.com/TwIru51J0K

— Auburn Football (@AuburnFootball) February 1, 2017
10:09 am – Unexpected, but not a huge surprise. Auburn has added a preferred walk-on in Trent Kelley (OL – Phenix City, AL). He's not technically part of the scholarship class, but will be on the practice field this Fall.
Trent Kelley – preferred walk-on @AuburnTigers #NSD17 #RedDevilPride pic.twitter.com/YGKO29Nk0Z

— Red Devil Football (@CHSREDDEVILS) February 1, 2017
9:50 am – Just for fun, here's Tadarian Moultry (4-star LB – Birmingham, AL) leading a War Eagle after singing on the line.
VIDEO: @AuburnFootball commit Tadarian Moultry signs on the dotted line and gives a #WarEagle . #nationalsigningday @WVTM13 @Humble10_ pic.twitter.com/Mn1ZkKPN6X

— John Thompson (@JohnTWVTM13) February 1, 2017
9:30 am – The last guy on the commitment list, Carlito Gonzalez (3-star DB – Stone Mountain, GA), has tweeted that his fax has been sent it. So that officially rounds out all guys that are all on campus, all guys that were committed, and even one guy who chose today. That makes 21 and could be the end of the class.
https://twitter.com/osama_binlito/status/826792906480615424
8:45 am – As a rule, I don't blogle before 8:30 am, but that doesn't stop Eastern time-zoners from sending in their facsimiles. There's only one semi-surprise so far, but it's not really a surprise. Tyrone Truesdell (3-star DT – Augusta, GA) has picked Auburn over Florida. Good get.
Otherwise, these guys were quick to fax because they've been committed for a while or are already on campus. I'm not really sure why you have to sign if you're already on campus, but apparently you do. This is the order in which they signed.
Um, guys, the class is almost full. Don't expect too many surprises today.
---
To start it off, these guys are already enrolled at Auburn, but they are part of the 2017 class. They are just as important as any guy who puts on an Auburn hat on National Signing Day. In fact, they're technically better because they're already going through workouts and will participate in this year's Spring practice.
Also, as you look at the recruiting rankings throughout the day, remember that the JUCO guys won't be factored in. So wherever Auburn ends up at the end of Signing Day, just know a few of these would move the Tigers up a spot or 10.
These guys are currently committed to Auburn. Most have been committed for a good while and show no signs of wavering. By the time most of you read this, most guys will have already faxed in their letters.
You'll notice there are 20 names up there. That's a pretty full class, but still there are a few guys that Auburn may need to pull in that feel the need to be a little dramatic. I get it.
I don't believe any of these guys will announce on TV, but we do know some times, so stay here and hit refresh and find out. I've also listed my predictions, which are based on next to nothing.
These are the current rankings from the recruiting services before any signatures have been put to paper. They are just based on current commitments (again, not including JUCO transfers).
ESPN – 12th nationally, 5th in SEC
Rivals – 16th nationally, 6th in SEC
Scout – 9th nationally, 5th in SEC
247 Sports – 9th nationally, 4th in SEC
There will be a live chat at some point later in the day (follow me on Twitter to get updates on that), but feel free to talk about it all in the comments below or over in The Barn. Just for nostalgia, here's how things went in past years: 2010, 2011, 2012, 2013, 2014, 2015, 2016.