For the fifth straight year, the 'Blogle will be your one-stop shop for all things National Signing Day. While other sites work to be the best at giving you their coverage, I will be giving the best of all the coverage out there. In the age of Twitter, every announcement is at your fingertips. But sometimes your fingertips have to be elsewhere, so why not just stay here and let me be obsessive and incessant for you?
I will be updating this post multiple times throughout the day with every announcement, rumor, and surprise (I think there will be a few), so stay locked in to the 'Blogle. I've got you covered.

---
9:45 pm – The live chat is done. National Signing Day is done. This post is done. I'll recap everything tomorrow with rankings, notes, and player capsules. Thanks to everyone that joined in. It was fun. The future is bright and we're going like this //does Gus's hand airplane-flying hand motion//. WDE.
8:30 pm – Let's live chat!
8:25 pm – I'll be starting a live chat after the Auburn-South Carolina basketball game. It should end around 8:30 or so.
7:10 pm – Gus Malzahn spoke to the media for around 20 minutes at 3pm this afternoon. Here's video of the entire press conference or the transcript if you like to read.
2:27 pm – Here is Auburn's signing class board, full and complete with this year's class: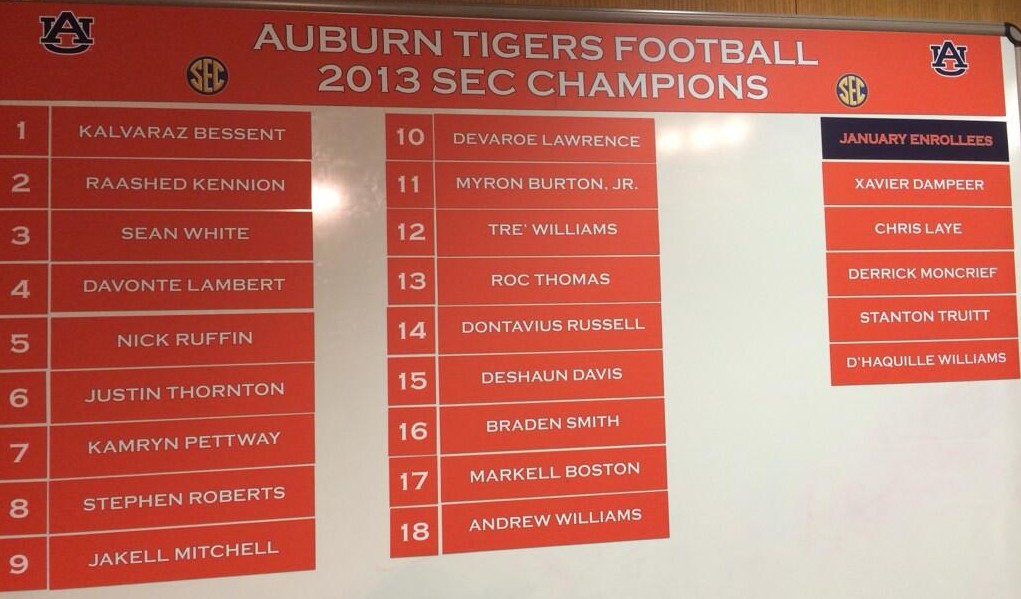 Pic via @chambc1.
2:18 pm – Auburn's 2014 signing class should be complete and is currently ranked #6 by 24/7 and #8 by Rivals, Scout, and ESPN. Coach Malzahn will be holding a press conference at 3pm CT. I will have the highlights here.
1:30 pm – Andrew Williams (4-star DE, McDonough, GA), has announced he will sign with Auburn. He chose Auburn over Georgia and Clemson, and was the last of the three big fish out there today. That means Auburn got two of the three remaining guys they wanted, provided he sends in the fax. Update: he just did. Polka dots and camo, though? Come on, man.
11:00 am – Markell Boston (2-star S, Newnan, GA), who committed just a few days ago, made his commitment true. His letter is in.
10:50 am – Rashaan Evans (5-star LB/Star, Auburn, AL), the biggest fish Auburn had on the board, has announced he will go to Alabama, continuing the tradition of Auburn High School linebackers leaving their hometown. Did you see where those Opelika boys went, though? Update: Evans is going to lunch before sending his fax in. Not saying it means anything, but it could. Update #2: he faxed his letter to Alabama.
10:35 am – Longtime Auburn commit, Deshaun Davis (3-star LB, Prichard, AL) has put the piece of paper in the machine and put in Auburn's fax number.
10:30 am – Braden Smith (4-star OL, Olathe, KS), one of those big three I mentioned as announced on ESPNU that he will sign with Auburn. Now we wait for the fax. Huge. HUGE. I saw him in Auburn a few weeks ago, and I thought he was a professional wrestler. I was scared for my life. Update: Braden Smith's letter is in. It's official.
Here's video of his announcement and interview on ESPNU:
9:40 am – Huge pickup! Auburn gets a letter of intent from former Vandy-commit, Ike Powell (2-star, Chula, GA). He's a long snapper! But it doesn't stop there. Zach Wade, has tweeted that he will be attending Auburn as well. He is also a long snapper as well. They are both considered the nation's top two long snappers and both will be preferred walk-ons.
9:17 am – Dontavius Russell (4-star DT, Carrollton, GA) has made it official. He's going to Auburn, just as his commitment since Christmas said so.
9:10 am – Coach Gus Malzahn was just interviewed by ESPNU. He used all the National Signing Day buzz words but gave insight on what they looked for in recruits.
Auburn's @CoachGusMalzahn on what they looked for this year: "Character and ability, those two things combined, that's what we went after."

— Keri Potts (@MsPotts_ESPN) February 5, 2014
I'll work on getting video, but here's a picture from @AuburnSID: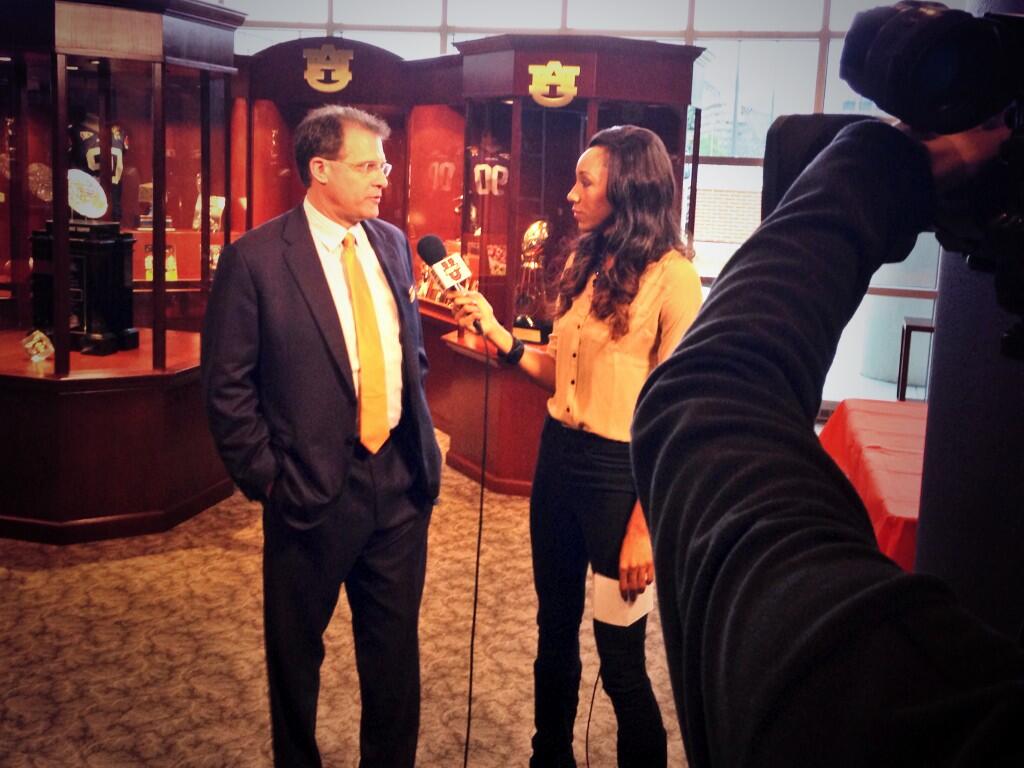 8:58 am – Auburn's 2nd 5-star signee is officially in the Family. Racean "Roc" Thomas (5-star RB, Oxford, AL) has faxed it in. He still has the most impressive highlight reel I've seen. Roc was Alabama's Mr. Football this year, meaning Auburn has signed back-to-back Mr. Footballs for the first time ever. Jeremy Johnson won last year.
8:47 am – Treon Harris (4-star QB, Miami, FL) has been committed to Florida State, but some thought he may flip to Auburn today. He has signed with Florida. Not a miss if you don't want it to be.
8:22 am – Tre Williams (5-star LB, Mobile, AL) is the highest rated guy so far to send in his letter. It's no surprise. He's been hardcore Auburn for months. He won't be the last 5-star.
8:18 am – Myron Burton (3-star ATH, Suwanee, GA) has used the old facsimile machine to let Auburn know that he has accepted their offer to play football for free. Note: it's already hard to come up with different ways to say a guy has already sent in his letter of intent.
8:10 am – You ready? A lot has already happened. These kids are ready and perfect for the Gus's hurry-up style because they woke up with the chickens to get their letters of intent faxed in. There are no surprises yet. All of these guys were strong verbal commitments and are now officially Auburn Tigers.
These guys have enrolled early and count against this year's class:
** – JUCO transfer
---
Before we get into the announcements, there are three big names on the board who have Auburn in the mix. There are a few others that aren't currently committed to Auburn that could flip, but these are the big ones that Auburn reportedly has a big chance to land. I think they get all three. Anyway, here they are with their expected announcement times:
Rashaan Evans (5-star LB/Star, Auburn, AL) –  10 a.m. CT ESPNU (Auburn, Alabama, UCLA)
Braden Smith (4-star OL, Olathe, KS) – 10 a.m. CT ESPNU (Auburn, TCU, Texas A&M)
Andrew Williams (4-star DE, Mcdonough, GA) – 1 p.m. CT (Auburn, Clemson, Georgia)
Otherwise, I will post any and everything related to Auburn and National Signing Day. I'll put the most recent updates at the top to make it easy. There will be a live chat at some point later in the day, and feel free to talk about it all in the comments below or over in The Barn. If you'd like to see how things went in past years, here you go: 2010, 2011, 2012, 2013.