I am no longer updating this post. To get cleaner and updated information, check out my Signing Day Wrap-up.
I'm not a reporter. I'm not at the Auburn Athletic Complex watching the faxes come in. I will be getting my information on the Signing Day news from various sites all around the internet, just like you can. But one thing I can promise you is that I will put my real job on the line to keep my eyes on those sites all day long, so that you don't have to. So keep your internet browser locked on to WarBlogle.com, hit refresh about every 15 minutes and you'll have all the work done for you. I will be posting until Auburn's last signee sends in his letter of intent, so check throughout the day.
Update #1 : 4/5-star DE Corey Lemonier (Lemon-ear), and his teammate 4-star DT Calvin Smith, will make their announcements starting at 11:45 CST. Lemonier is choosing between Auburn and Florida State. Calvin Smith has not been considering Auburn in the past, but there are whispers that he will follow his teammate.
Update #1.1: There are a few tweets out there reporting that Lemonier will choose Auburn.
Update #2: Scout.com has Cameron Newton's transfer to Auburn as the #1 JUCO transfer of the year.
Update #3: 4-star DT Byran Jones has decided to stay in state and chose Arkansas over Auburn. Auburn's biggest competitor in recruiting? State lines.
Update #4: Yes, this is streaming video of Alabama's fax machine that is receiving recruits' letters of intent.
Update #5: After the latest commitments, only DE Joel Bonomolo, WR Trovon Reed, and DE Corey Lemonier remain as Auburn's expected signees.
Update #6: Calvin Smith has signed with New Mexico…yes…New Mexico.
Update #7: Corey Lemonier has signed with the "University of Auburn".
Update #8: Times-Picayune reports that WR Trovon Reed's high school says Reed will sign with Auburn at noon.
Update #9: Trovon Reed found the fax machine and sent his letter to Auburn. Now just waiting on Bonomolo, who is probably just waking up on the west coast, and the actual papers from Lemonier.
Update #10: With the signing of DE Joel Bonomolo, the expected signing class for 2010 seems to be complete. I will clean up this page and add more information on each player throughout the day.
Update #11: SI.com has taken notice of Auburn's recruiting success.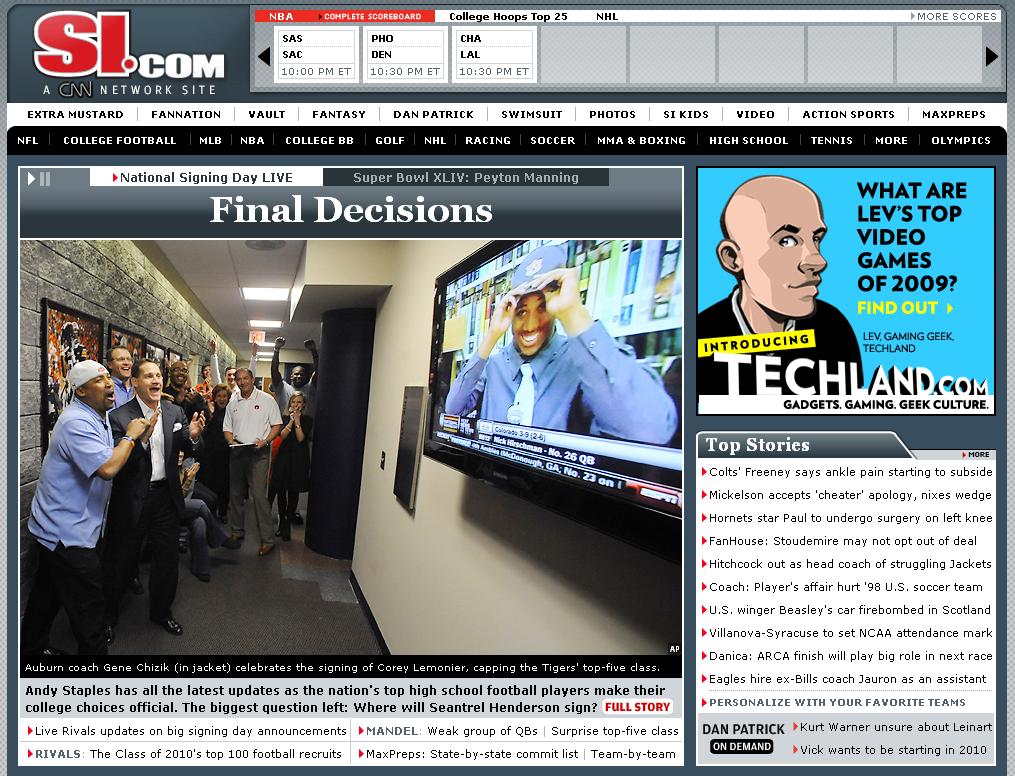 Update #12: ESPN.com has too.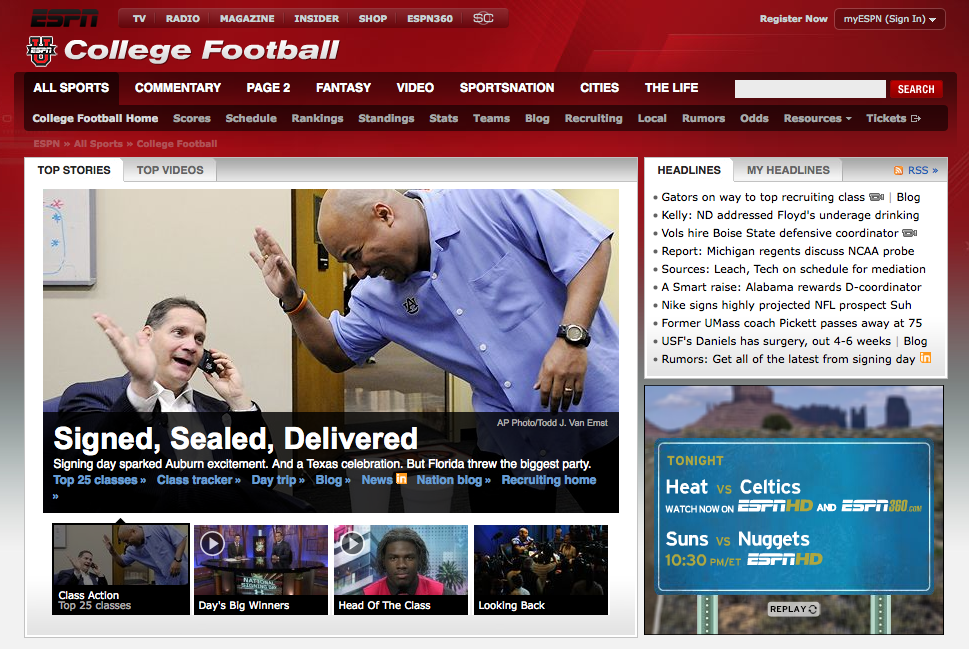 Current Rankings:
**Note: Rivals.com's #1 prospect Seantrel Henderson (5-star OL) initially chose USC yesterday, but has decided to wait until more information comes out about USC's possible sanctions. The problem is that he only has until April 1st to sign with a school, and it's not likely that the sanctions will be handed out by then. His commitment pushed USC above Florida in the Rivals rankings, but if he chooses to go elsewhere, Florida would likely retake the top spot.
Rivals
1. USC
2. Florida
3. Texas
4. Auburn
5. Alabama
Scout
1. Florida
2. Oklahoma
3. Texas
4. Alabama
5. Auburn
ESPN
1. Florida
2. Texas
3. Alabama
4. Auburn
5. Oklahoma
Officially signed:
PK Cody Parkey
WR Antonio Goodwin
P Steven Clark
WR Jeremy Richardson
DT Kenneth Carter
OL Eric Mack
CB Jonathon Mincy
OL Ed Christian
RB/DT Ladarious Phillips*
S Ryan Smith*
S Demetruce McNeal
WR Shaun Kitchens
OL Shon Coleman
DT Jeffrey Whitaker
LB Jawara White
RB Michael Dyer
TE Dakota Mosley
CB Chris Davis
DE Justin Delaine

LB Jake Holland

ATH Ryan White
OL Mike Slade
DE Corey Lemonier*
OL Tunde Fariyike*
WR Trovon Reed
DE Joel Bonomolo
* – Previously not committed to Auburn
Already enrolled:
QB Cameron Newton
OL Roszell Gayden
TE Brandon Mosley
DE Craig Sanders
LB Jessel Curry