For the sixth consecutive year, the 'Blogle will be your no-frills stop for all things National Signing Day. In the age of Twitter, every signing is viral within seconds. When a guy picks up a hat, 400 beat writers tweet the exact same thing for the next 15 minutes. It's their job, but on a day like today, ain't nobody got time for that.
So as always, I will be pulling together all the best news, pictures, videos, rumors, etc. and putting it all right here. There's no need to sift through 5,000 tweets to read about two guys signing on the dotted line. I'll do it for you. I'm so nice.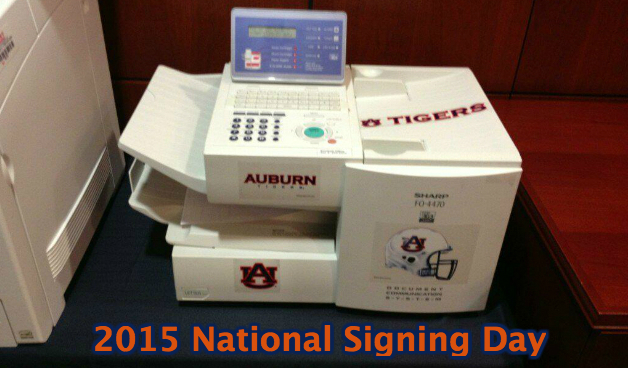 ---
10:00 pm – Auburn's final 2015 signing class rankings appear to be set. I don't see any reason they would change at this point so here is where they ended up: ESPN – #7, Rivals – #6, 24/7 – #6, and Scout – #3. That's an average of 5.5. I'd call that a success. Let's be honest, anything in the top 10 is most likely all the same.

I'll be cleaning things up and adding a little analysis over the next few days. And even though I got lazy and missed it last year, I plan to bring back the "Unconventional Look" for this year's class. Stay tuned and thanks to everyone that kept up today. It was fun.

7:00 pm – Go behind the scenes of National Signing Day in a short video from Auburn here. Read/watch Gus Malzahn's press conference here.
5:20 pm – As of right now, unless something very unexpected happens, Auburn's 2015 signing class is done. It's good. Very good. The current rankings are ESPN – #8, Rivals – #6, 24/7 – #6, and Scout – #3. That's an average of 5.75. So yeah, good.
I may do a live chat here later or a live thread in The Barn later. Follow on Twitter for updates on that.
3:30 pm – Rounding out the list of players previously committed to Auburn, Jordan Colbert (4-star S, Griffin, GA) has sealed his fate of playing for the Tigers.
At this point, there is one guy left that Auburn has a chance on, and that is Terry Godwin (5-star ATH). He is currently committed to Georgia, but Auburn supposedly has a slight chance. He will be announcing at 5 pm CT on FoxSports South. Update: Godwin stuck with Georgia.

3:26 pm – After 3 hours since committing, Javarius Davis has submitted his letter to Auburn. Apparently, he was waiting until the school day was over. I like that.
3:10 pm – Gus Malzahn is currently meeting with the media during his Signing Day press conference. He's going through the list of current signees and giving his quick analysis on each. I'll post the transcript and video when it's available.
3:05 pm – After 7 hours and a few malicious actions by his high school coach, 5-Star DE and #1 player in the nation, Byron Cowart, has finally faxed his NLI in to Auburn.
12:50 pm – At this point, Byron Cowart (or his high school coach) has not faxed his NLI to Auburn. There are many slightly conflicting reports from ESPN and recruiting writers, but it sounds like his coach wants him to go to Florida because he has a relative that is a coach in Gainesville. Because of this, his coach seems to be meddling with Cowart's NLIs. He had one for Auburn and one for Florida, but only signed the Auburn one. He is texting recruiting writers saying that he is going to Auburn no matter what, but he also may be waiting on CeCe Jefferson's announcement at 1 pm CT. Update: Jefferson committed to Florida. It still sounds better for Auburn than Florida and the crazy high school coach, but we'll see…
12:15 pm – 4-star athlete Javarius Davis from Jacksonville, Florida is just another commitment on today's already impressive list. Remember when Auburn hoped for 4-stars?

10:55 am – Jeremiah Dinson (3-star DB, Hialeah, FL), who committed just a few days ago has submitted his intentions to play at the greatest university in the land. Can you tell I've run out of ways to say "Dude just signed with Auburn?"
10:10 am – Last night, under the light of the moon, Darius Slayton (4-star ATH) flipped from Georgia (who hasn't?) and now he just put the nail in the fax machine. He could play WR at Auburn. We'll see. Actually, see this:
9:48 am – Montavious Atkinson (3-star LB, Fairburn, GA) committed in March of 2014. Almost 10 months later, he's made it real.

9:32 am – My favorite commitment of the class (just based off of his tweets), Kerryon Johnson (4-star RB, Huntsville, AL), has never wavered and just made it official while wearing a Gus vest like a boss (pic via @CarlPratherWAFF).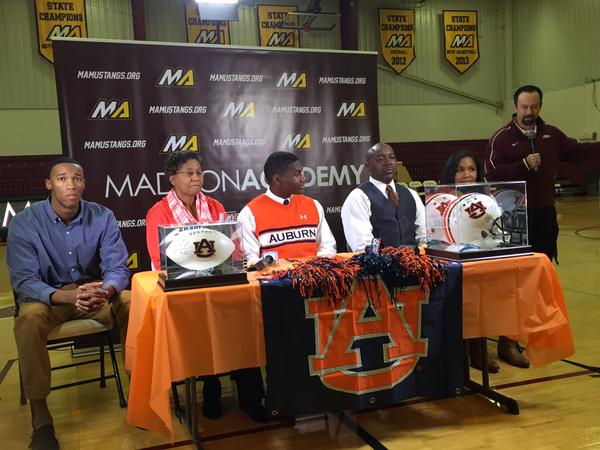 9:30 am – Jake Holland's dad just committed to Auburn on ESPNU. Oh sorry, wrong guy. Same name, though. Jeffery Holland (4-star LB, Jacksonville, FL). Update: his letter is in.

9:11 am – Auburn is now 3-0 against Auburn on signing day decisions. Ryan Davis (4-star WR, St. Petersburg, FL), joining Cowart and Horton, has picked the Tigers over the Gators.
9:10 am – Byron Cowart, and his Chuckie doll, discusses "Will" and his decision to sign with Auburn with ESPN's Rece Davis.
8:40 am – What does it take to get 4-star DB Carlton Davis (Miami, FL) to sign with your team? Apparently winning a national championship a few weeks ago isn't it. Davis flipped from Ohio State and committed to Auburn this morning. Update: he has faxed in his NLI.
8:30 am – Richard McBryde (4-star LB, Troy, AL) has made it official by using a machine that was obsolete before he was born.

8:05 am – BOOM! The first big announcement of the day, and it may be the biggest. The #1 player, defensive end, everything, Byron Cowart has committed to Auburn on national TV. I'll have video and more on Cowart soon. For now, drool over his highlights.
7:45 am – As always, due to time zones and eager high school kids, multiple guys that have been stable commitments for a while have gone ahead and faxed in their intentions before I even rubbed the crust out of my eyes. Here they are:
Ian Shannon (2-star K, Marietta, GA)
Marquel Harell (4-star OL, Fairburn, GA)
Kaleb Kim (4-star OL Hoschton, GA)
Jaunta'Vius Johnson (3-star DT, Lincoln, AL)
Prince Tega Wanagho, Jr. (4-star DE, Elmore, AL)
Mike Horton (3-star OL, Atlanta, GA)
Darrell Williams (4-star LB, Hoover, AL)
Jalen Harris (3-star TE, Montgomery, AL)
6:00 am – Recruits can now begin faxing in their national letters of intent. One day an email or text will work, but for now we wait on the announcements via facsimile.
---
As the signees roll in throughout the day, I will post them here in reverse chronological order to make it easier for you F5-ers (that's what you hit to refresh the page). To start, these guys are already enrolled so you don't have to worry about them, but they are part of the 2015 class:
Auburn has 14 other verbal commitments that are all pretty stable, but there are at least 8 other guys who are at least considering Auburn and will be making their announcements today, some on a TV screen. All times below are CT and the announcements will be made within the listed hour.
Auburn is expected to sign a good many of these (my guesses are Cowart, C. Davis, Holland, R. Davis, and either Ivey/Godwin) and possibly a few more that aren't listed. Adding just 3 or 4 would definitely set this class over the top, but let's not forget the guys who have been Auburn the whole way. They are just as important, even without a dramatic announcement.
Again, I'll post any and everything related to Auburn and National Signing Day. There will be a live chat at some point later in the day, but feel free to talk about it all in the comments below or over in The Barn. Just for nostalgia, here's how things went in past years: 2010, 2011, 2012, 2013, 2014.