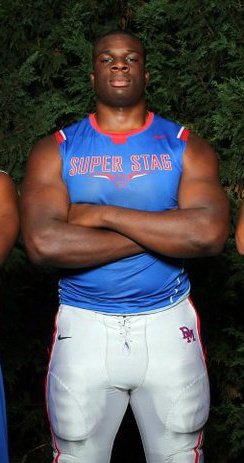 8:34 pm: The live chat has ended, but you can still go read what was said. This pretty much wraps up the updates for the day. I'll sift through and do some sort of wrap up tomorrow. I'll also have a Post-Signing Day Q&A with Justin Hokanson of Rivals sometime in the next few days. Cyrus is supposedly going to make his final decision by the morning. So we'll see.
Oh, and thanks to one Brother Blogle, I should have video of the Signing Day Banquet for the bigwigs that's going on right now. Provided the camera isn't confiscated, video will be posted this week.
5:05 pm: I have left the chat for now, but it's still going on so you can keep chatting and I'll get back on later.
4:05 pm: We're live chatting about National Signing Day. Let's go.
3:13 pm: Here's the video of Cyrus talking to ESPNU just after his announcement. Sounds pretty solid to Auburn. Then he talked to Fox Sports with his family and says he has doubts. His father wants him to make his own decisions, but says it would be easier for him to go to Alabama because of his brother already being there. Pretty sure he calls out Cyrus's cold sore, too. There was free video, but you have to pay see it now.
3:00 pm: Chizik's press conference went a little like this (if you don't like reading, you can watch it here):
Gene is at the podium. Gray blazer. I think it's the same one from his fist press conference two years ago.
"Great day for Auburn football today … Always look for what your needs are … don't care about stars."
"We scratched all the right itches."
Chizik gives credit to staff. Went after it. Got behind while playing two championship games.
"This is another brick in the foundation of what we're trying to build …. we have not arrived."
On Gabe Wright: "best DT in the country … major target for us … he was Auburn through and through … impact immediately."
On secondary class: "Couldn't be more excited."
Chizik happy to get Erique Florence and Jonathon Rose from the state.
On Bray: "Most exciting player in GA … can do it all … wildcat, tailback, wide receiver."
Chizik not sure yet where Frost will play.
On OL: most will be able to challenge early.
Chizik only worried about Shon Coleman being healthy.
"I'm happy for our fans…"
"I'm happy not because we are ranked 1 or 3 or 5. I'm happy because we got what we needed."
"Really excited about Tre … a 200+ lb running back … he's natural."
On Sigler: "big, physical presence … could grow into inside d-lineman."
On Frazier: "He's one of the heart and souls of this class … never once waivered."
Chizik asked indirectly about Cyrus: "We can still recruit them … I'm only going to talk about the ones we've got paper work on."
That's it. Press conference over. Chizik was Chizik.
1:57 pm: Updated Signing Day rankings for Auburn: Scout #1, ESPN #2, Rivals #3. All of these include Cyrus's announcement to sign with the Tigers.
1:12 pm: Still no word on Cyrus sending in his LOI. Hasn't happened yet at least. Some are saying he's been doing interviews and haven't made it to the fax machine. Others (Bammers) are making up ridiculous stuff. Chizik will hold a Signing Day press conference at 2 pm CT.
12:40 pm: DT Gabe Wright (Columbus, GA) signs with "University of Auburn". His Auburn hat had "Nick Who?" on the back. Hopefully Fairley ok'd that. This should be the last signee of the day and will wrap up one of the best in Auburn history, provided Cyrus sends in his LOI.
12:30 pm: Apparently Cyrus Kouandjio hasn't faxed in is LOI even though he announced over an hour ago via ESPNU. Which means… Twitter/message board meltdown.
11:38 am All commitments have signed with Auburn (or elsewhere). Now we are just waiting to see what DT Gabe Wright does. His announcement is at 12:30 pm CT.
11:19 am: Wah Eagoh Babeee… S Quan Bray officially signs after being the only straggler of the sure-commits.
11:10 am: #1 OT Cyrus Kouandjio (DeMatha, MD) chooses the Tigers over Alabama and New Mexico(?!). Let's just all be honest, we weren't expecting it and the main reason we're happy is because he spurned the Tahd for Auburn. Aromashodu, Obomanu, Lutzenkirchen, and now Kouandjio. I like it.
10:43am: CB Robenson Therezie (Miami, FL) waits until his lunch break to fax in his LOI.
10:27 am: Back to guys who want to win… LB Justin Garrett (Tucker, GA) makes it official.
10:22 am: RB/LB Brent Calloway signs with Alabama. This is the 2nd time in two years that a guy who wanted to play RB at Auburn was forced to go to Alabama and play another position by his parents. Not bitter. Just don't like that it happened like that. Oh well. Dyer/McCalebb/Mason sure sounds good doesn't it?
9:57 am: Cullman OL Spencer Region, who was once committed to Alabama, then Auburn, then decomitted from everybody, then liked Wisconsin, then Louisville, has signed with Clemson.
9:47 am: S Anthony Swain (Gadsden, AL) come on down…!
9:37 am: DE Keymiya Harrell (Plantersville, AL) joins the Auburn Family. Gotta be honest, first time I've seen that name. But now that I look at his picture, I remember him. Sorry Keymiya.
9:20 am: Quite a few since the last update, but no surprises. DL Jabrian Niles (Mobile, AL), WR Sammie Coates (Leroy, AL), OL Christian Westerman (Chandler, AZ), QB Kiehl Frazier (Springdale, AR).
8:40 am: In the second not completely known decision of the day, DB Jermaine Whitehead (Greenwood, MS) picks the Tigers. It's going to be tough to figure out ways to say that all day.
8:23 am: OL Greg Robinson (Thibodaux, AL) signs with the Tigers. Alert Thayer Evans! Two from Thibodaux in two years?!
8:05 am: S Erique Florence (Valley, AL) has signed with Auburn via an announcement on ESPNU. The shortest-tenured commitment in Auburn history, S Marcus Roberson, has signed with Florida.
8:00 am: The 'Blogler has a rule: no 'blogling before 8am. Well…apparently…a few signees had their LOI set to auto-fax because the list of signees has already started. At this time there are no surprises.
Already enrolled: S Jonathan Rose (Leeds, AL),   Reese Dismukes (Spanish Fort AL), OL Thomas O'Reilly (Marietta GA).
Signed before the 8 o'clock hour: ATH C.J. Uzomah(Suwanee, GA), RB Tre Mason (Lake Worth, FL), LB Kris Frost (Matthews, NC), WR Jaylon Denson (Hoover, AL), TE Brandon Fulse (Ft. Meade, FL), DE Angelo Blackson (Dear, DE), DL Devaunte Sigler (Mobile, AL), LB Chris Landrum (Sweet Water, FL).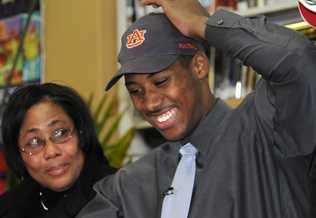 It's here! It's finally here! The day we've all been waiting for since…well…the day Auburn won the National Championship, I guess. You all know that I am not recruiting expert. You all know that I don't really follow it all that much. Why? Because the majority of the commitments (at least this year) have been made during football season, and I'm too busy worrying about, you know, the players who are actually on the field at that time.
I've seen too many recruiting busts and too many 4-5 stars never step on the field to put too much interest into it, but I will admit that since Chizik has arrived and pulled in some good classes, I have at least paid attention on Signing Day because in the end, it does really, kinda, sorta matter.
If you get a bunch of 4/5-stars, they are more than likely going to make a better team than a bunch of 3-stars. And not that the stars are a good representation or even matter, but usually if you take the average, the higher rated players are the better players.
I'd be lying if I didn't say that my interest also didn't go up due to Bammers blabbing about recruiting national championships and such. At least half of me pays attention on Signing Day just to see who decided not to sign with them, or who picked the Tigers over the Tide (that does not happen!). At least amongst fans, recruiting has turned into more of a competition of who can get the players with the most stars rather than getting the best players for your team. That's why recruiting coverage has gotten so big in recent years. It's just another reason to brag about something when there's nothing else really going on. Anyway, I'm rambling…
Like last year, I'll say this: I am not a reporter. I am not at the Athletic Complex watching the fax machine. I am just like 99% of the rest of you and just following the recruiting sites to see who's signed and who had their dad make their decision to go to Alabama for them. The only difference in me and you is that I have a website and I'll be following all of them, getting texts from certain people in the know, and posting updates throughout the day. There are plenty of sites that have guys devoted to this stuff (I interviewed one this week), but I promise to give you the best, most accurate, compilation of all coverage that a 'Blogler can give.
I may even do a live chat within the post around lunch if I can. Stay tuned. The updates will start as soon as I get word of the first signee or obtain any news of announcement times/other Signing Day drama.