Ok, this might not be as good as years' past, but hopefully the results of the day should be. Real life (moving to Auburn for a new job) is going to get in the way just a little today and for the next few weeks. So I'm making no promises on what comes out of this post today. Auburn playing Alabama in basketball tonight throws a big kink in things as well.

I can promise that I will do my best to update the post with every new signee that Auburn receives and as quickly as I can. They will all be there by the end of the day. We may or may not have a live chat near the end of the day, maybe late tonight, as we've done before as well. But don't get your hopes up on that.
Geez, why are you even reading this anymore? This post is obviously going to be terrible. No, but really. I'll get all the information you need to know up here, including notes from Malzahn's press conference at 3pm CT, I promise.
In the next few days, I will do a full recap of the class of 2013 as well as everybody's favorite unconventional look at the class (2011, 2012). The goods will come. You'll just have to be patient. So let's get started, the most recent updates will be at the top.
---
8:50 am (2/7) – One last update on the recruiting rankings: Rivals – #8, 247 – #10, ESPN – #11, Scout – #13. There are a few guys left out there that could shake these up a little bit, but Auburn shouldn't move too far from these spots. Very impressive, Gus, very impressive.
Just for comparison's sake, last year's class was ranked #11 by Rivals, #14 by Scout, and #17 by ESPN and 247. I'd call that improvement.
11:00 pm – Here's the transcript of Gus's presser. He said all the usual stuff. Oh, and no live chat this year. Dry your eyes. The Iron Bowl of Basketball took precedence.
So that's it. The National Signing Day Running Post is done. I'll clean this up over the next few days and do a recap. There's also the unconventional look at the class coming, too. Expect it early next week. Thanks again for reading. You're the bomb.
5:00 pm – Gus spoke to the media a few hours ago. He said things. I will have those things here once they are available. But for now, watch this little clip of National Signing Day behind the scenes with Mr. Malzahn.

3:00 pm – As of the 3 o'clock hour. 247 and Rivals have dropped the Tigers's class to #10, while Scout has moved them up to #12. Also, Gus is speaking to the media about the class now. You can watch it here.
11:43 am – With Auburn having 24 signees, the updated recruiting rankings are as follows: 247 – #9, Rivals – #9, Scout – #13 (only has Auburn with 23 signees).
11:12 am – 4-star RB Jonathan Ford, who recently decommitted from Vanderbilt, just chose Auburn over Tennessee. Update: His letter is in.
10:58 am – Kicking specialist, a 3-star, Daniel Carlson, from the Classical Academy in Colorado Springs has faxed in his intentions to play football on the Plains. That sure is a fancy title.
10:50 am – Another JUCO guy is official. 3-star S Brandon King has joined the Tigers class of 2013. He is Auburn's 6th in-state signee.
10:37 am – Remember that Auburn already has three JUCO guys that signed a few weeks ago: 4-star RB Cameron Artis-Payne, 4-star DT Ben Bradley, and 3-star OL Devonte Danzey.
10:20 am – 3-star S Mackenro Alexander has signed with Auburn, according to his coach. His brother (5-star CB) will be making his decision shortly. Update: He picked Clemson.
9:30 am – The updated recruiting rankings are as so: 247 – #9, Rivals – #11, Scout – #13. These will be changing throughout the day, but I think a top 10 finish for all three is definitely possible.
8:56 am – Oh, just another 5-star defensive lineman signed with Auburn moments ago. Yep, DE Montravius Adams put on the Auburn hat, but more importantly he put on this shirt this morning (via @SportingNews). Update: His letter is in as of 10:50 am.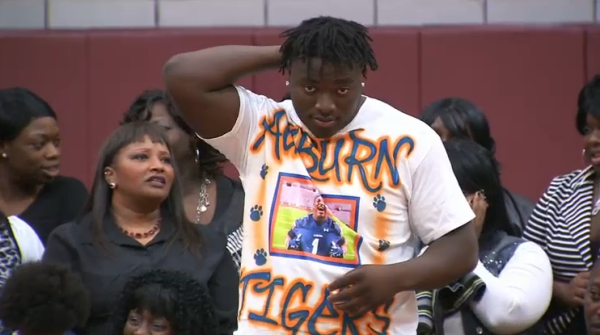 8:50 am – 4-star OG (probably my favorite thing to type with recruiting stuff) Deon Mix has used his facsimile machine to tell Gus Malzahn that he'll be a part of the AU. Update: he actually just faxed it in around 10:25. He had just announced before.
8:38 am – 4-star ATH, that will get a shot at QB, Jason Smith has sent in his National Letter of Intent. This is the point where it gets tough to find different ways to say that.
8:35 am – It should also be noted that 247 All-American, 3-star (because that's as high as kickers are rated) kicker, Jimmy Hutchinson has accepted a grayshirt offer and will be enrolling in Spring 2014. He tweeted his offer letter last night.
8:30 am – If we're still using "ALL IN" (I don't think we are), 3-star LB Cameron Toney would be Mr. All In. He committed early, never wavered, and has been recruiting for Auburn. He is now officially an Auburn Tiger. That makes one Kam and one Cam on the roster so far.
8:24 am – A lot can happen in a 4-minute commute to work. Alabama's Mr. Football, 4-star QB Jeremy Johnson, 4-star WR Earnest Robinson, and 3-star JUCO LB Kenny Flowers have done the right thing.
8:05 am – 3-star S Khari Harding, who flipped his commitment from Arkansas when the new staff came on board has made it official.
8:03 am – What looks to be the bell cow of the class, everybody's favorite commitment, 5-star DE Carl Lawson has done what he said he would do. He has joined the 2013 class.
Here's a great interview he did with ESPN yesterday to show what kind of guy we are getting.
8:00 am – A guy can't even take a shower without more kids hopping on board the Gus Bus. 3-star RB Peyton Barber (another flip from Ole Miss), 4-star JUCO ATH (probably QB) Nick Marshall have let their intentions be known.
7: 39 am – War Kamyrn Melton. He has signed, as expected, and is a 3-star CB.
7:30 am – Well, before I even raised my head from my pillow, a lot already happened. Some dudes just wake up really early to fax their letters in, I guess. The first was a huge semi-surprise: 4/5-star DE Elijah Daniel, who was committed to Ole Miss. It was thought by some that it would happen, but nobody really expected it to happen first. Big pickup there.
The next two early risers were both WRs, both expected, and were teammates at Evans High School in Orlando, FL: 4-star Tony Stevens and 3-star Dominic Walker.
3-star ATH Marcus Davis has also signed his life aw… I mean signed to play his ball at Auburn.
There is also some early drama, as it was reported that early but wavering Auburn commitment 4-star DE Tashawn Bower had signed with Florida. He later tweeted that he hadn't signed with anybody yet. We'll see how that turns out. Update: He signed with LSU.