Blogle here. @ChuckNSports and @beAU are degenerates and have somehow convinced me to let them post their weekly gambling picks for for your financial gain. It's a thing now, so we'll see how it goes.
---
We all have our vices. Sometimes those vices can turn into dependencies or even full-blown addictions. Well… the world is now fully addicted to sports betting.
People have been gambling on sports (mostly illegally) for as long as games have been played. Back in 2018, the United States Supreme Court struck down the federal ban on state authorization of sports betting, and now, sports betting is legal in more than two dozen states. Since then, everyone and their mother has gotten involved in some capacity.
Even ESPN is reportedly in talks to license its brand to sports-betting companies in deals that could be worth up to $3 billion. The big picture here is this… Sports betting is here to stay, and it's growing exponentially (in revenue and popularity). Trust me, you don't want to miss this train.
If this is news to you, or if you are a fellow degenerate gambler looking for an edge, then we've got you covered. Below you will find our carefully crafted picks of the week, brought to you by @BeAU and myself. Recently, our peers have called our picks "free money," "absolute locks," and "the golden touch."
Now, for the main event. I present to you the first official installment of the "Blogle 7" which consists or five plays against the spread (ATS) and two, three-team teasers. Put the mortgage on them, hammer them into oblivion, or put five bucks on them. Do whatever your heart desires. Just remember to have fun and always bet responsibly.
The Picks Are In…
#15 Texas -7 at Arkansas:  Arkansas is widely regarded to have one of the top 2 hardest schedules in the country (along w/ Auburn). I imagine it's tough not to sit around and stare at the gauntlet in front of you if you're an Arkansas player. They might be mentally defeated already. Not a great start when you trail to Rice at halftime and you struggle to throw the ball against such an inferior opponent.
Up next, Texas. On top of that, starting LB Bumper Pool (amazing name) is missing the first half due to a targeting call hangover. I can assure you Sark and Texas are out for blood to prove they belong in the SEC.
Hook 'em.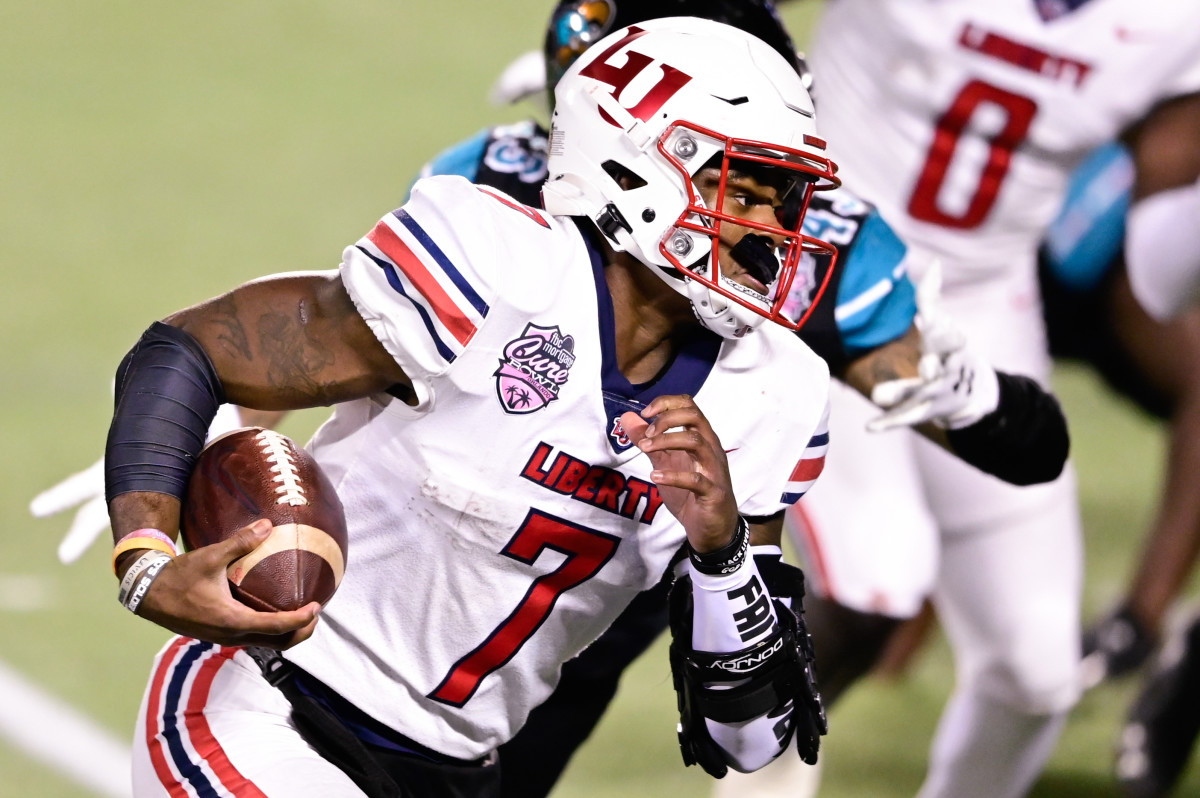 Liberty -4.5 at Troy:  This spread smells funky. It opened as high as -6 and has dropped to as low as -4 amongst the fluctuations. Sometimes you just have to go with your gut. Also, I've been to Troy. Other than Texas A&M, it might be the least intimidating place to play in America.
Oh, also, Liberty now has former Auburn superstar Malik Willis at the helm these days. Call it a homer pick if you must. Hugh Freeze and Willis vs. Chip Lindsey?
You do the math. Flames by 17.
#10 Iowa +4.5 at #9 Iowa State:  Iowa State hasn't won this rivalry game since 2014 when they won by 3. Iowa owns the series 45-22. Iowa State struggled against powerhouse Northern Iowa in week 1. All Iowa did was go out and beat the piss out of Indiana's hopes for their season, knocking off the preseason #17 team in a dominating fashion (34-6).
Don't over complicate things. Iowa wins outright.
#12 Oregon at #3 Ohio State -14:  Oregon just beat Fresno State by one score. Fresno absolutely torched them to the tune of 300 yards through the air. You know who has the best WRs in the country? Yeah, it's Ohio State. Last week, the Buckeyes opened their season against P.J. Fleck's Gophers. While breaking in new starting QB C.J. Stroud, it wasn't the prettiest of wins.
Regardless, in his first start, Stroud and Ohio State still beat the Gophers by 14. With Week 1 behind them, Ohio State is set to kick things into gear.
It starts with a complete dismantling of the Ducks.
Vanderbilt at Colorado State -7:  Barf. Someone DM me after this game and let me know how it went. I would rather stab by eyeballs out than watch Vandy play another snap this year. Put it this way… Even if Vandy has a miraculous turnaround in week 2, I would literally rather lose money than to ever back them.
Vandy is trash city.
Teaser1:  ND -7/Miami +1.5/Penn State -12.5
Teaser2:  Wisconsin -15.5/Ohio State -4/VT -10
Bonus Parlay (bc why not):  Tennessee +3, Air Force -6, Mississippi St +2.5, Kentucky -5
---
Blogle here again. If this is too much for you, I've downloaded this new app called PrizePicks that simply let's you wager a few bucks on what a player will do each game. It's extremely easy. For example: last week I won $50 bucks because I said Tank Bigsby would score more than one touchdown AGAINST AKRON. It's like free money.
To join, go here. Enter promo code WARBLOGLE and they'll give you a 100% match on your first deposit up to $100. I'm serious, the over/unders are literally giving you money.
DISCLAIMER: This site is 100% for entertainment purposes only. Gambling related content is not intended for anyone under the age of 21. If you or someone you know has a gambling problem and wants help, call 1-800-GAMBLER.