20. Auburn 28 vs. Alabama 23 – Nov. 22, 2003
Note: This game was #17 in the 2010 edition of this list.

How I Remember It: "Jetgate" and Rod Bramblett's "Go Crazy Cadillac" call definitely stand out in my mind when I think back to the 2003 Iron Bowl. Although I didn't hear Bramblett's call until after the game. I remember Cadillac taking that handoff on the right side and going almost untouched on that first play with Jeris McIntyre alongside him. At one point it looks like Jeris looks over to Cadillac and says something in midstride. It was probably something like "This is awesome!" or "Did you see that WarBlogle.com post last week?"
I remember Ben Obomanu catching a pass, spinning out of a crowd, and taking it down the same sideline for a touchdown on Auburn's next possession as well.
Alabama returned the opening kickoff of the 2nd half for a touchdown, and Brodie came in and completed a bomb late in the 4th that set up a last second, cheap touchdown to make the game look closer than it was.
What Really Happened: Auburn came into the 2003 Iron Bowl with a 6-5 record in what was supposed to be a National Championship season. Alabama came into the game with a 4-7 record in what some Bama fans have managed to claim as another National Championship season.
The game wasn't very big on the national scale, but for Auburn, and especially Tommy Tuberville, it was a big one. Auburn was ranked #1 by some publications heading into the season, but didn't score a touchdown until their third game. This infuriated booster Bobby Lowder, and then Auburn president William Walker, to the point that they chose to fly privately to Louisville to talk to former Auburn offensive coordinator and head coach at the time, Bobby Petrino, about becoming the Auburn's coach.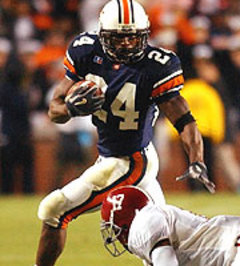 Someone found out about this flight and "Jetgate" was born. Would Tommy purposely lose the Iron Bowl? Would he quit just before or just after the game? Nobody knew but Tubs himself.
Well, Tommy didn't quit before the game, and he must have lit a fire under the team in his pregame speech.
As remembered, Cadillac took the first snap of the game 80 yards for the score. Alabama would then record a safety on Auburn's next drive after downing a punt at the 1-yard line. On Auburn's third possession, Ben Obomanu, took a simple slant and turned it into a 63-yard touchdown. Auburn then scored on the two-point conversion to make the score 15-2. John Vaughn kicked a field goal late in the 1st quarter, and the score stayed 18-2 going into the half.
Alabama's Brandon Brooks returned the opening kickoff of the 2nd half for a touchdown, bringing the score to 18-9. Alabama made the game a lot more interesting by scoring on their next drive as well.
Auburn kicked a field goal later in the 3rd quarter as the Tigers held the 21-16 score going into the 4th. Halfway through the 4th, Cadillac would solidify the win with a 1-yd touchdown run.
The hero of the 2005 Iron Bowl, then came in, threw a bomb, and threw a touchdown pass with a minute remaining to make the final score 28-23.
As we all remember, Tuberville stayed around and won a few more games.
Fun Fact: Cadillac only had five total carries in the two previous Iron Bowls due to injuries.
Why did I pick this game? Every Iron Bowl in Jordan-Hare is going to make the list. This wasn't a big one nationally, but it gave Tommy Tuberville his second of six straight wins over the Tide. It showed that even though Auburn had a very disappointing season, and tons of off-the-field adversity, they could still step up and beat Alabama. It was also a pretty electric atmosphere, so it made for one of my favorite games at Jordan-Hare.
Play of the Game: Cadillac's 80-yard touchdown run on the first play from scrimmage set the tone for the rest of the game.
Player of the Game: Cadillac had over 200 yards rushing and two touchdowns. No doubt.
Game Summary: AP
Box Score and Notes: Auburn Archives
Game Highlights:
You can view the rest of the 2015 edition of this list here.