The 2019-20 college football bowl season is here. Due to this year's weird calendar, it's the latest start for bowl games in a while. We're starting five days later than last year.
The regular season predictions were my best ever. How do you ruin that? With nearly 40 bowl games and only like five of them that matter. This isn't going to go well.
Bowls: 6-7 (46.2%)
Regular Season: 119-26 (82.1%)
Overall: 125-33 (79.1%)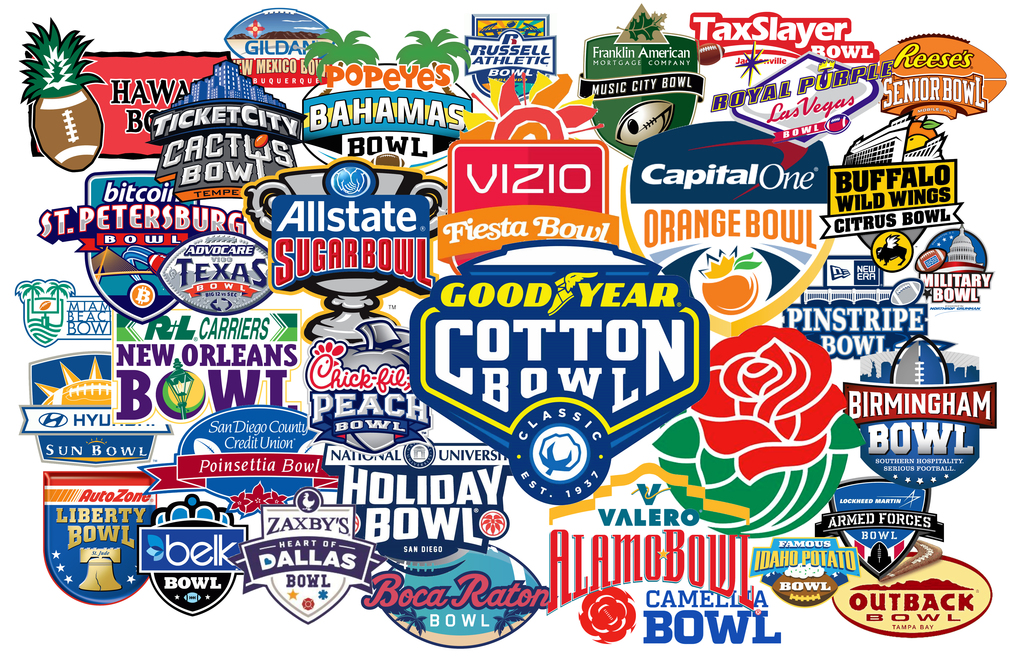 Before you read ahead, run on over to the 2019-20 War Blogle Bowl Pick 'em and get your picks in. I understand if you want to see what I picked so that you can be as close to perfection as possible, but at least get the process started. Enough of that, here are my picks for the first week of bowl games.
12/20
Makers Wanted Bahamas Bowl (1 p.m. ESPN)
Buffalo vs. Charlotte – As far as I can remember, this is the first time the bowl games have started on a Friday, at least in a long while. And it's right after lunch in the Bahamas? What are we doing here? The kids aren't even out of school yet. But it's not like they'd watch Buffalo and Charlotte anyway.
Buffalo 38, Charlotte 21
Buffalo 31, Charlotte 9 – SUCCESS!
Tropical Smoothie Cafe Frisco Bowl (6:30 p.m. ESPN2)
Utah State vs. Kent State – Auburn beat Utah State in 2011. Auburn easily beat Kent State in 2019. That's all I got.
Utah State 44, Kent State 10
Kent State 51, Utah State 41 – FAILURE
12/21
Air Force Reserve Celebration Bowl (11 a.m. ABC)
Alcorn State vs. North Carolina A&T – These two teams played in this very same bowl last year. And it was the first bowl until these Friday shenanigans this year. I have no clue, but most people are picking Alcorn State, and that's where Steve McNair played, and I liked Steven McNair. They are also the Braves, and I like the Braves, so we'll go with them.
Alcorn State 28, North Carolina A&T 21
North Carolina A&T 64, Alcorn State 44 – FAILURE
New Mexico Bowl Presented by Progressive (1 p.m. ESPN)
Central Michigan vs. San Diego State – New Mexico wasn't good enough to be bowl eligible this year, so they won't be playing in the New Mexico Bowl. But a team from Michigan will be. Same thing, right?
San Diego State 30, Central Michigan 23
San Diego State 48, Central Michigan 11 – SUCCESS!
FBC Mortgage Cure Bowl (1:30 p.m. CBSSN)
Liberty vs. Georgia Southern – The Liberty Flames just locked down Hugh Freeze for a few more years. You'll remember that they were blown out by Auburn last year. You will also remember that Georgia Southern was beaten badly by Auburn two years ago. I guess this is all I'm going with this year.
Georgia Southern 24, Liberty 21
Liberty 16, Georgia Southern 23 – FAILURE
Cheribundi Boca Raton Bowl (2:30 p.m. ABC)
SMU vs. Florida Atlantic – SMU still has their coach. Florida Atlantic does not, but they do get to play in their home stadium. But is that a good thing? A team that just lost its coach not getting to travel anywhere else for their bowl game? Yeah, they don't care at all. SMU big.
SMU 45, Florida Atlantic 10
Florida Atlantic 52, SMU 28 – FAILURE
Camellia Bowl (4:30 p.m. ESPN)
Florida International vs. Arkansas State – Get on down to the Gump and watch the Panthers and the Red Wolves play. At 4:30 on a dreary Saturday afternoon. Yikes these teams have some bad losses. But bowls!
Arkansas State 42, Florida International 21
Arkansas State 34, Florida International 26 – SUCCESS!
Mitsubishi Motors Las Vegas Bowl (6:30 p.m. ABC)
Boise State vs. Washington – Wow, this one has some name appeal. and it's gotta be some sort of a rivalry, at least for the Broncos. Boise State is probably good enough to win, and Washington's coach left, so yeah let's say they will. This would be a fun one to attend, honestly. GoFundMe?
Boise State 24, Washington 17
Washington 38, Boise State 7 – FAILURE
R+L Carriers New Orleans Bowl (8 p.m. ESPN)
Appalachian State vs. UAB – The Mountaineers won their conference, lost their coach, and they get to go to this bowl for the 2nd year in a row. It's New Orleans, though. UAB better win considering they have the best coach of all time. They won't.
Appalachian State 34, UAB 17
Appalachian State 31, UAB 17 – SUCCESS!
12/23
Bad Boy Mowers Gasparilla Bowl (1:30 p.m. ESPN)
UCF vs. Marshall – The scariest bowl name features Marshall again, and instead of South Florida they got Central Florida this year. Wait, this is not the national championship game. The Knights have to be better than the Herd, tho, right?
UCF 27, Marshall 16
UCF 48, Marshall 25 – SUCCESS!
12/24
SoFi Hawai'i Bowl (7 p.m. ESPN)
Hawai'i vs. BYU – Do you think Hawai'i would rather go somewhere cold and depressing for their bowl game? Like Florida Atlantic, how fun is it to just stay home and play in front of half a stadium? But I guess you do get a Fossil watch.
BYU 17, Hawai'i 16
Hawai'i 38, BYU 34 – FAILURE
12/26
Walk-On's Independence Bowl (3 p.m. ESPN)
Louisiana Tech vs. Miami – Apparently Auburn is getting a Walk-On's. This is a pretty sad matchup, to be Miami, I mean. In a bowl game, you're going to play the Bulldogs from Ruston? Remember when they should've beaten Florida in the first game and the whole season would've gone differently? They didn't, so now we must hate them. Go Dogs.
Louisiana Tech 28, Miami 23
Louisiana Tech 14, Miami 0 – SUCCESS!
Quick Lane Bowl (7 p.m. ESPN)
Pittsburgh vs. Eastern Michigan – A football game in Detroit featuring a team from Michigan and a team from Pittsburgh? I got cold just from typing that. But it will be played in Ford Field, where the Lions play, so it will be way more depressing with 100 fans in there.
Pittsburgh 42, Eastern Michigan 7
Eastern Michigan 34, Pittsburgh 30 – FAILURE
Now that I've picked the bowls, you should go join the bowl pick'em. Just make sure you have them in prior to each game, but go ahead and do them all so you don't have to worry about it. There's prizes and stuff.