You know how Ole Miss very rarely beats Auburn? It was mentioned in the preview. Prior to Saturday night, Ole Miss had beaten Auburn 11 out of 46 times, and only 3 times in Auburn ever. Over the course of the game, as Auburn's offense continued to look like it has most of the season, it appeared the universe was doing what it could to keep Ole Miss from improving their record on the Plains.
I never felt like either team took over the game. There were very few big plays. Jarquez finally busted a long one. Ole Miss completed one deep pass. Each team had 2 interceptions. Ole Miss botched a field goal (that ended up being one of those interceptions). It wasn't stupid ugly, but it wasn't good either.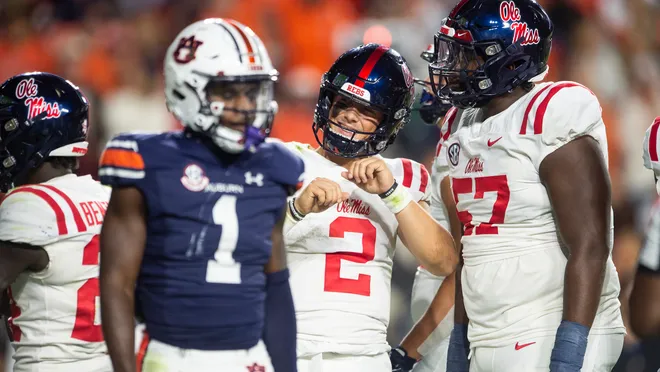 Somehow Auburn reached 122 yards passing despite pretending the forward pass had not been introduced to the game yet. I'm not one to call out coaching most of the time, and I understand a hand-off on 3rd-and-long deep in your own territory, but 3rd-and-12 from the 50 is not the time to hand the ball off to get a few more yards to punt for better field position. It felt like Auburn did that 5 times Saturday night.
It was good to see the run game get going somewhat, but I have no idea why the gameplan was to literally not throw the ball at all until they were down 2 scores with a few minutes to go.
And guess what happened when they did that? They went down and scored. Auburn ended the night with 17 pass attempts, which is only one less than Ole Miss attempted (also weird), but about a third of those attempts came on the final scoring drive.
I know we are at a point of just throwing stuff at the wall with Robby and Payton and seeing what will work. A Freeze offense has never looked like this and you can tell that he is scrambling to get any semblance of what he can do to show up on the field.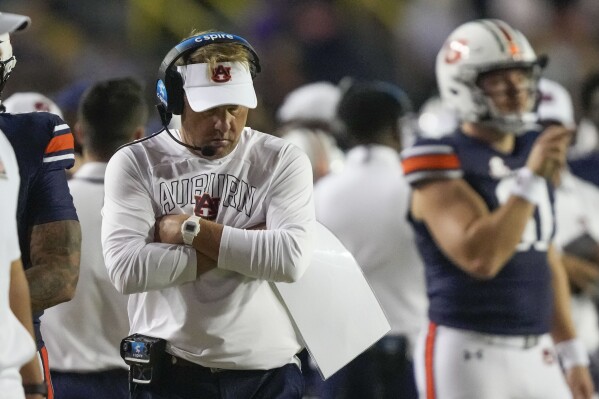 And I'm not going to get into who should play quarterback because that is the dumbest, most divisive argument that terrible parts of a fanbase love to have, but I will also say that despite what #AuburnTwitter says, one quarterback is very obviously a better passer AND runner, despite speed, at this time. Watching it as just some dude that wants Auburn to win and not worry about winning an internal argument, it is very apparent. And I love both because they play for Auburn.
Auburn has just ended the toughest 4 game streak they will have all season. They started with 3 somewhat easy ones, then faced 3 of the top offenses in the league and also 3 straight Top 15 opponents, but now they get 4 much easier ones before Alabama.
It's different at home. You see that there are things there that can work. It's just like we need a UMass or two for another week to get it going. Mississippi State might be that this upcoming week.
Whatever happens, it's #Year1. Blame nobody that is currently at Auburn. In fact, don't blame anybody because it does nothing. You don't look smarter.
Just watch, hope for the best, take the lumps, and enjoy the good stuff because more good stuff is coming in the near future.