Well, things could've been better in Week 1, but that's how this early bowls games go. It's a crap shoot, and I was crap. But it's early. There's still time.
Bowls: 9-9 (50.0%)
Regular Season: 112-35 (76.2%)
Overall: 121-44 (73.3%)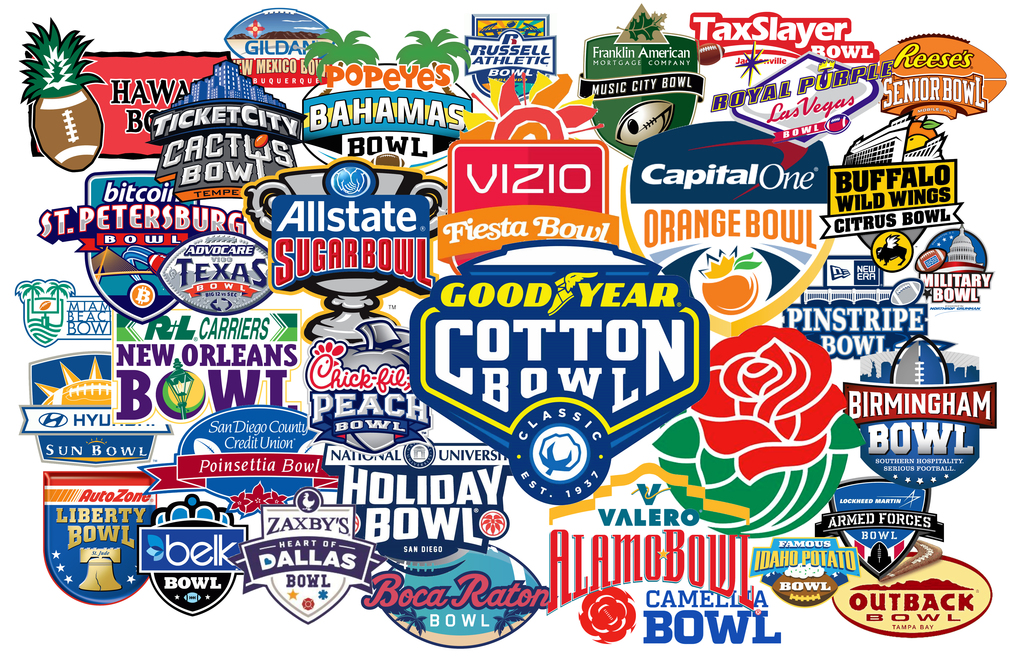 Since Week 2 has so many games, I've decided to split them up. The games get a little better. A little better. It's time to turn this thing around.
12/22
Bahamas Bowl (11:30 a.m. ESPN)
UAB vs. Ohio – Lots of money is being spent for a green team from Ohio and a green team from Birmingham to fly to a warm location outside of the United States to play a football game at 11:30 am on a Friday. Seems excessive. UAB is the feel good story because nobody went to their football games, they cancelled football, and then people got all sad, so they brought it back, and then they were pretty okay this year. Was it because nobody had film on them? Who knows.
UAB 23, Ohio 21
Ohio 41, UAB 6 – FAILURE
Famous Idaho Potato Bowl (3 p.m. ESPN)
Central Michigan vs. Wyoming – As always, this bowl sounds delicious. As always, the opponents do not. I've always liked Wyoming's uniforms because they look like they've just been rolling around in the mud, so they'll win.
Wyoming 30, Central Michigan 17
Wyoming 37, Central Michigan 14 – SUCCESS!
12/23
Birmingham Bowl (11 a.m. ESPN)
Texas Tech vs. South Florida – This is a nice little matchup for the Birmingham Bowl. Points will be scored. Many points will be scored. South Florida is the much better squad, though. Bulls big.
South Florida 41, Texas Tech 28
South Florida 38, Texas Tech 34 – SUCCESS!
Lockheed Martin Armed Forces Bowl (2:30 p.m. ESPN)
San Diego State vs. Army – This is so unfair. San Diego State has to play the entire Army in a bowl named after the Armed Forces? But wait, isn't there a big Naval contingent in San Diego? Oh, they'll be mad that Army beat Navy this year. The Aztecs get some of that get-back for the Naval Academy.
San Diego State 38, Army 17
Army 42, San Diego State 35 – FAILURE
Dollar General Bowl (6 p.m. ESPN)
Appalachian State vs. Toledo – Oh man. I know there have been some bad bowl names before, but this might take it. I mean, you can get some nice things at Dollar General, but come on. By the way, this is the bowl formerly known as the GMAC Bowl and the GoDaddy Bowl played in Mobile, AL. Mountaineers love Dollar General so they'll take this one.
Appalachian State 28, Toledo 21
Appalachian State 34, Toledo 0 – SUCCESS!
12/24
Hawai'i Bowl (7:30 p.m. ESPN)
Fresno State vs. Houston – I mean, I assume Hawai'i is really nice, but Hawai'i at Christmas just doesn't do it for me. So this one will come down to which one is homesick the least. I think that will be Houston, although Fresno State was being used as a "good win" for Alabama late in the season. -_-
Houston 35, Fresno State 20
Fresno State 33, Houston 27 – FAILURE
12/26
Zaxby's Heart of Dallas Bowl (12:30 p.m. ESPN)
Utah vs. West Virginia – Both of these teams have been right on the cusp for the last few decades. They usually have one really good season every 7-8 years, and then are just pretty decent the other years. They are never really bad. Oh wait, Utah is 6-6? Nevermind.
West Virginia 24, Utah 14
Utah 30, West Virginia 14 – FAILURE
Quick Lane Bowl (4:15 p.m. ESPN)
Duke vs. Northern Illinois – Remember that time Auburn beat Northern Illinois? Remember that time Northern Illinois beat Alabama? They won't beat Duke.
Duke 27, Northern Illinois 10
Duke 36, Northern Illinois 14 – SUCCESS!
Cactus Bowl (8 p.m. ESPN)
Kansas State vs. UCLA – It seems to me that a lot of the bowl games are dropping sponsors from their names. I like that. Cactus Bowl. Yeah, that just sounds strong and… prickly. UCLA fired their coach a few weeks back. Kansas State's coach was at the first Christmas. Experience wins.
Kansas State 23, UCLA 20
Kansas State 35, UCLA 17 – SUCCESS!
Now that I've picked the bowls, you should go join the bowl pick'em. Just make sure you have them in prior to each game, but go ahead and do them all so you don't have to worry about it. There's prizes and stuff.