After a terrible part 1 of week 2, I followed up it with a slightly less terrible part 2 of week 2. I still have plenty of games left to get this thing back on track.
Bowls: 20-20 (50.0%)
Regular Season: 101-45 (69.2%)
Overall: 121-65 (65.1%)
As you've seen from my previous picks, it's all a guess. Aside from the Championship Game, even with these bigger bowls with bigger names, you'll never get a game with two teams that are both motivated. Let's see what happens.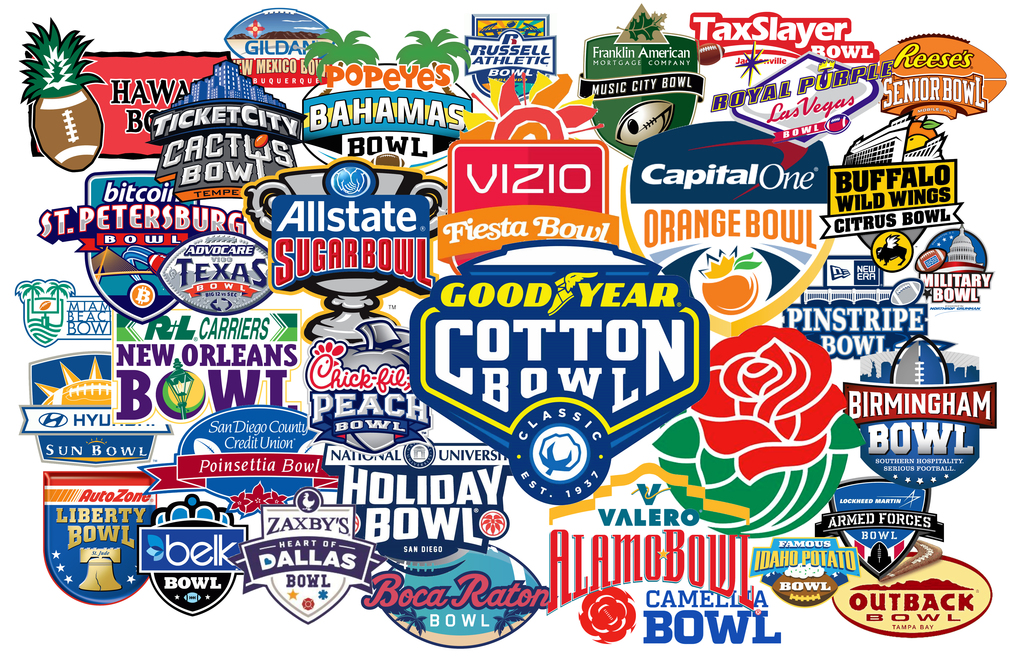 12/31
Military Bowl presented by Northrop Grumman (11 a.m. ESPN)
Cincinnati vs. Virginia Tech – The Hokies have a bit of military history, therefore they will not lose something called the Military Bowl.
Virginia Tech 38, Cincinatti 20
Cincinatti 35, Virginia Tech 31 – FAILURE
Hyundai Sun Bowl (1 p.m. CBS)
Stanford vs. Pittsburgh – Well this is a cross-country battle meeting in the middle (the game is played in Texas). Who will be the most excited? Probably Pitt. Nobody likes Pennsylvania in December. Stanford isn't what they usually are. And Pitt is Pitt. Eh… Stanford I guess.
Stanford 17, Pittsburgh 14
Stanford 14, Pittsburgh 13 – SUCCESS!
Redbox Bowl (2 p.m. FOX)
Michigan State vs. Oregon – Wait, I think I just remembered I have a DVD that's 3 weeks late at the Walmart Redbox down the street. Dang it. What do the players get for playing in this one? A year's worth of free rentals? Make it game rentals and I'll play in it. By the way, this is the old Foster Farms Bowl, played at the 49ers stadium.
This isn't a bad game by the names. Both were a little down this year. I'd say Oregon has a little more, though.
Oregon 34, Michigan State 24
Oregon 7, Michigan State 6 – SUCCESS!
Autozone Liberty Bowl (2:45 p.m. ESPN)
Missouri vs. Oklahoma State – Well look at this old Big 12 rivalry being played in Memphis. Missouri had to play up to get here. The Cowboys got here from a bad season. Both sling the ball around. I honestly have no clue. I'll go with Missouri because they're probably a little happier about being there.
Missouri 45, Oklahoma State 31
Oklahoma State 38, Missouri 33 – FAILURE
San Diego County Credit Union Holiday Bowl (6 p.m. FS1)
Northwestern vs Utah – Does your bowl game have seven words in it? What you want, a cookie? Northwestern has won four bowl games in their history. They once went 63 years without winning one. Yeah, they won't win this one, either.
Utah 28, Northwestern 17
Northwestern 31, Utah 20 – FAILURE
Taxslayer Gator Bowl (6:30 p.m. ESPN)
North Carolina State vs. Texas A&M – This is an interesting little matchup. Both are good enough to win some things. Both are still held back by… something. Texas A&M has the talent advantage. That'll be it.
Texas A&M 35, North Carolina State 28
Texas A&M 52, North Carolina State 13 – SUCCESS!
1/1
Outback Bowl (11 a.m. ESPN2)
Mississippi State vs. Iowa – What a trash matchup. There's nothing more Outback Bowl than Iowa. The only thing we're missing is Tennessee. Mississippi State will do, though. Despite not having a very good football team, the Maroons will win because they are playing Iowa.
Mississippi State 38, Iowa 17
Iowa 27, Mississippi State 22 – FAILURE
Playstation Fiesta Bowl (12 p.m. ESPN)
LSU vs. UCF – UCF doesn't have their quarterback. LSU does have the ability to use last year's Peach Bowl and what the rest of the world has heard for a year as motivation to actually want to play an AAC team in a bowl game. LSU also wasn't a half from being in the Playoffs, so they may be into this matchup. LSU is just good enough to beat these Knights that want you to think they are real. But now all we'll hear is that they would've won if they had their quarterback. It never ends, and it's all because Alabama lost to Auburn and then won the College Football Playoffs last year.
LSU 31, UCF 10
LSU 40, UCF 32 – SUCCESS!
VRBO Citrus Bowl (12 p.m. ABC)
Kentucky vs. Penn State – Seriously? We're doing this? Kentucky ran through a terrible division, lost to the only good team in that division, but because it was a good year for them, they're in the Citrus Bowl. They are one bowl below the New Years Six. Kentucky. The problem is that Penn State isn't that much better. It'll be close.
Penn State 30, Kentucky 28
Kentucky 27, Penn State 24 – FAILURE
Rose Bowl Game presented by Northwestern Mutual (4 p.m. ESPN)
Washington vs. Ohio State – Auburn beat Washington. Auburn beat Purdue by 49 who beat Ohio State by 29. Auburn has already won the Rose Bowl. But really, Ohio State is going to win big for their departing leader.
Ohio State 41, Washington 20
Ohio State 28, Washington 23 – SUCCESS!
Allstate Sugar Bowl (7:45 p.m. ESPN)
Texas vs Georgia – I completely forgot this was a game. Probably because it's a bowl game with Georgia in it. The Dawgs are fine. Texas is not back. Georgia will win and whine about being left out of the playoff after beating a 4-loss team in a meaningless bowl.
Georgia 34, Texas 20
Texas 28, Georgia 21 – FAILURE
1/7
CFP National Championship presented by AT&T (7 p.m. ESPN)
Clemson vs. Alabama – Part of me thinks Clemson is good enough. All that matters is if they have defensive backs that can cover Alabama's wide receivers. Unless their defensive line can make Tua actually move a foot in the pocket, that's the only thing they can do. Clemson's offense can score on Alabama, but I'm not going to pick it because all my wishful thinking picks never work. Just know what I'm doing here.
Alabama 31, Clemson 21
Clemson 44, Alabama 16 – FAILURE