Welp, even a cancelled bowl game couldn't help my dismal part 1 of week 2. 3-5? Are you kidding me?
Bowls: 15-13 (53.6%)
Regular Season: 101-45 (69.2%)
Overall: 116-58 (66.7%)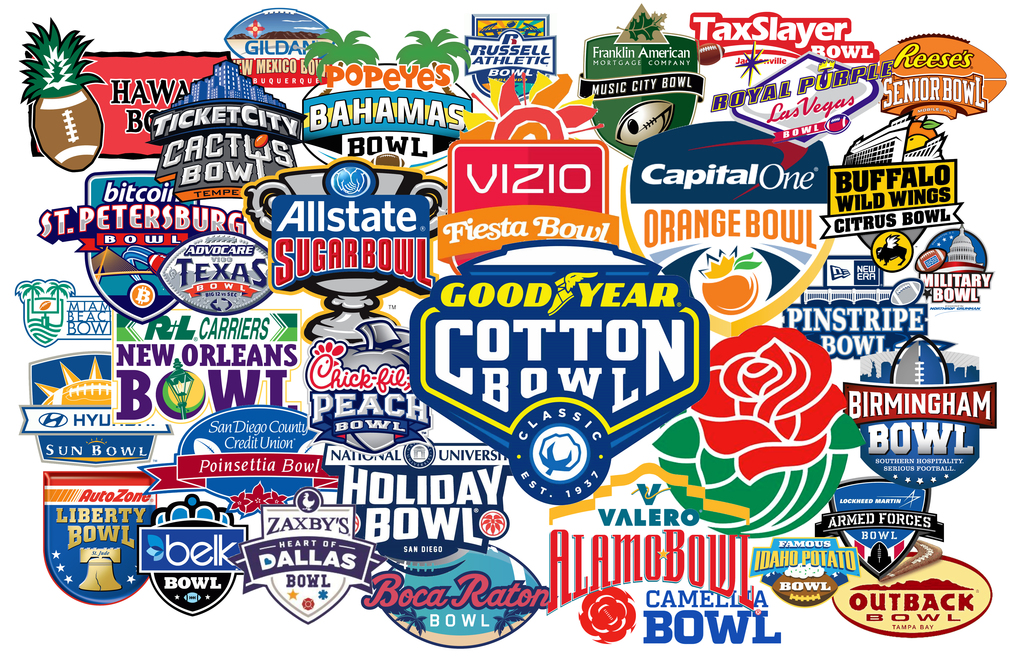 The 2nd half of Week 2 is when bowl season starts getting interesting. Yeah, the teams have little numbers next to their name and everything. In some cases, both do. Now it gets real. Now it's time to fix things.
12/27
Walk-On's Independence Bowl (12:30 p.m. ESPN)
Temple vs. Duke – Temple has been good for Temple the last few years. Duke was blown out in their last game of the season. Let's go with that.
Temple 28, Duke 13
Duke 56, Temple 27 – FAILURE
New Era Pinstripe Bowl (4:15 p.m. ESPN)
Miami vs. Wisconsin – Miami thought they were something this year. They weren't. Wisconsin wasn't given the hype they normally get from playing in a bad division. Miami won't like the cold of Yankee Stadium, though.
Wisconsin 31, Miami 21
Wisconsin 35, Miami 3 – SUCCESS!
Academy Sports + Outdoors Texas Bowl (8 p.m. ESPN)
Baylor vs. Vanderbilt – What a weird bowl game. Baylor was okay. Vanderbilt was okay. But for years these two teams were the doormat of everything. Vanderbilt is probably a little more pumped about at least leaving their state.
Vanderbilt 23, Baylor 21
Baylor 45, Vanderbilt 38 – FAILURE
12/28
Franklin American Mortgage Music City Bowl (12:30 p.m. ESPN)
Purdue vs. Auburn – Check back later for my prediction in the game preview, but SPOILER ALERT: it's Purdue.
Auburn 35, Purdue 17
Auburn 63, Purdue 14 – SUCCESS!
Camping World Bowl (4:15 p.m. ESPN)
West Virginia vs. Syracuse – West Virginia will be without their quarterback. Syracuse was a little bit of a surprise this year. This one is virtually a toss-up, but I think playing with your 2nd-string quarterback is a definite disadvantage.
Syracuse 41, West Virginia 27
Syracuse 34, West Virginia 18 – SUCCESS!
Valero Alamo Bowl (8 p.m. ESPN)
Iowa State vs. Washington State – Washington State is the better team. I don't know why we think Iowa State is a top 25 team. Washington State will win.
Washington State 38, Iowa State 17
Washington State 28, Iowa State 26 – SUCCESS!
12/29
Chick-fil-A Peach Bowl (11 a.m. ESPN)
Florida vs. Michigan – Both of these times are highly overrated. How a 3-loss Florida team with a recent 21-point home loss to Missouri is in the top 10 is beyond me. And Michigan was exposed late. Florida has to feel a little bit better about playing in this one than the Fightin' Khakis, but the problem is that just aren't very good. Michigan's defense will maul the QB that hated his own fans a few weeks ago.
Michigan 38, Florida 10
Florida 41, Michigan 15 – FAILURE
Belk Bowl (11 p.m. ABC)
South Carolina vs. Virginia – Nothing says Belk like South Carolina and Virginia. Go Jake Bentley.
South Carolina 34, Virginia 14
Virginia 28, South Carolina 0 – FAILURE
Nova Home Loans Arizona Bowl (12:15 p.m. CBSSN)
Arkansas State vs. Nevada – So this is a bowl game. I always pull for Arkansas State because Cam killed them and Gus coached there.
Arkansas State 45, Nevada 31
Nevada 16, Arkansas State 13 – FAILURE
CFB Semifinal at the Goodyear Cotton Bowl Classic (3 p.m. ESPN)
Clemson vs. Notre Dame – Is this 2012 Notre Dame? No. Is this 2012 Clemson? Probably better. I do think the Irish are better, but I do think they haven't really been tested. Clemson big and early.
Clemson 45, Notre Dame 17
Clemson 30, Notre Dame 3 – SUCCESS!
CFB Semifinal at the Capital One Orange Bowl (7 p.m. ESPN)
Alabama vs. Oklahoma – Tua is 85% at best. Kyler Murray is sick. Is this game going to be the battle of the backups? Oklahoma's offense is the exact offense that can score on Alabama. Will Oklahoma's offense be able to stop Alabama? If Tua isn't 100%, I say yes.
Oklahoma 38, Alabama 31
Alabama 45, Oklahoma 34 – FAILURE
Now that I've picked the bowls, you should go join the bowl pick'em. Just make sure you have them in prior to each game, but go ahead and do them all so you don't have to worry about it. There's prizes and stuff.