The first week of bowl games wasn't too awful. I went 7-2 and brought up my overall average a tad. Gotta keep it going. 69.7% is not nice.
Bowls: 10-7 (58.8%)
Regular Season: 101-45 (69.2%)
Overall: 111-52 (68.1%)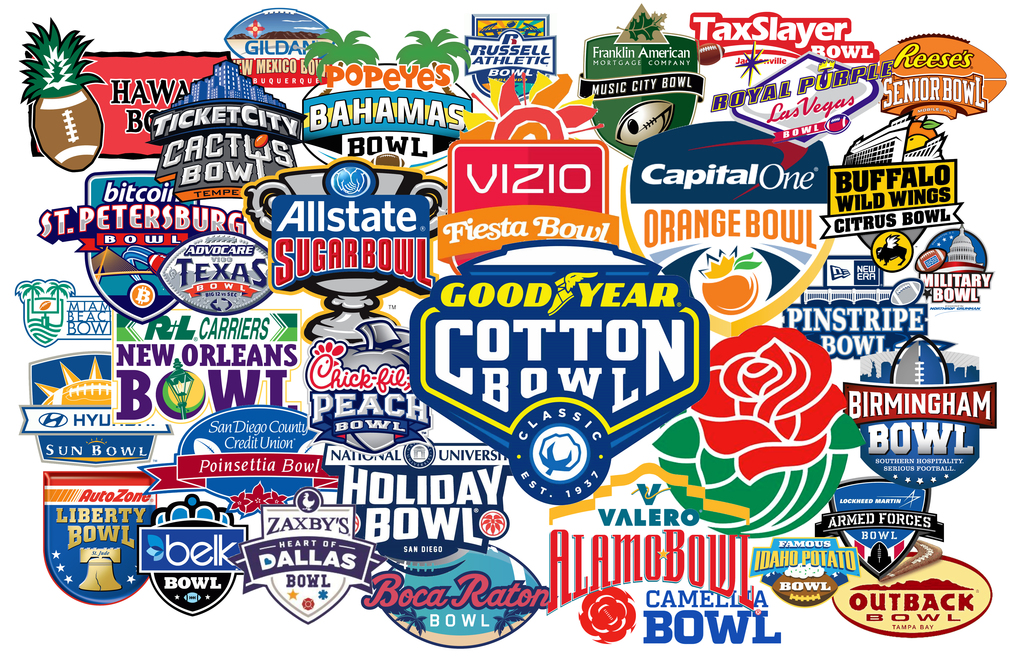 Since Week 2 has so many games, I've decided to split them up. The games get a little better. A little better. But it's still football, amirite?
12/21
Makers Wanted Bahamas Bowl (11:30 a.m. ESPN)
Florida International  vs. Toledo – Whoooweee, we get this gem at 11:30 am on a Friday? The only thing that would save this one is if it was being played in some tropical location. Oh wait… Yeah, I have no idea who will take this one, but I've seen Toledo on TV more and they are probably a little more fired up about being in a hot environment.
Toledo 49, Florida International 13
Florida International 35, Toledo 32 – FAILURE
Famous Idaho Potato Bowl (3 p.m. ESPN)
Western Michigan vs. BYU – As always, this bowl game sounds delicious. I realize there is an Outback Bowl, but if they could somehow join with this Bowl because man, if you ain't ever had their loaded potato bowl, you are missing out. I'll go with the Fightin' Youngs.
BYU 27, Western Michigan 17
BYU 49, Western Michigan 18 – SUCCESS!
12/22
Jared Birmingham Bowl (11 a.m. ESPN)
Memphis vs. Wake Forest – He went to Jared. Yeah, the Birmingham Bowl has a sponsor now, but it's still going by the Birmingham Bowl. Isn't that point of a sponsor? Memphis lost their OC, and I forgot Wake Forest had a football team this year. Seriously, never heard about them once. Wait, didn't they beat Duke badly? Nah, not enough. Memphis big.
Memphis 41, Wake Forest 10
Wake Forest 37, Memphis 34 – FAILURE
Lockheed Martin Armed Forces Bowl (2:30 p.m. ESPN)
Houston vs. Army – You never pick against Army in something called the Armed Forces Bowl. I say this exact same thing each year.
Army 31, Houston 21
Army 70, Houston 14 – SUCCESS!
Dollar General Bowl (6 p.m. ESPN)
Buffalo vs. Troy – Troy takes a trip down I-65. Buffalo is getting on a plane. Buffalo might be a little more into this one. They also had a good year.
Buffalo 24, Troy 14
Troy 42, Buffalo 32 – FAILURE
SoFi Hawai'i Bowl (9:30 p.m. ESPN)
Louisiana Tech vs. Hawai'i – I guess if you live in Hawai'i, you don't mind that you never really go anywhere for a bowl game. But it has to be somewhat boring to just play another home game with a half-empty stadium. I'll take the Warriors over the Bulldogs from Ruston.
Hawai'i 34, Louisiana Tech 27
Louisiana Tech 31, Hawai'i 14 – FAILURE
12/26
SERVPRO First Responder Bowl (12:30 p.m. ESPN)
Boston College vs. Boise State – Remember when Boise State was today's UCF? What happened? They still win a lot, but they just don't have the spotlight like they used to. Boston College got a lot of hype even late in the season, but finished 7-5. Boise is better.
Boise State 21, Boston College 17 – CANCELLED
Quick Lane Bowl (4:15 p.m. ESPN)
Minnesota vs. Georgia Tech – Plain and simple, Paul Johnson is stepping down. making this his last game at Georgia Tech. Despite running an offense nobody practices against, they'll win on that alone.
Georgia Tech 38, Minnesota 17
Minnesota 34, Georgia Tech 10 – FAILURE
Cheez-It Bowl (8 p.m. ESPN)
California vs. TCU – Who doesn't love a bowl of Cheez-Its? Throw some pretzels in there and you have a good Friday night. Both of these teams were barely bowl eligible, but TCU is usually the stronger squad, so let's go with the Frogs.
TCU 18, California 17
TCU 10, California 7 – SUCCESS!
Now that I've picked the bowls, you should go join the bowl pick'em. Just make sure you have them in prior to each game, but go ahead and do them all so you don't have to worry about it. There's prizes and stuff.