The picks last week were okay, but not good enough. If I'm going to have a passing grade on the season, I'm going to need to pick it up.
Last week: 8-4 (66.7%)
This week: 6-5 (54.5%)
Overall: 90-43 (67.7%)
Rivalry week is not usually a good week to pick up some extra percentage points, but I'll try my best.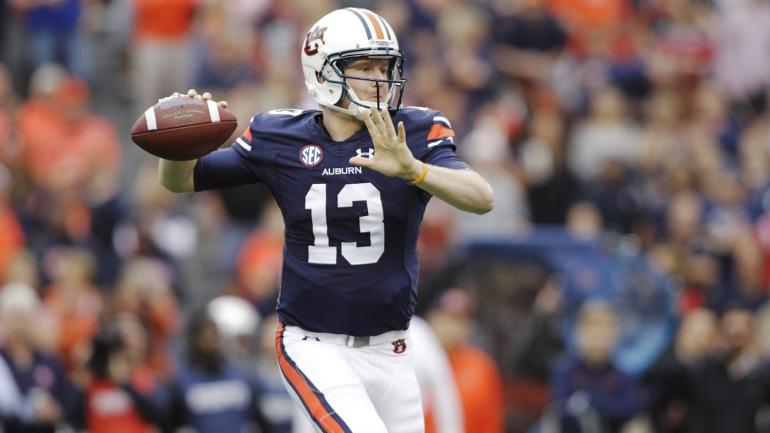 11/24
LSU at Texas A&M – The Purple Tigers won't have Fournette, and somehow Trevor Knight, who was out for the season, is returning for the game. It shouldn't matter, though. LSU is the better team overall and the Aggies have faltered down the stretch as they always do.
LSU 27, Texas A&M 14
LSU 54, Texas A&M 39 – SUCCESS!
11/25
Arkansas at Missouri – The team that lucked out the most when the SEC determined a few new "rivalry" games was Arkansas. They went from playing LSU the last week of the season to playing Missouri. Every year. Razorbacks big.
Arkansas 42, Missouri 21
Missouri 28, Arkansas 24 – FAILURE
11/26
Georgia Tech at Georgia – Both teams are 7-4. Both teams are 4-4 in their conference. That's probably worse for Georgia since they play in the awful SEC East. Tech is always going to be a pain because of their offense, but is much more talented.
Georgia 34, Georgia Tech 21
Georgia Tech 28, Georgia 27 – FAILURE
Kentucky at Louisville – The Cardinals have dwindled as do most Petrino-coached teams. Kentucky has moved on to basketball. The dwindling of Louisville will still be too much for the Wildcats.
Louisville 45, Kentucky 17
Kentucky 41, Louisville 38 – FAILURE
Mississippi State at Ole Miss – This game is being played on the SEC Network at the exact same time as the Iron Bowl. That's the Egg Bowl we all know and love. Mississippi State can score a little bit and Ole Miss can't even stop Vandy from scoring. I'm going with the Bulldogs.
Mississippi State 35, Ole Miss 28
Mississippi State 55, Ole Miss 20 – SUCCESS!
South Carolina at Clemson – The impressive last month of the Gamecocks will come to an end in a game that really doesn't matter. South Carolina is going bowling and this should be an easy one for the Tigers.
Clemson 42, South Carolina 14
Clemson 56, South Carolina 7 – SUCCESS! 
Tennessee at Vanderbilt – Each year Tennessee ends their season with Kentucky, Missouri, and Vandy. They win them all and it somehow makes everybody think that Tennessee will be good the next year. The really sad thing is that a win over Vandy may put the Volunteers in the Sugar Bowl. That is the joke of all jokes, so I'm not picking it to happen.
Vanderbilt 31, Tennessee 28
Vanderbilt 45, Tennessee 34 – SUCCESS!
Florida at Florida State – Both teams are perceived as good because of their names, but are really just mediocre. Both teams have a decent record because they either play in a top heavy conference or a terrible division. I'm going to go with the home team. Go Braves.
Florida State 23, Florida 17
Florida State 31, Florida 13 – SUCCESS!
Auburn at Alabama – Check back later for my prediction in the game preview, but SPOILER ALERT: still a big game, folks.
Auburn 27, Alabama 24
Alabama 30, Auburn 12 – FAILURE
Other Games of Note
Michigan at Ohio State – This game is at 11 am. I know it always is, or I think it always is, but that's just sad. The supposed 2nd and 3rd best teams in the nation kicking off at lunchtime in the biggest game of the year. Ohio State is good, while Michigan has looked very plain the last two weeks. Bucks big.
Ohio State 38, Michigan 17
Ohio State 30, Michigan 27 – SUCCESS!
Washington at Washington State (11/25) – The Apple Cup has a little importance this year. Mike Leach's Cougars are pretty strong and Washington is playing for a playoff spot. I think the Cougs do us all a favor.
Washington State 41, Washington 34
Washington 45, Washington State 17 – FAILURE
Now that you know who will win, head on over to the 2016 War Blogle Pick 'em and get your picks in. There will be weekly prizes and and overall winner at the end of the season. It's easy. Do it.