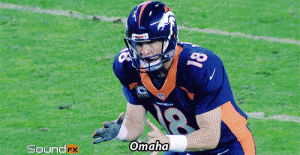 Happy Tuesday. I hope you're as sick of the Peyton Manning Omaha jokes as I am. Just kidding, I love them. What a weekend. Relive the weekend and catch up on everything else here. Enjoy.
– The opener was stressful. Auburn needed late action to pull out the upset. Full highlights here.
– The bats completely disappeared in game two. If you're too excited to work and need to temper your emotions, these highlights will help.
– Heading into game three, Auburn planned to start a freshman at pitcher. That changed just a few hours before gametime.
– The bats came back alive in game three. When I say they came alive, I mean they nearly made history. Relive all of the glory here. All those bats earned Auburn its first trip to Omaha since 1997.
– I almost feel bad for UNC at this point. It wasn't enough for Auburn to beat them in the NCAAB Sweet Sixteen, they also had to beat them in Baseball's equivalent.
– See everything the players and coaches said and how the internet reacted to the historic win. Also, watch the players come back to fans at 2:30 am.
– Auburn now heads to Omaha to face off against SEC rival Mississippi State on Sunday. Omaha can be confusing, so here's how the format works and here's a handy bracket so you can keep up.
– As if Baseball needed anymore good news, see which future Tiger is Alabama's Mr. Baseball.
– I agree with Football #EverythingSchool. But really, how good is it right now for Auburn Athletics?
– It was not only a good weekend for Auburn, but for the SEC in general.
– Speaking of Football, if you want to be angry and happy at the same time, see these projections. I don't know how to feel anymore.
– Recruiting season is in full swing and the Tigers are gaining momentum. That includes a commitment for the most needy position group and a highly rated JUCO transfer.
– Also, if this isn't the best football name out there I don't know what it.
– We still don't know who will replace Jarrett Stidham, but catch up with his NFL progress.
– In random coaching news, a former Auburn coach is getting the Butch Jones treatment.
– Bruce is always recruiting. Will he get a commitment from this 5-star?
– Last but not least: See Auburn's newest silver medalist.
Let me know if I missed anything in the comments below.