Memphis beat Ole Miss? Michigan State beat Michigan on a bad snap? Week 7 was weird, and gave me two losses that I shouldn't have to deal with.
Last Week: 6-3 (66.7%)
This Week: 6-2 (75.0%)
Overall: 63-23 (73.3%)
Week 8 has a few big games by name, but will probably end up being exactly what you expect. I do call one major upset on a national scale down there, though. Let's do this.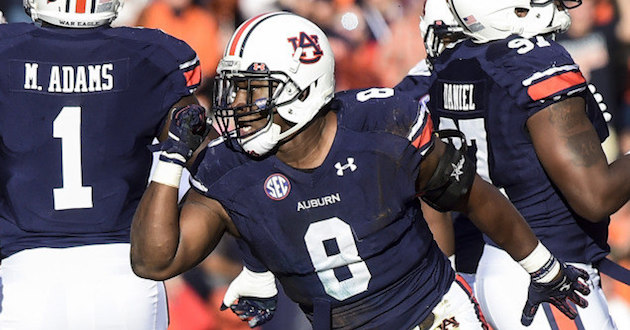 10/24
Tennessee at Alabama – Some Crimson Tide fans call Tennessee their biggest rival. It's mostly because they are mad that ex-ex-ex-Vol coach Phil Fulmer turned them in for cheating over a decade ago. As stupid as that sounds, we all know it's because they want to say they've beaten their "biggest rival" eight times in a row because that sounds better than their record against their real rival over their last fifteen years.
Alabama 28, Tennessee 17
Alabama 19, Tennessee 14 – SUCCESS!
Missouri at Vanderbilt – I know I've beaten up on the Commodores all season, but I think they have a shot in this one. Missouri is pretty bad. They've scored 9 points combined in their last two games, and they don't seem to have any direction without Maty Mauk in there. Vanderbilt's defense is decent enough to keep this close.
Vanderbilt 14, Missouri 10
Vanderbilt 10, Missouri 3 – SUCCESS!
Western Kentucky at LSU – The Hilltoppers won't be able to stop Leonard Fournette. In fact, it will look like he's running downhill the whole game. Get it?
LSU 38, Western Kentucky 10
LSU 48, Western Kentucky 20 – SUCCESS!
Texas A&M at Ole Miss – Both of these teams looked pretty bad last week. Ole Miss hasn't looked great for the last few weeks. Texas A&M has a quarterback problem. With this game being in Oxford, and the Rebels having the better defense, they'll win this one, if only just to make Auburn fans worry more next week.
Ole Miss 41, Texas A&M 31
Ole Miss 23, Texas A&M 3 – SUCCESS!
Kentucky at Mississippi State – The Wildcats are the team that Auburn just beat. Mississippi State is the team that Auburn would beat if they played right now. These teams are very similar, but I'll give it to the home team.
Mississippi State 31, Kentucky 17
Mississippi State 42, Kentucky 16 – SUCCESS!
Auburn at Arkansas – Check back tomorrow for my prediction in the game preview, but SPOILER ALERT: Bert Hurt.
Auburn 38, Arkansas 20
Arkansas 54, Auburn 46 (4 OT) – FAILURE
Other Games of Note
Indiana at Michigan State – Michigan State sort of deserves a loss. Indiana sort of deserved to beat Ohio State a few weeks ago. Why not?
Indiana 27, Michigan State 24
Michigan State 52, Indiana 26 – FAILURE
Ohio State at Rutgers – Rutgers beat Indiana last week, and had they not spiked the ball on 4th down two weeks ago, they had a chance to beat Michigan State. Man, these two games would ne a nice little fatal four-way, wouldn't it? This one has the makings for a weird upset, but college football hates us this year.
Ohio State 34, Rutgers 20
Ohio State 49, Rutgers 7 – SUCCESS!
Now that you know who will win, head on over to the 2015 War Blogle Pick 'em and get your picks in. There will be weekly prizes and and overall winner at the end of the season. It's easy. Do it.