10. Auburn 26 vs. LSU 14 – Nov. 25, 2017
Note: This game was not in the 2010 edition or 2015 edition of this list because it happened in 2017.

How I Remember It: It was two weeks after Auburn had already dismantled one #1 team (Georgia), and here came another #1 team. I went into this game with that confidence that almost gives you a little bit of nervousness. Like when you know you've got more than a shot and just don't want to mess it up. Not like going into a game where you know it will take your best to even have a chance.
I remember having a feeling like 2009 when Kerryon threw that jump pass to Nate Craig-Myers in the 1st quarter. It was the prototypical Malzahn/Alabama play that we have gotten used to. The plays on that back sheet of the play card that only comes out in the 12th game of the season.
Alabama had the lead for a short amount of time, but it never felt like Auburn was going to lose. Jalen Hurts threw up a Hail Mary for a touchdown and Jarrett Stidham ran one in where I yelled something like "well just run it in, big boy!"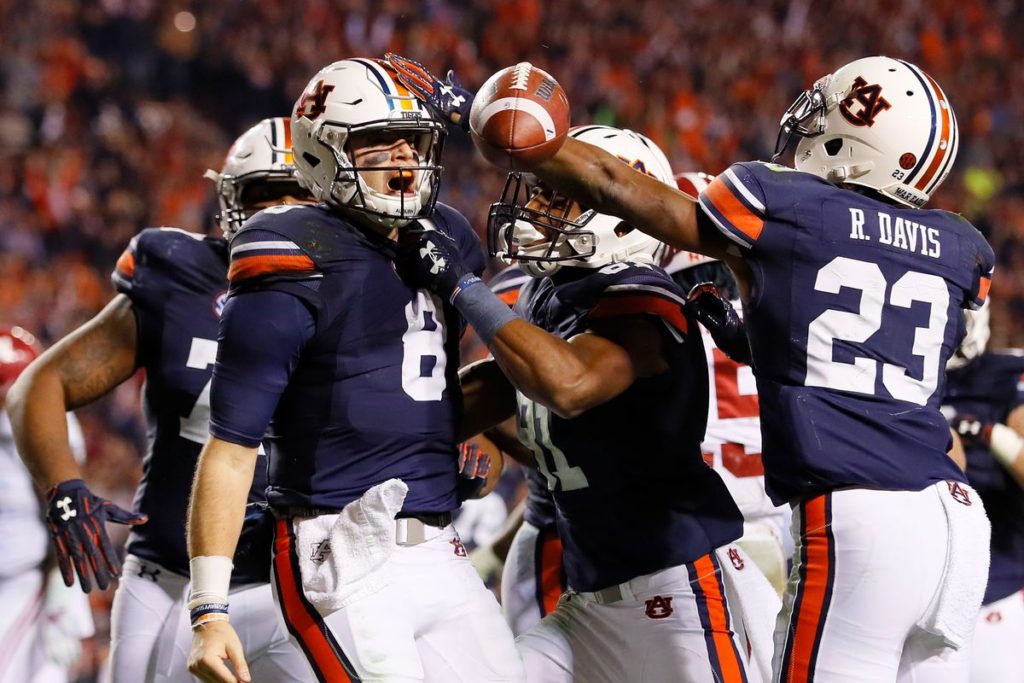 Auburn won by virtually two touchdowns and I remember my wife being deathly afraid that Alabama was going to score 12 points on the last play of the game that ended up being a long pass/run near the goal line. It was a good, satisfying, but not like an "Oh my gosh, we just beat #1 undefeated Alabama" feeling. It felt, or at least I felt like it was supposed to happen.
What Really Happened: This one isn't that old, so what I remember is pretty spot on. Alabama was #1 and undefeated. Auburn had two close losses from earlier in the season that could've easily gone the other way. It could've been an all-undefeated Iron Bowl.
But instead, Auburn was on the way up, and Alabama was #1 only because Auburn had destroyed #1 Georgia two weeks before.
The scoring started with the Kerryon-to-Nate jump pass. The place was lit. Then it settled down. In the 2nd quarter, Jalen threw what seriously looked like a Hail Mary that landed right in Jerry Jeudy's hands. Apparently Daniel Carlson gave Auburn the lead with a field goal at the halftime buzzer. I do not remember that at all.
To start the 2nd half, Alabama marched straight down the field and scored to take a 14-10 lead. That was when everybody thought "yeah, they're about to do what everybody thought." But Auburn answered back in the 3rd with another field goal and 1-yard touchdown run by Kerryon to take the 20-10 lead.
Stidham put the nail in the coffin with the aforementioned 16-yard run to seal it. In terms of beating Alabama, it was one of the more boring games. Or more boring ways to win. Alabama, and especially Jalen Hurts looked outmatched and not in the game. Auburn just beat them for nearly 60 minutes.
Why did I pick this game? When you beat #1 undefeated Alabama, regardless of how many points are scored or how plain the game seemed, it's going to be up there. Not to mention, this win vaulted Auburn to #2 in the nation.
Fun Fact: With this win and the previous win over Georgia, Auburn was the first team in the history of college football to beat both participants of the National Championship Game. That is not necessarily a fun fact.
Play of the Game: Jarrett Stidham rolls to his left, appearing to look for a reciever, but runs it in from 16 yards out to seal the 12-point win.
Player of the Game: Kerryon Johnson ran for a touchdown, passed for a touchdown, hurt his shoulder, and still ran for 100 yards.
Quote of the Game: "I think we're pretty darn good," Stidham said. "Coach Malzahn told us it's never been done in three weeks beating two No. 1 teams, so I think this team is pretty good."
Game Story: ESPN
Full Game:
You can view the rest of the 2020 edition of this list here.