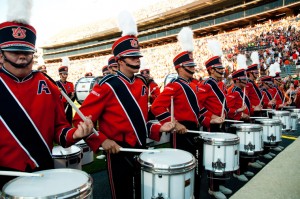 Earlier today, I learned that Ole Miss will be holding their Homecoming festivities this weekend as the Rebels take on Auburn.
Wait, what? We're Ole Miss's Homecoming game?! Just continue to kick us while we're down.
But seriously, Ole Miss played their four non-conference games to start the season, therefore they had no choice to put Homecoming against an SEC opponent later in the season. Whereas normally they would play some creampuff in late October in hopes that the easy opponent would mean an easy win for the alumni in town. Oh, well that's not what they're getting this time!!! Right?! … right?
Later, I was tipped off by an Auburn University Marching Band member that I should let it be known that due to Homecoming festivities, Ole Miss would not be allowing the Auburn University Marching Band to play at half time. The band member told me that I should specifically talk to Michael Thompson, Ole Miss's Senior Associate AD, so I did.
I sent Michael a simple email asking if this was true, and if he could explain the reasoning. Here was his prompt response:
That is true. We have great respect for visiting teams' bands, especially the Auburn University Marching Band, and strive to create opportunities for visiting bands to play. In fact, in our first 4 home games we have had two full bands play at halftime. In addition, we understand these performers invest a lot of time and energy in practicing and performing. Unfortunately, late last week was the first time our athletics department became aware that Auburn expected to perform on the field, and it was simply too late. Saturday is a very special game for us, as it is our annual Homecoming game.

As I'm sure you are aware, the Homecoming game includes several presentations and field events to honor our homecoming court and alumni. Because of this, we simply do not have time in the script to accommodate an on-field performance. We have communicated this with the Auburn band director and he is aware.

Thanks,
Michael
While I appreciate Michael's very understanding, very positive, and very prompt response, I don't completely agree with the reasoning.
I understand that Homecoming makes halftime very busy, but from seeing at least the last twelve Auburn Homecoming halftime shows, I know that there is plenty of time to allow a 9-10 minute performance from the opponent's band. The Auburn Band usually plays a short show, then goes into the Homecoming formation, while the Homecoming Court and winner is announced. This isn't high school where you have two to three girls per grade. There are at most probably five or six girls total.
Not to mention that they already know who the winner actually is. It was announced almost a month ago. SPOILER ALERT: it's Courtney Pearson, who also happens to be the first African-American Homecoming Queen at Ole Miss. Maybe they're going to make a big deal about that, and that's fine and understandable, but would the whole thing really take up more than ten minutes? I mean ten minutes in football game dead space is a long time.
I understand, I guess, but I don't like it. It just feels a lot like the times Tennessee and Alabama tried to stop Auburn from doing Tiger Walk. Now, 380 band members and staff will travel all the way to Oxford to basically just sit in the stands and play. That seems like a lot of hard work for nothing if you ask me.
Oh, and to the ones that are saying that most opponents' bands don't perform at halftime of Homecoming games, you're right. That's because most Homecoming opponents are creampuffs that don't send a band. I have never, ever seen a full band sit in the stands at halftime. Ever.
UPDATE – Given the amounts of conflicting information in the comments section, I decided to ask Dr. Corey Spurlin, Director of the Auburn University Marching Band, if he could shed some light on the situation from the Auburn side. His response:
Thanks for your support of our band. To clarify, Ole Miss was notified on May 7th that we would bring the full band and that we wished to perform at halftime. They have acknowledged receipt of that information. The communication breakdown that Michael refers to in his response was between Ole Miss staff members and not between Auburn and Ole Miss. They have also acknowledged and sincerely apologized for their communication breakdown. They have since offered us an opportunity to perform at 9:30 a.m. in the morning, but it will be difficult for us to make it into the stadium after Tiger Walk to meet that performance time and we feel that the stadium will be, for the most part, empty at the time in the morning. For those reasons, we have decided not to accept the offer to perform at 9:30 a.m. Even though we are disappointed that we will not be able to perform on the field and represent our university in that capacity, we are looking forward to traveling with the full band to support our team from the stands.

Dr. Corey Spurlin
Director, Auburn University Marching Band
So this was not an oversight by Auburn. Auburn planned and notified Ole Miss far in advance. Again, I have never seen a full band sit in the stands at halftime for any reason, but Ole Miss is doing it to Auburn on part of their own miscommunication. Asking if the Auburn Band would like to perform at 9:30 is almost a slap in the face. Oh well, hopefully Auburn has many reasons to play throughout the game due to the offense, you know, scoring some points.