"Auburn will never be destroyed from the outside. If we lose our football program, it will be because we have destroyed ourselves from within. War Damn." – Abraham Lincoln, probably. 
While the quote may have never been said by our 16th President (and the actual quote itself isn't quite accurate) there is a simple truth somewhere in the parody that has long plagued Auburn football since the first Wood turned Yella. I specifically mention only the football program because as long as I can remember, there was never a jet-gate to replace Bruce Pearl despite three losing seasons in a row to begin his tenure (more on that later). 
The problem is, a bunch of older guys who A) happen to be rich, b) Happen to be Auburn fans, are somehow qualified to run a football program. The days of Bowden and Dye still run deep in their mind, and to this day despite the changes of the college football landscape, they would rather tread back to the 80s. 
To be fair, those were some of the best days of Auburn football. Pat Dye had instilled a respect for the Orange and Blue in the SEC that hasn't been seen in quite some time from the likes of Georgia, Bama and LSU. Tough, hard nosed, bare-knuckle football. Anything short of a championship run was unacceptable. Somehow, I get the feeling that Dye wouldn't make it to year 3 under this circus of boosters in todays' world. Ironic, no?
Harsin has a similar approach from what I've seen and heard. There's something Saban-esque about his quick-draw decisions on staff, from firing Williams mid-season for shoddy wideout play (significant improvement once he was gone, I may add) to cutting ties with Bobo for scoring only ONE second-half touchdown in November. Sounds very Dye-esque too, so why the fuss, Jimmy? If you don't like it, then come coach the program yourself. 
These past 48 hours have been pure turbulence. I was glued to my phone while trying to work, waiting for the news to break that the Now That's What I Call 80's Football club decided to make another bone-headed decision to fire the coach "with cause" so they could hope for another yes-man to come in and win 8 to 9 games a season. From what I'm hearing on the inside, there is a legitimate feeling they're looking for any reason that would justify it (shame on whoever brought that assistant coach into this. She deserves so much better).
It feels like we go through this every four years. Jet-gate to replace Tuberville with Petrino in 2003 (Auburn went undefeated in 2004 after that whole thing). Firing Chizik two years from a National Title (The crowds at the Vandy game, Auburn's last chance at an SEC win, were chanting "Keep Chizik" as we walked out). Gus pulling out the reverse card on the boosters in 2017 after winning the West while the Arkansas job happened to be open. The boosters then pulled it on Gus the year after to kick the Bob Stoops tires.
Shoot, we didn't even make it to year 2 of the Harsin era before we hopped in the ride again. From an alleged affair to verbal abuse, the mad men are at it again, and our coach and his family have had to stand resolute while opinions from all different corners of the locker room have been divisive (from what I hear, the players are absolutely for Harsin). 
Enough is enough is enough, though. It isn't 1983 anymore, and no other program in America has controversy like Auburn does when it comes to Boosters. What they fail to realize is that the day Alabama became the Dynasty was the day Saban told the Trustees to shut up and let him run his program after 2009.
Do you think that Auburn's group would have signed off on Gus hiring Kiffin, Sarkisian or O'Brien at the low-lights of their career? No. They came at him with lists- LISTS – of "acceptable hires" for Gus to choose from (to his credit, he spurned every name and picked Chip Lindsey, who then turned Jarret Stidham into Dameyune Craig 2.0 for a year). Saban would've laughed in their face. 
Harsin is my guy, simply because like the fans, he's tired of the bull. These boosters should be running their businesses, not a program they've never coached before. 
Enough is enough.
My last article was more of a rallying-cry for Auburn to get behind the coach currently on the Plains. It would be easy to make a similar cry during these times, but for this I simply have a letter. For several people.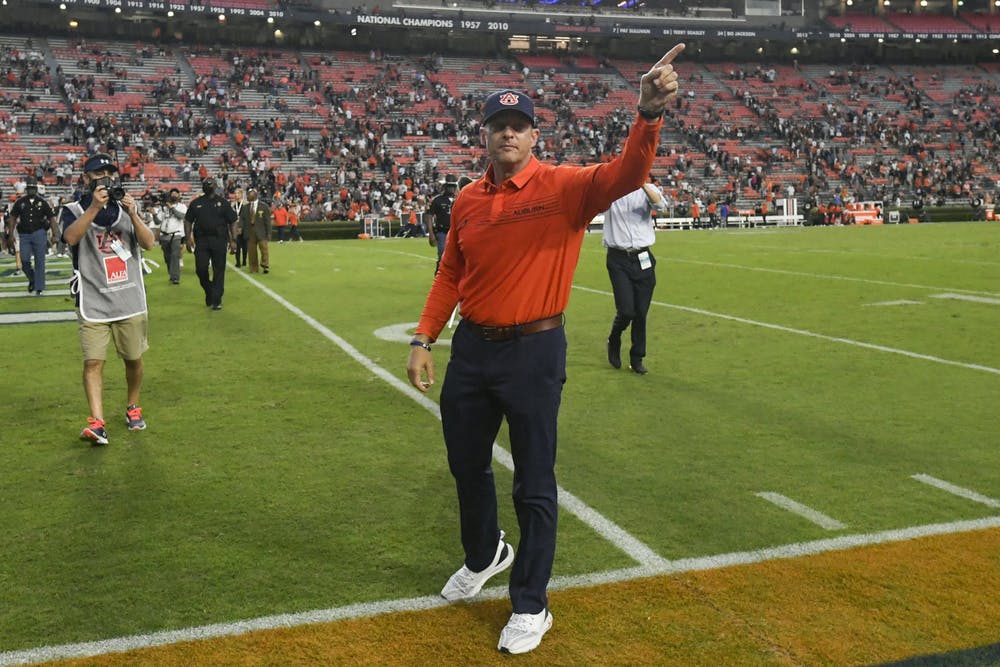 AN OPEN LETTER – 
We are behind you, all the way. 
I can't imagine what these past few hours must have been like for you and your family (while on vacation too) and I, along with millions of true Auburn supporters, are disgusted by what has taken place. No, you're not Gus, but we didn't hire you to keep running the same program he did. You see un-solid 6-win seasons as room for improvement. You want these young men on this team to be men of character and hard work. You want to bring CFP National Championship to the Plains. We believe you will, and we are committed to your program. Go run this thing to 10 or 11 wins next season just to spite the haters. Go win 8 and tell us the next step to getting to Georgia levels of competition from there. We're with you either way. Hopefully, you and your family now see what the Auburn Family is really about. Your players who stayed stayed for a reason, and we're going to buy in too. 
War Eagle, Coach!
To the Auburn Board of Trustees
Thank you. Your hard work in your respective fields of business have positioned yourselves to contribute to Auburn in a way that many clubs can only wish for. Thank you for the Jumbotron at Jordan-Hare, for the upcoming new and improved Auburn Arena, and for contributing to the checks to keep talent such as Bruce Pearl around for the long haul. Your love for Auburn athletics has not gone unnoticed. 
Now on behalf of the fans, the ones who actually buy the tickets for the games, please stop while you're ahead. This is the 21st century of College Football. There are going to be transfers via the portal (Alabama lost a boatload this offseason too) and there are going to be growing pains with a new administration in any job. If you need confidence that patience pays off, look no further than Bruce Pearl. The man had losing seasons, recruited FANS to come attend the games, and now after 8 years of waiting we're the mecca of SEC basketball in the West. All good things to those who wait. Let the man coach.        
You are absolutely the right man for the job. In this modern age of football, where swag must align with hard work, there is no one I trusted more to make the right hire after Gus, and while I raised my eyebrow when Bryan was announced, I can see why he was your top choice. If the powers that be offer you an extension, which they absolutely should, I hope you consider staying. Thank you for your hard work. 
To the players, both current and recruits
This is the Auburn family at its finest. We believe in the effort you're putting in under Harsin, and we're rooting for you. All of you, no matter your position. We love this team, and we hope you recognize that we stand behind all of you if you wear Orange and Blue, and beyond. Even the transfers. If you're a recruit looking for a new home, take note. We love this team and we will support you. Mess with one of us, mess with all of us. War Damn, boys!
Lastly, to the fans. You, the people

. 
We have arrived at the crossroads. Shades of the decades-long rebuilds at Tennessee and Texas are starting to show themselves at Jordan-Hare, and it isn't the coaches fault. The support I have seen from you on Twitter and Facebook has been tremendous, so I say this only for the ones who haven't quite bought in yet. The time to unite is NOW. It is time for the powers that be to understand that WE pay the ticket prices. WE are in the stands, freezing our butts off or getting drenched in the rain, screaming our ever-loving lungs out to every touchdown. WE have waited for success, and I believe we can achieve it under Harsin. Most of you do too, so do not waver in your support now. Give him three years and let us discuss it then. Until then, this family known as the Harsins need us. Auburn needs us. Put your energy from the meme-making and the basketball games into this vision coach has brought here from Boise and believe! I love this fan base. I now know, after three days of rumors and speculation, there is no greater gathering out there. 
I write this not as a call to boycott Yellawood until they shut up. I write this not to call out transfers who left for softer fields. I simply write this, because of one thing that I believe has  brought us together. Boosters included. 
I write these letters because I believe in Auburn. And Love it. War Eagle. 
I'll see y'all in Toomers when we win the West next year. 
 – Barning Man.