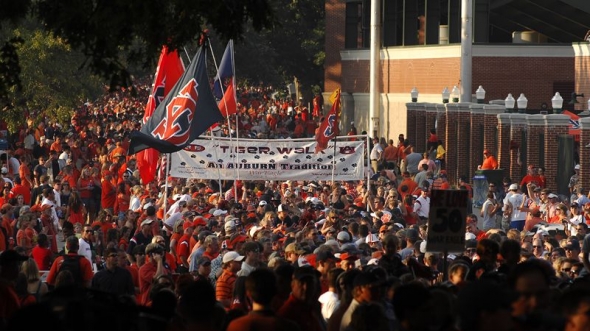 Rumors began swirling this morning about the possibility of Alabama banning Tiger Walk at Bryant-Denny Stadium this Friday when fans noticed this on the Auburn Gameday site.


I thought it was funny that Auburn was posting that there would be no "team walk", however they post the exact time and location that the team buses will arrive. They know how it is, and what's going to happen.
I was waiting to post something about this until I read or heard about that this "banning" of one of Auburn's greatest traditions straight from the elephants mouth. Well, that happened.
From CBS42's B.J. Millican's twitter account: "No permission was sought to alter procedures. Auburn will follow the operating procedures set by Alabama this weekend. The addition of the South End Zone upper deck at Bryant-Denny Stadium, the logistics for team arrival for visiting team have changed from previous seasons. Auburn will follow same procedures as have the other institutions that have played here this season."
He we was quoting an official from the University of Alabama.
Although the school probably can ban the promotion of Tiger Walk on their campus, which only means no band members or cheerleaders would be present, they can't stop hoards of people from being in a certain section of campus at a certain time.
We all know what this means: if you are going to the game, drop everything at 11 am, no 10 am, and get your butt to the south end zone, and show the Tahd faithful what real fans are and what we think of their attempts to stop our fans from supporting our team.
Tennessee tried it last year using the same "we're scared to death" excuses, citing "logistics reasons". The result was the loudest and craziest Tiger Walk on another team's campus ever. We need to make that one seem like middle school pep-rally. Again, if you're going, you better be at the south endzone, and you better be loud. If not, you're letting the petrified Bammer administration win with their attempt to foil our spirits.
There are no confirmed reports relating to the rumor that Saban is looking to have the game cancelled altogether, but I will keep you updated.
Update: Pam Mallon, program assistant, University of Alabama Transportation/Parking Services: "There is no construction going on at the stadium. All of the construction around the stadium is done. (The visiting team's buses) just pull up to the gate on the west side of the stadium. They don't go underneath the stadium and let the players off. The players will have to walk into the stadium."
Sounds like someone was lying…
Update #2: TideSports.com (The Tuscaloosa News) posted this story about the banning of Tiger Walk today and even included a highly "objective" picture to go along with it.