Cam Newton has taken his talents to the healthcare industry by partnering with Carolinas HealthCare System, headquartered in Charlotte, NC. As part of the company's Take the Ball campaign, Mr. Newton appears on their home page, as well as in six short commercials (below). He's quite the spokesman.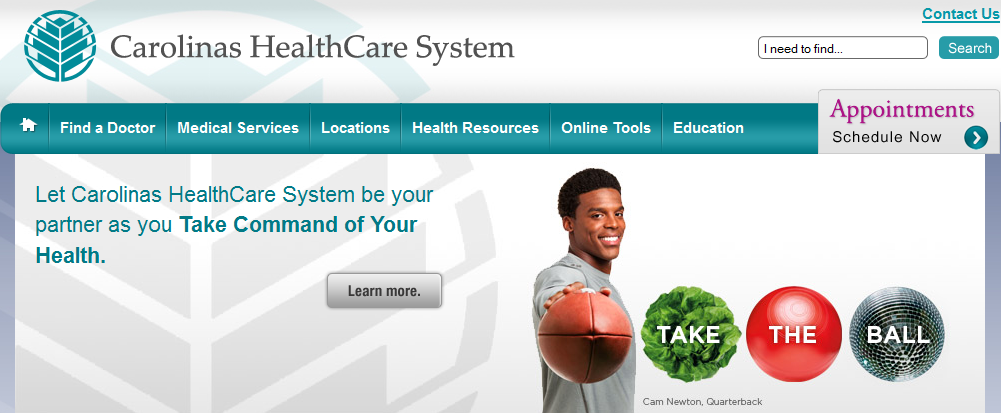 I wonder if South Carolina fans will avoid using the Carolinas hospitals since they are endorsed by the man who gave them the most pain in 2010. I've always wondered that about South Carolina/Panthers fans, too. Do they pull for Cam?
The first commercial features various people "taking the ball" in their daily activities, and ends with a little bit of Cam.
Super-camming has gone viral, but I've never seen a guy do it after lifting the bar with some 2.5 lb weights on them. Now I have.
Did you know that Cam is more than a running quarterback? He is a dog-walking, swimming, volleyball-playing quarterback, too. Or that's what he says…
Gus Malzahn was Cam's quarterback coach in college. Mike Shula is his quarterback coach now. I wonder who he has for his food coach.
Wouldn't it be awesome if Cam taught a stress management class? "So there I was, down 24-0 in Bryant-Denny Stadium…"
The screen pass is very effective., but have you been screened for diabeetus?
Lastly, here's a video showing Cam being a totally awful person, messing with kids and all…