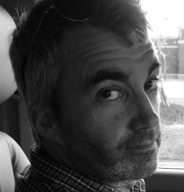 Jake Adams of Rebel Nation is a lawyer, lifelong Ole Miss fan, sports junkie, and wannabe famous novelist. He answered a few questions about the Ole Miss Rebel Black Land Shark Bears for us last year and this summer as well. Considering that this is his third appearance the 'Blogle, I'd call him a regular. You can follow him on Twitter at @adamsjaken or on Facebook.

1. Come on. Just let us win. I mean, you're Ole Miss. You're supposed to lose. Please?
I always knew that's the way Auburn fans thought of this game.
2. But seriously, what's the excitement level like in Oxford for this game? Are fans expecting a win?
Ole Miss hasn't won an SEC game since October 2010. To say Ole Miss fans are "expecting" a win might be an overstatement. How about "cautiously optimistic"? The Rebels are favored. Auburn does look pretty bad. In any other setting the fans of a team playing Auburn this week would be within their rights to expect a win against the Tigers, but given how difficult an SEC win has been to come by for Ole Miss I think fans are just hopeful the streak will finally end on Saturday.
3. Ole Miss has played much better than I thought they would. What do you attribute that to, and are you on the Freeze bandwagon?
Hugh Freeze gets all the credit. He's given Ole Miss something it hasn't had in years – an offensive identity. Freeze has a scheme he believes in and he doesn't back away from it. He's an excellent motivator, which makes him the right coach at the right time for a group of players who were downcast after last year's humiliating 2-10 season. I think Freeze has proven to be the right hire, and that's big of me to say, because I was an outspoken proponent of Mike Leach.
4. Who are two guys that Auburn fans probably haven't heard of, that we should be worried about?
Cody Prewitt and Denzel Nkemdiche, a.k.a. Tasmanian Denzel a.k.a. star high school recruit Robert Nkemdiche's older brother. Prewitt's a safety. Tas is a linebacker. Together they've become the leaders of an Ole Miss defense that's playing with great effort. The Rebels aren't where they want to be talent-wise on defense yet, but Prewitt and Nkemdiche are all over the field and seem to be getting better with each passing week. They could both cause big problems for Auburn's offense on Saturday.
5. Where do you see Ole Miss struggling against Auburn?
Ole Miss has been its own worst enemy with costly turnovers. Bo Wallace is a good quarterback and can make all the throws and the reads, but he sometimes tries to do too much and it leads to interceptions and easy points for opposing offenses. Ole Miss is one interceptionless game away from winning an SEC game. If Wallace can avoid the costly turnovers against Auburn then Ole Miss should get the W.
6. Where do you see Ole Miss excelling against Auburn?
Based on Auburn's performance to date, the Rebels should have a good day defensively, which, no matter how bad the Tigers are on offense, should be a huge confidence boost for a very young, undersized defense.
7. What do you think is wrong with Auburn? Can you call plays?
I think Chizik may have made a bad move in hiring his offensive coordinator. The Tigers look like a team with no offensive identity. When you don't know who you are, you don't have confidence is what you're trying to do. It's what Ole Miss struggled with under Houston Nutt and it seems to be what is plaguing Auburn right now.
8. What's your prediction/analysis for the game?
As a lifetime follower of Ole Miss this game really scares me. Too many times in my life I've witnessed Ole Miss enter a game as a favorite over a team it usually doesn't beat, with the stars perfectly aligned for a Rebel win, as they appear to be this week, and Ole Miss choked. That said, Vegas thinks Ole Miss will win. Who am I to argue? I think Ole Miss outscores Auburn 31-28.
9. Where will Auburn and Ole Miss end up this season?
Auburn won't be going anywhere. Ole Miss has a chance at six wins if it can win this game, which makes it a critical game for the Rebels, which really should scare the pants off any Ole Miss fan, but if the Rebels pull it off – SHREVEPORT!!!
10. Do I have to wear bowtie to be able to tailgate in the Grove?
Nobody tailgates in the Grove. Cars aren't allowed. Grove is a verb.