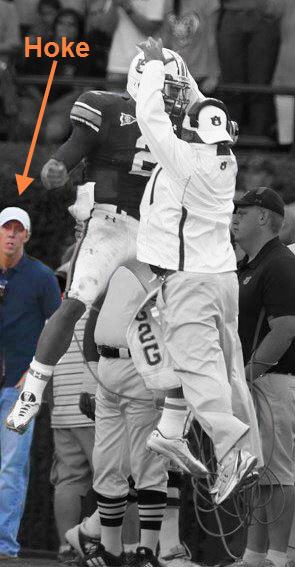 Justin Hokanson covers Auburn football and recruiting for Auburn's Rivals affiliate, AuburnSports.com. Hoke was nice enough to answer a few questions for those like me that don't really follow recruiting until around National Signing Day. Justin gives us his take on Auburn's biggest needs, the Calloway star situation, and tells us who his favorite recruit to follow has been. Really good stuff. Interview of the year (note: the year is 28 days old).
For updates on recruiting as we come up on National Signing Day, follow him on Twitter. You can also follow the recruiting show he does on WJOX. But when it comes to National Signing Day, just watch the 'Blogle. I'll let you know what he says.
We will be doing a post-Signing Day interview as well to discuss Auburn's 2011 class.
1. Will Auburn land another 5-star when all is said and done?
It's possible. Cyrus Kouandjio is the main guy Auburn is after. Past Kouandjio, not sure Auburn is in position to land another five star. But keep in mind when talking five-stars…according to Rivals, Christian Westerman is exactly one spot in the rankings away from being a five-star. Brent Calloway was a five-star throughout the process, and was moved down just outside the five-star range in the last rankings. So Auburn is extremely close to having three five-stars. That's why people shouldn't get too caught up in stars when it's all said and done.
2. Do you foresee any major surprises on national signing day?

It's always possible for a surprise or two on signing day. Right now, Auburn is in good shape with a number of recruits, and they won't have much room in the end if they land who they currently lead for. There are a couple of names that may be in the running, but we'll keep them under wraps until signing day. But all in all, I think Auburn's class is pretty much set.
3. What are Auburn's two biggest needs and have they been filled?
Auburn's biggest needs in the 2011 class were offensive line, running back, defensive tackle, and defensive back.
On the offensive line, Auburn nailed it, even if they don't get Kouandjio. Reese Dismukes is the nation's top ranked center, Thomas O'Reilly is a top guard prospect, and Westerman is a versatile enough prospect to play guard or tackle, but could be a NFL guard in my opinion. All three are elite prospects, all three played in the Under Armour All-American game. Then you have Greg Robinson, who is another top 100 overall player, and player that projects at tackle, but has the athletic ability to play guard if the situation arose. Robinson was in the Army All-American game.
So four offensive line commits, all four played in the two big all-star games, and if the Tigers were to add Kouandjio, or possibly another surprise, it would have to rank as one of the best offensive line hauls ever.
At running back, Auburn will be happy with Brent Calloway and Tre Mason, but there is a feeling of missing out considering the Tigers at one time were in great position with Mike Blakely and Dee Hart. It was important for the Tigers to bring in two running backs in this class, and assuming Calloway can excel and stick at the running back position, then this will be a successful haul at running back.
The defensive line class is a good one, but Gabe Wright is a must get. Players like Angelo Blackson, JaBrian Niles, Devaunte Sigler are good prospects, but may need some time to develop. Wright is a player much like Jeffrey Whitaker last year, that could provide immediate depth in 2011.
With the Tigers losing four seniors in the secondary, defensive backs were a top priority as well, and the Tigers look like they will hit a home run in that category. With commitments from Jonathan Rose, Robenson Therezie, and Anthony Swain, Auburn looks as they could close with Erique Florence and Marcus Roberson and sign the top defensive back class in the nation.
Rose and Roberson at corner, Florence, Therezie, and Swain at safety is an impressive haul.

4. What commits to other schools do you think were turned off by Auburn's depth at certain positions?
I'm not sure I can think of any that specifically turned Auburn down based on depth. Auburn really hasn't built their depth up to that point, yet. Another solid recruiting class or two, and then I think you could see players start turning away.
5. Has Auburn dodged any bullets by some recruits deciding to go elsewhere?
The first one that comes to mind is Jeremy Hill. Hill is a running back from Louisiana who was committed to LSU, before de-committing and then visiting Auburn. Auburn made a good run at Hill, but he ultimately committed back to LSU. Soon after, Hill was arrested with some disturbing charges, and was dropped by LSU. Hill was very high on Auburn, so that's a guy I think you look back and say it's a good thing he didn't end up at Auburn.

6. Who has been your favorite guy to follow and why?
Well I have to say Jonathan Rose for starters. I got to know Rose last spring and summer, going to Leeds and watching practice. Rose is a great kid, humble, and I have enjoyed getting to know him. I was fortunate enough to be with his family at his house the day he committed to Auburn, talked to his whole family, and then followed them to the TV station where Rose committed. Incredible family that supports Rose with so much passion. Truly great family.

7. Who do you think is going to be the biggest surprise on the playing field that may not have a bunch of stars by his name?
I'd say either Angelo Blackson, Sammie Coates, or Justin Garrett. All three in my mind have a big upside. They may not be ready to play in year one, but all three have All-SEC potential, no doubt about it. I expect big things from Garrett especially.

8. Who's one guy nationally that you think has a few too many stars by his name?
Just to stay with recruits Auburn fans might be familiar with, I'd say Dee Hart. I think Hart is an excellent back, quick, good feet, good burst, and is a good fit for a spread offense. I think however, his size is a detriment, and where speed is supposed to be his biggest asset, he was run down by a much bigger linebacker in the Army All-American game that has me wondering just what his top end speed is. I think Hart is deserving of a four-star status, but not a five.

9. Why are recruiting rankings so inconsistent from site to site? How can analysis of talent be so different?
Well it really comes down to everybody has a different opinion. Every recruiting site has different people evaluating, with different backgrounds, and a different set of standards and things they look for. Obviously the formulas are different that ultimately rank the teams, the position rankings could be different, so there are a lot of different reasons.

10. Why did Calloway drop a star a few days after signing with Auburn?

The Calloway situation was obviously hotly debated. Ultimately, Rivals dropped Calloway because they thought he looked rusty at linebacker during Army All-American practice. I wasn't there, but with Calloway playing running back and linebacker all year, I could understand the thought that Calloway wasn't as fine tuned at linebacker as he could have been had he just played the one position all year.
My question would be where were these concerns during the year, and after the Alabama-Mississippi All-Star Classic? The concerns about Calloway seemed to pop up late, but like I said earlier, he's the No. 38 overall player, ten spots from a five-star. Calloway is still a great player, but obviously five-stars help perception.
11. Do you see Kris Frost ultimately ending up at LB?
Yes, I think Kris Frost is destined for linebacker. He has All-SEC caliber talent, no doubt about it. Great size, long arms, great frame, Frost could be a big time player on defense.
12. Who would you say is Auburn's best recruiter, the closer they send in when they absolutely have to get the guy?
On a staff full of outstanding recruiters, that's a tough call. I'd say Trooper Taylor would be considered the closer, the guy I'd send if you only had one visit to make it happen. At the same time, you put Tommy Thigpen on a kid for a year, and I'm betting he ends up at Auburn. That whole staff is really, really good, and you are seeing the results plain as day.
13. Lastly, can you swipe me one of those blue helmets?
I'll work on it, as well as getting a hold of an orange jersey.