If you follow me on Twitter, you've been probably seen/read all that follows in this post, but since a lot of you don't, here are a few notes from yesterday's Fan Day at Auburn Arena.
Let me start off by saying that like last year, I only go to Fan Day so that @BabyBlogle can get the experience. I have no desire whatsoever to go talk to the players, check out jersey tweaks, spend time around Auburn, etc. I just hate it. It's terrible. But I do it for the kid, and for you. Be happy. o_O
The first thing I looked for when heading up to the concourse (where the defensive non-starters are placed) was of course number and letter size on the jerseys. That sounds so stupid, but you all know that everyone hated the tiny letters and numbers last year, and I had been told that the original sizes were returning, so I had to make sure.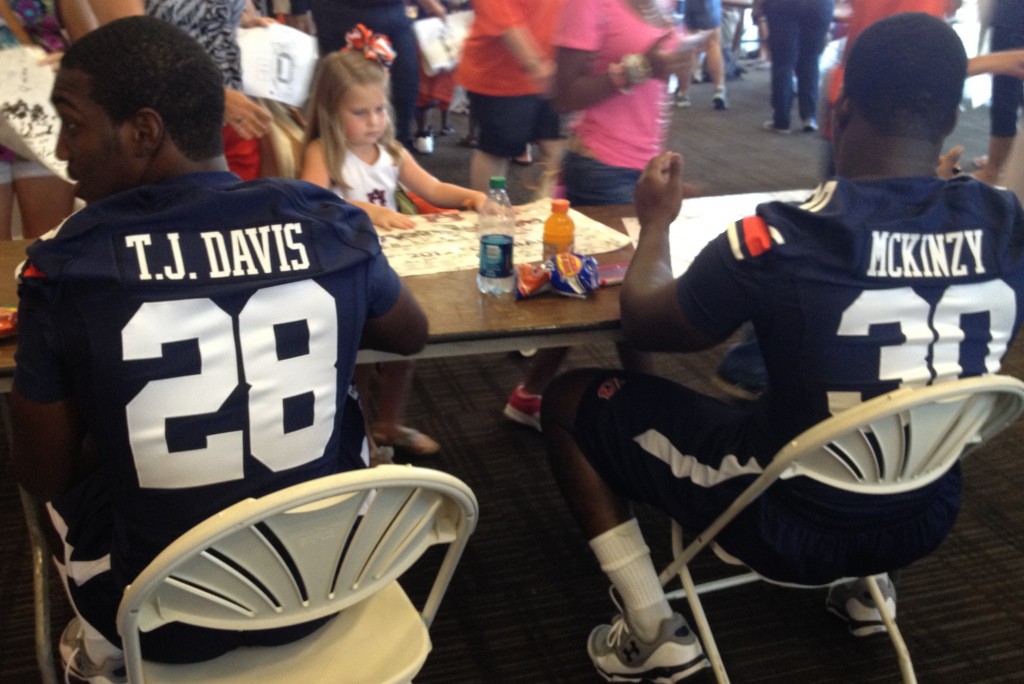 It turns out that my source was correct. Larger and thicker numbers are back. The names do appear to be taller and bigger, but maybe still a little thinner than the glory days – especially on short names like Frost.
They aren't here, but they are close. Either way, you can actually read the names with the naked eye, so put your binoculars back in your fanny pack, Harold.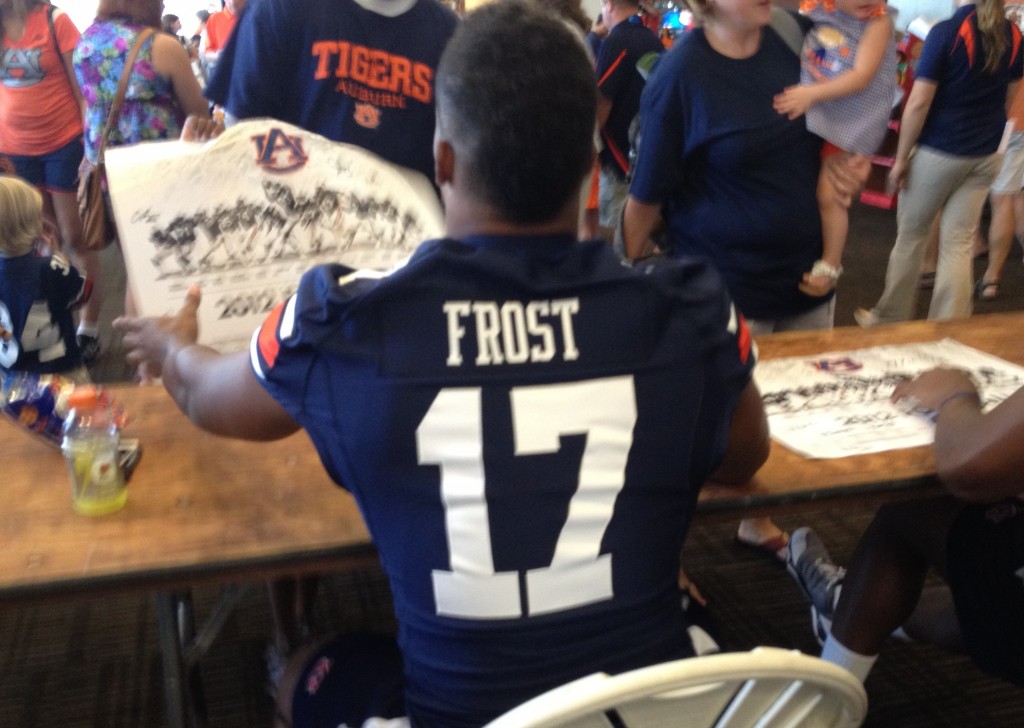 Once I was done staring at players' jerseys, I got the whiff of long, flowing hair somewhere in the near vicinity. I looked over and there were two of the best heads of hair these eyes have ever seen. On the left was Brian VanGorder's son, Mack, and to the right was Mr. Riggins himself, Trent Fisher.
Sadly, Fisher had his flowing locks contained, but as you can see, Mack had washed his with Herbal Essence that morning, and apparently used a teaser brush while blow drying. It was amazing.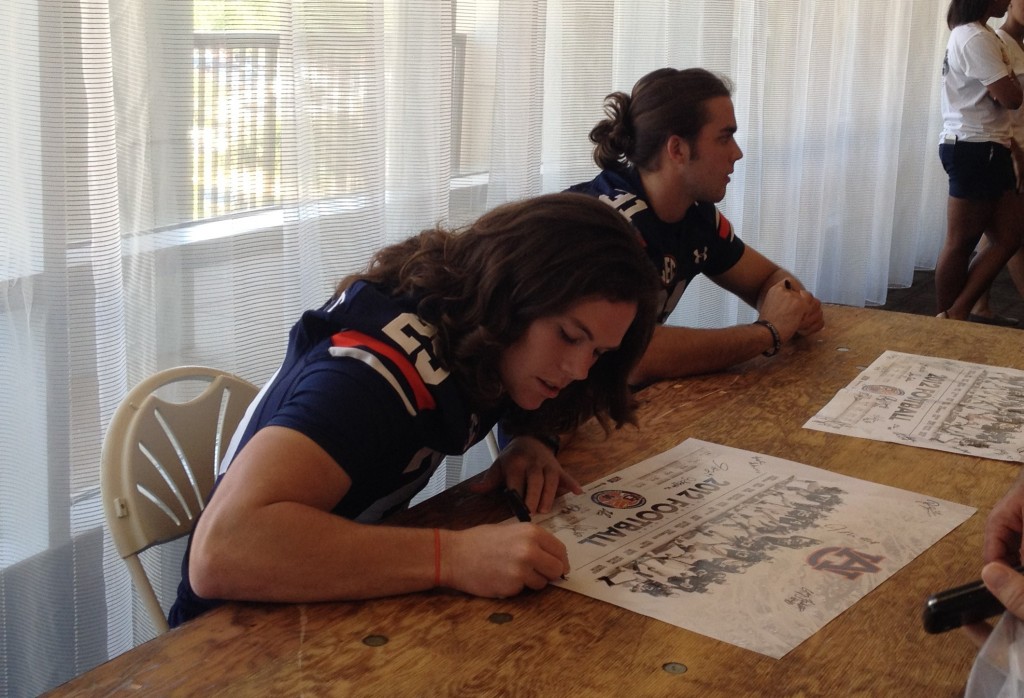 I asked them if this was the table for best hair, and they both, with a typical Fan Day/player response, just gave a small chuckle and kept on signing. Mack at least said "for sure," though.
Next, we headed down to the basketball court where the offensive non-starters were. This basically consisted of mingling with the big uglies while waiting for Tre Mason and Trovon Reed's line to get shorter. We did see freshman quarterback Jonathan Wallace, and after only a few moments I saw whatever everybody has been saying about him. He was upbeat, positive, and seemed very mature for a freshman. It's easy to understand why the upperclassmen have liked him so much.
As we made our way around the outside of the court, I spotted the next great tattoo in Auburn lore on the left bicep of Patrick Miller (the guy who just showed up in Auburn classrooms when everybody thought he was committed to LSU). No, the tattoo wasn't Auburn themed like Lee Ziemba's, but it has the makings to be pretty hardcore. From what I was told, it's based off the Grateful Dead's "Ship of Fools." Who knew we had a deadhead on the team? Stay away from the Spice, Patrick.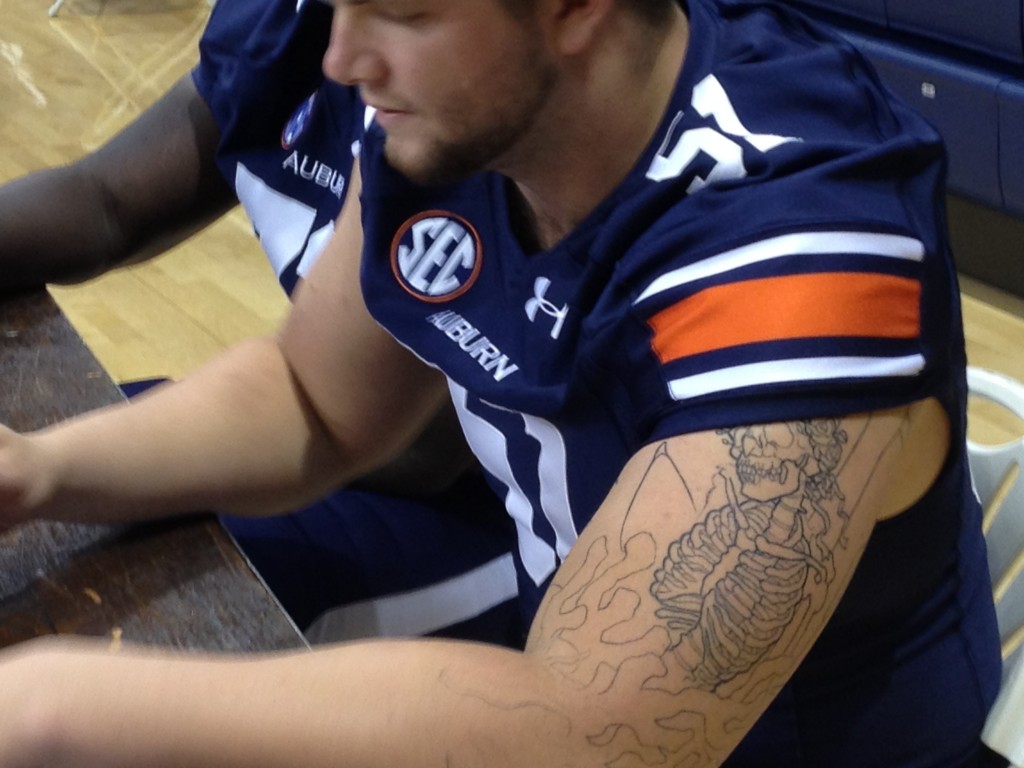 We also saw Avery Young, who is just as scary in person as he was in his recruiting pictures, and spoke to Jay Prosch for a second as well. I asked him if he could squat me, and he just laughed. I'm assuming he was laughing at the challenge of squatting 165 pounds because he could do that on his pinky toe. No question.
After the announcement that Fan Day only had 30 minutes left, we got in the Reed/Mason line and eventually made our way to front. Trovon was much more personable than I would thought, but that was just based on the fact that I've only seen him talk one time in one interview. Mason was nice as well, but that changed when I asked him when he was going to work out his arms.
I woke up moments later. I was told he put my head between his biceps and said "Sleep, 'Blogle, Sleep…" Well, that's not true, but I did ask him about working out his arms, and he said he's trying, with a smile on his face. I have a video evidence, but I sound too much like a nerd fanboy to post it.
We knew the starters room (in the practice gym) was going to be crazy. but we figured we'd try it out anyway. We got in and noticed that Emory's line was too long, McCalebb's line was way too long, and Lutzenkirchen's line was twice as long as Mack VanGorder's hair.
We were surprised to see that most of the defensive players' lines were a little shorter, so we tried those. Apparently, people are still holding on to some bad feelings from last year. Ted Roof is gone, people! So we talked to Dee Ford, probably the nicest guy on the team, and Craig Sanders, who said even though the "SALT" had grown out, he is going to bring it back and keep it throughout the season." He also said he wanted to be called "Salt." So yeah, Salt Sanders was a nice guy.
That was about it for the starters, so we went over to Chizik's area, which consisted of walking doing a hall into a secret room, but when we got there the door to the hall was closed. That stunk. I was planning on getting him to sign the kid's forehead in permanent marker in hopes of getting it tattooed in. Maybe next year.
All in all, it was a pretty typical fan day: long lines for the guys that have scored touchdowns, and about 10-15 people for everybody else. All the players were nice and complimentary, though, and the kid loved it. Luckily, I saw no sprinting, no signed babies, and no fainting, so in that sense it was a successful day for Auburn.