Let's wind the clocks back a year.
Or several.
Auburn, in the year of our Lord 2015, was preparing itself for its biggest game of the year. A final walk into the fire of the season, riding on the back of our most prominent Heisman Hype poster boy at one of the nation's most storied and legendary football fields against one of the nation's better teams led by an eventual 1st-round quarterback and his head coach, who at the time was considered the next big-time hire for some once glorious Power Five school to steal away a la Florida-hires-Urban Meyer-from-Utah-State.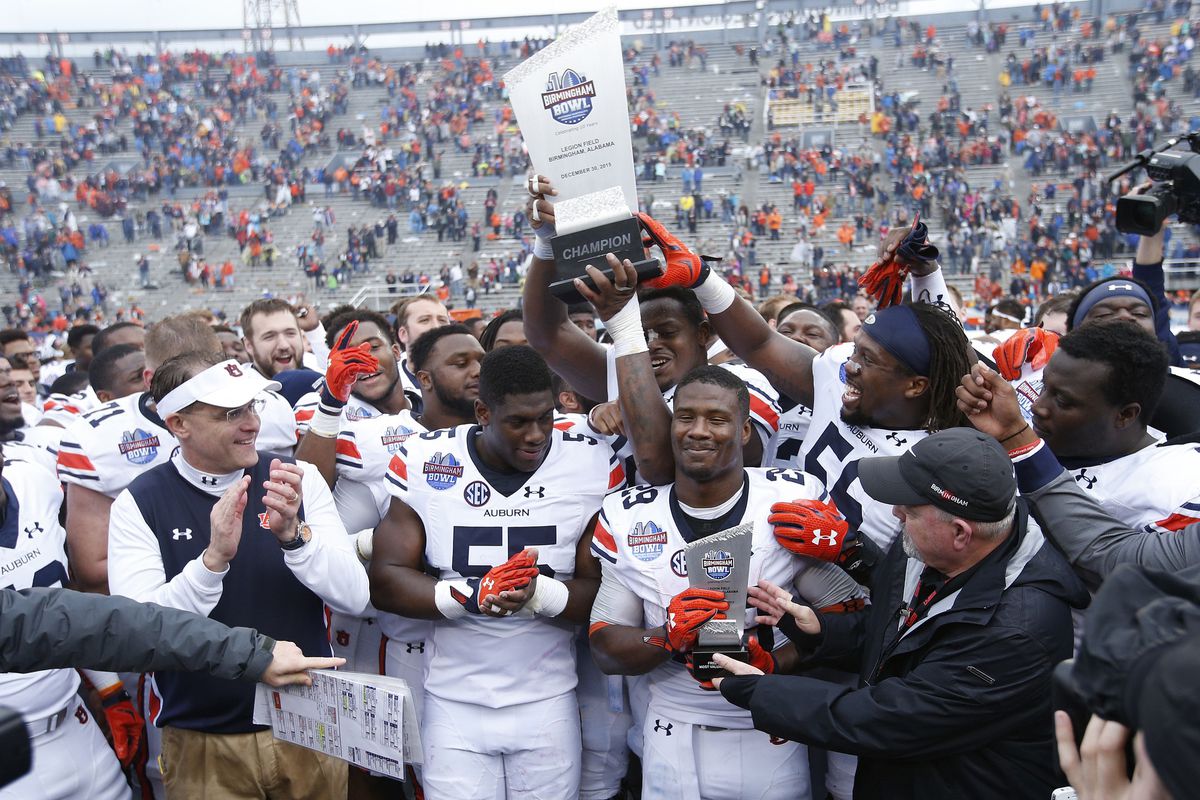 The fighting, 6-6 Auburn Tigers were going to the coveted, prestigious Birmingham Bowl.
Okay, so maybe it was a far cry from the championship aspirations laid down at the feet of Gus, Muschamp, and Jeremy Johnson, but the fact that we qualified for a bowl to begin with was the most miraculous thing to happen to Auburn since the Kick Six.
I bring that up because as you recall, the hunt was on for our next Defensive Coordinator at the same time. Similar to the year prior, when Gus finally said adios to Ellis Johnson after the 2014 Iron Bowl shootout. After that year, Auburn made the steal of the century in roping back Will Muschamp to overhaul a bend-but-don't-break-and-then-eventually-break defensive unit that led to Texas A&M and Georgia and eventually Alabama kicking our playoff spot. 8-4 was the final record. One .500 season later, and the steal of the century decided his "long haul" at Auburn meant "one year" instead, and packed his bags for Columbia, South Carolina.
The question in everyone's head (mine included) was simple. Who was the next big name to come to the loveliest village?
Names like Charles Kelly and Jeremy Pruitt were popular on Twitter. Everyone held their breath for Gus Malzhan's decision, which could lead to eventually making that championship run.
I remember watching as Pruitt went to Tuscaloosa, and Kelly stayed put with Jimbo and Co. down at Florida State. No one seemed to want the job. Not even Travaris Robinson, an Auburn alum and one of our best recruiters at the time.
Then, the bowl game happened. Interim coach Lance Thompson seemingly did in 4 quarters what everyone thought Muschamp would do in 12 games. The defense, for once, suddenly showed up. They baffled and boggled yet another 1st-round guy, this one named Paxton Lynch, and held the same Memphis team that upended Ole Miss that year to 10 measly points (who was that Lamar Jackson guy earlier anyway?). Johnson had time to relax and not play catch-up on the offense, and everyone immediately declared him the next DC.
Then, like Robinson, Lance followed Muschamp to the Carolinas. Gus had decided on who his man was.
Kevin Steele.
No one, and I mean NO ONE, agreed with the move. He had done an okay job at LSU, but fans immediately pointed to the 70-33 massacre West Virginia threw down on Clemson a few Orange Bowls ago that led to his dismissal with the other Tigers as reason #1 he would fail at Auburn.
Now, regardless of how you feel about Kevin and his part to play in the 2020 coaching search, it's hard to ignore his work in taking the nation's 64th ranked defense to a consistent top 20 unit almost every year he was there. One has to wonder what 2014 would have looked like with him at the helm.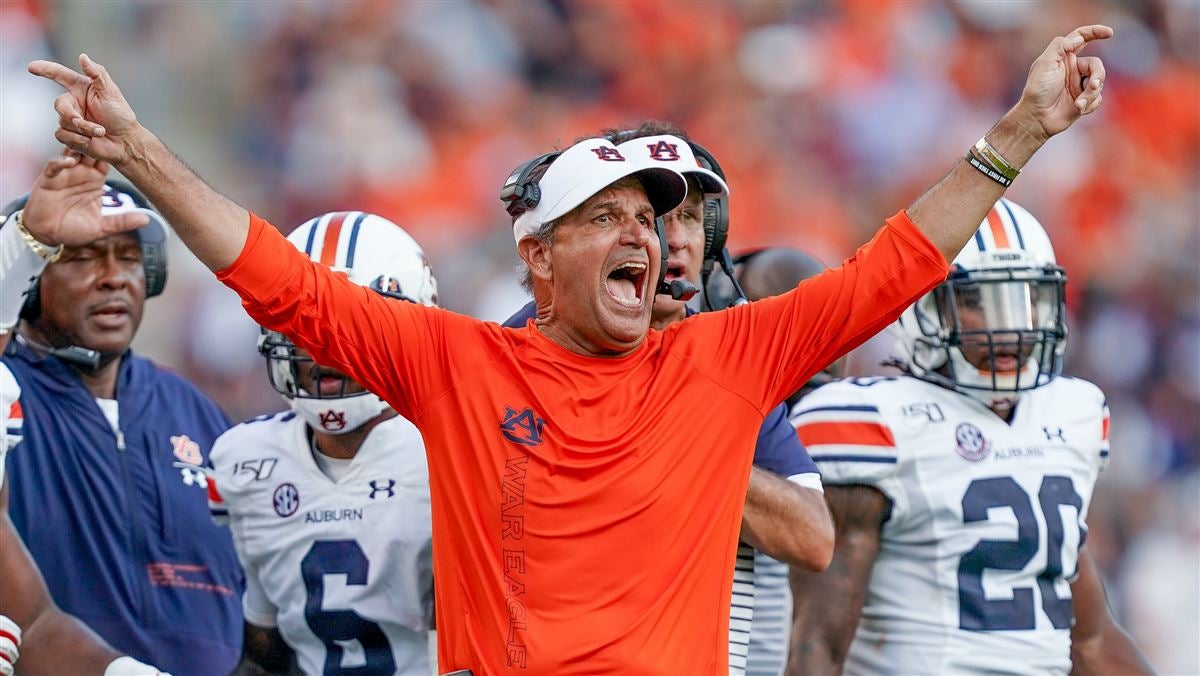 I bring him up to point something out before we begin our tour of who might become Auburn's next OC.
Kevin Steele was NOT a sexy hire. Neither was Chip Lindsey in 2017.
Lindsey might not have lasted long in the spotlight, but Steele proved why Gus tabbed him after beating Memphis, and proved why he was worth $2.5 million a year while he roamed the Plains.
Moral of that story being, sometimes a coach knows what he's doing. For all of Gus's faults, Steele's hire definitely wasn't one of them. Auburn rarely lost a game because of the defense after that. If the L's piled up, the finger could only be pointed in one direction.
The offense.
Which is where we are, yet again.
No disrespect to Bobo, but the more I listen to whats been said online, the more convinced I am that Bobo and Harsin was a shotgun wedding type hire. The man has run old school football the past few stops he's been, and his recruiting prowess in the South might be why Harsin felt compelled to give him a contract. Now that the proof has hit the fan (turns out, it's not pudding) Harsin has the ability to get his guy. A guy that, as Harsin knows, better make good on what Auburn fans are accustomed to seeing.
Points. You know, to win games?
So, who might that be? Heaven and Harsin knows. With that in mind, and keeping Bo Nix in mind as well, poor kid, here's who Auburn could (and should) be targeting. Hopefully, Harsin has a couple of these names on his Christmas list.
1. Zak Hill. This is the most likely candidate. Hill was Boise State's offensive coordinator when they were the 2nd ranked scoring offense in the Mountain West. His youth, energy and play-calling gives me Kellen Moore vibes, which gives me reason to believe it could be alright. If he can recruit well in the SEC is one question, but if he would want to work under his former boss again is another. For now, put your bets down that Hill comes to Auburn.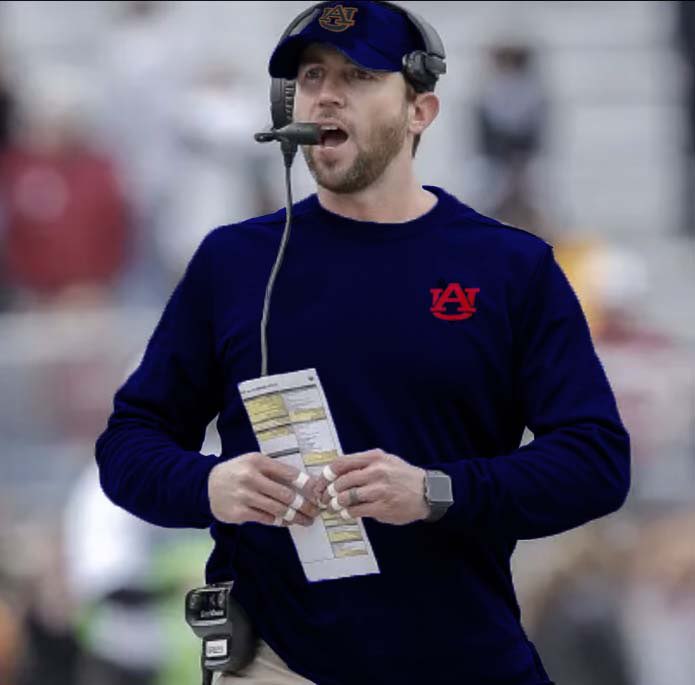 2. Kendal Briles. Okay, so THIS would be a sexy hire. Harsin is probably aware that the recruiting edge needed to win in the conference is a little more aggressive than what he was accustomed to in Idaho, and a knockout coordinator like Kendal would probably energize the fanbase (and media, the true 12th man). His work since Baylor has distanced himself from his father, and it was Kendal, not Dan Mullen, who helped Feliepe Franks complete 68.5% of his passes, a Razorback school record. Bo Nix should want to play for a guy like that.
3. Jeff Lebby. Behold! The sexiest of all hires! The most BEAUTIFUL, earth-shattering hire of them all! Give Bryan Harsin the Home Depot Coach of the Year award if he pulls it off (not likely, but one can dream for Christmas miracles, right?). Ole Miss should consider throwing the bank at Lebby should Lane Kiffin ever bolt for Miami. If you really need a reason for elaboration, former backup Ole Miss quarterback Matt Corral is a Heisman hopeful and future NFL top-10 pick. 'Nuff said.
4. Dell McGee. I would pinch myself if Auburn brought Dell home (Twitter campaign, anyone?). It may not be exciting to hire a run-game coordinator to run the show, but if you want to know why Georgia has the best recruiting classes year in and year out, this is the reason why. Kirby Smart has him on board to run the recruiting, and his commitments are about to deliver the end of all the 1980 jokes in Athens. The man knows offense, he's young and would swing the pendulum in Auburn's favor for some of the JUCO, portal and 5-star athletes looking for a home for the next couple of years.
Other names like Zach Kittley and Dameyune Craig are being tossed around, but if Harsin wants to distance himself from no-win-November as fast as possible, the above candidates make sense. Sheesh, why not throw the name Mike Yurchic around the building just to see what he thinks (also one I would make a strong push for).
Auburn, Harsin and Greene have a hire to make, and they are aware that they CAN NOT screw this one up. 9-3 is probably the low mark in a lot of fans' heads for next season, though Harsin has a better record in mind.
To achieve that, he's got his guy circled already to make this a December to Remember after that Thanksgiving crash to the finish line. Someone who has enough of the qualities from the coaches mentioned above to do better than how we ended this year. Work, Hard Work is now going to have to be coupled with a Christmas Miracle.
Even if at first it looks like a boring old stocking stuffer.
Photoshop credits to my amazing brother, Micah.