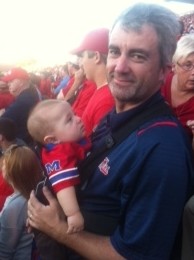 We got a little behind on the Summer "Other Sideline"s, so they'll be coming to you as fast as Gus Malzahn raining TDs on Bret Bielema's Hogs. Jake Adams publishes OMRebelNation.com and serves as the Editor-in-Chief for Rebel Nation Magazine. You can follow him on Twitter @OMRebelNation or Facebook. He answered a few questions for us last Summer and last Fall and was good enough to bring him back this summer.

1. Right at this moment, what is an Ole Miss fan's first thought of Auburn football?
At this moment most Ole Miss fans are just hopeful that Gus Malzahn needs more than a year to put out Gene Chizik's flaming dumpster fire.
2. As a fan of Ole Miss, a team that runs the hurry up, no huddle, where do you stand on this whole Saban/Bielema safety argument?
The player safety argument of Saban/Bielema is possibly the most absurd self-preservationist argument I've ever heard. I don't buy it. But because Saban is the one saying it I won't be surprised if the argument eventually starts to pick up some momentum.
3. Ole Miss is getting high praise as a dark horse this year. A) Will the dark horse be adopted as one of the 6 mascots you have now? B) Are fans buying into it, or waiting to see what he season brings?
The dark horse has not caught on quite yet. If it ever does though it'd be neat if we could choreograph some sort of pregame mascot face-off between it, the bear and your War Eagle Tiger. Maybe the bear could ride the dark horse and the eagle could ride the Tiger? Something like that.
Most Ole Miss fans know that the first half of the Rebels' schedule is extremely daunting. With games at Vanderbilt, Texas and Alabama to start the season it's extremely possible the Rebels could limp into Auburn 1-3. Hugh Freeze spent most of his off-season telling any alumni group who would listen to keep their expectations low. All that to say I think fans would be content with seven or eight wins this season.
4. Name two current Auburn Tigers that scare you and why.
I can't. Sorry. I could try to look up a couple just to sound smart, but no. Auburn is a lot like Ole Miss last year when it was coming off a 2-10 season. The Tigers need to prove they deserve to be feared. Ask me next year.
5. Name two Ole Miss Rebel Black Bear Land Shark Dark Horses that Auburn fans may not know about, but will want to keep an eye on.
C.J. Johnson, if he returns to form after suffering a broken leg in the spring, will be one of the best defensive ends in the league.
Issac Gross could be one of the best interior defensive linemen Ole Miss has had in a long time. He was a freshman All-American last year and I expect him to be even better this season.
6. Have you ever referred to or created a picture in Photoshop with Hugh Freeze as Mr. Freeze from Batman & Robin. If so, why?
I didn't create it, but I do think I may have shared one on Facebook before. We all do things on social media we regret. Don't judge me.
7. On a scale of 1-10, how confident are Ole Miss fans that they can come into Jordan-Hare Stadium and win this year's game?
Six. Ole Miss returns nearly every starter and should be improved from last year. The jury is obviously still out on what Malzahn can do as a head coach. I think most Rebel fans see the Auburn game as a critical win on the schedule.
8. What's your early score prediction for this game? Keep in mind that Ole Miss has beaten Auburn in back-to-back seasons only once, and it was 60 years ago.
I predict Ole Miss wins 28-24.
9. How do you think Ole Miss and Auburn will end up this season?
Ole Miss will be 9-3.
Auburn will finish 6-6.
10. But seriously, if you had your choice, which mascot do you want Ole Miss to use and why?
Landshark. The FinsUp hand gesture is fun for the fans and gives Ole Miss a rallying point other than Hotty Toddy, which is much harder (impossible) to pull off in a photograph than the Fin.
In all seriousness the university blew it when it didn't latch onto the Landshark during the mascot selection process a few years ago. But who's to say Ole Miss can't have a mascot do-over? The school already had one do-over changing from the Colonel to the Bear. What's one more? I don't think there'd be much resistance to changing from the Bear to the Landshark.