Things are looking good, guys. Week 2 was strong. The picks are flowing and they are (mostly) correct. I'm feeling good about this season.
We've got a decent slate this week. We've got some interesting out-of-conference games and definitely some nice in-conference games. Let's see…
Last week: 12-2 (86.0%)
This week: 8-4 (66.7%)
Overall: 33-10 (76.7%)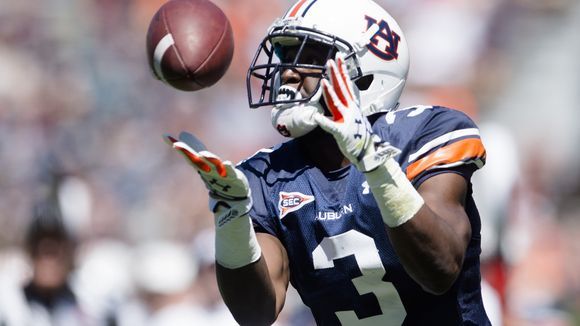 9/16
Louisiana-Lafayette at Texas A&M – The Ragin' Cajuns have scored 51 and 42 points this year. They have a 3 point win and a 24 point loss. Read that again. Basically, they are Missouri. Texas A&M was still hungover last week. They better drink lots of Gatorade.
Texas A&M 45, Louisiana-Lafayette 23
Texas A&M 45, Louisiana-Lafayette 21 – SUCCESS!
Tennessee at Florida – Remember when this game meant something? Remember me saying that for the last decade? Peyton Manning and Danny Wuerffel ain't walkin' through that door! We still don't know what Florida is, but it has to be better than Tennessee.
Florida 13, Tennessee 7
Florida 26, Tennessee 20 – SUCCESS!
Purdue at Missouri – Purdue hung with Louisville in Week 1. Missouri can't stop any offense. Missouri has no defensive coordinator. An SEC team is going to lose to Purdue. Get them out.
Purdue 35, Missouri 31
Purdue 35, Missouri 3 – SUCCESS!
Colorado State at Alabama – This game was scheduled when former Alabama offensive coordinator Jim McElwain was the head coach at Colorado State. Now he's at Florida. That's all I have to say about this game.
Alabama 38, Colorado State 10
Alabama 41, Colorado State 23 – SUCCESS!
LSU at Mississippi State – Here we go. Mississippi State has beaten Charleston Southern and Louisiana Tech and this is an exciting time for them. LSU is coming to their place, the cowbells will be rocking, and… they'll lose. I'm just glad this happens earlier in the season this year
LSU 28, Mississippi State 14
Mississippi State 37, LSU 7 – FAILURE
Samford at Georgia – Bulldog on Bulldog violence. When will it end?
Georgia 42, Samford 10
Georgia 42, Samford 14 – SUCCESS!
Kentucky at South Carolina – South Carolina is probably pretty good and what better way to get them up the ranks than playing Kentucky? Is it basketball season yet?
South Carolina 34, Kentucky 14
Kentucky 23, South Carolina 13 – FAILURE
Kansas State at Vanderbilt – This is an interesting game in Nashville. Kansas State has scored 55 points in each of their first two games. They've played nobody, but 55 points in both games is impressive. Vanderbilt appears to not be the worst team in the SEC, but Kansas State is probably a little too much for them right now.
Kansas State 31, Vanderbilt 20
Vanderbilt 14, Kansas State 7 – FAILURE
Ole Miss at Cal – I want the SEC to win games against the Pac-12, but I don't feel this one. Cal has beaten North Carolina this year. Ole Miss didn't seem pumped about playing football against UT-Martin last week. Going across the country might be tough for this team.
Cal 21, Ole Miss 17
Cal 27, Ole Miss 16 – SUCCESS!
Mercer at Auburn – Check back tomorrow for my prediction in the game preview, but SPOILER ALERT: THROW IT!
Auburn 56, Mercer 3
Auburn 24, Mercer 10 – SUCCESS!
Other Games of Note
Clemson at Louisville – Lamar Jackson will be the best quarterback in this game and it won't even be close. Don't let anybody lie to you. Clemson's defense will keep them in it for a while, but Louisville seemed to figure out their problems last week. Papa John's Stadium will be rocking.
Louisville 30, Clemson 27
Clemson 47, Louisville 21 – FAILURE
Texas at USC – Vince Young. Paging Vince Young. Nope.
USC 45, Texas 14
USC 27, Texas 24 – SUCCESS!
Now that you know who will win, head on over to the 2017 War Blogle Pick 'em and get your picks in. There will be weekly prizes and an overall winner at the end of the season. It's easy. Do it.