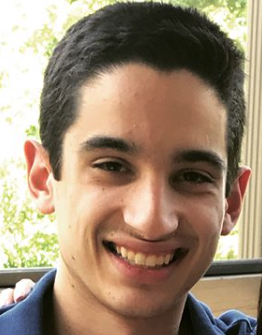 Grant Gardner is a 2019 graduate from Samford, where he attained a Sports Information degree. He currently lives in Birmingham, AL, and works for INFLCR, providing content for more than 13,000 pro and college athletes. This is his first appearance on the 'Blogle. He's nice. You can follow him via Twitter at @TheAthlete_SU and on Instagram at @_grantmgardner.

1. What's the first thing that Samford fans think of when they think of Auburn?
Probably that they are Alabama's little brother, lol. But no, Samford fans think highly of and respect Auburn greatly, since our head coach for 8 seasons was Pat Sullivan. Sullivan played football at John Carroll High School which is 5 minutes down the road from Samford and Sullivan is one of Auburn's 3 Heisman winners. So yeah Samford has the utmost respect for Auburn and we'll take that game check every chance we get from Auburn. (Love to play Alabama but they don't care about other state schools, who keep playing Western Carolina and the Citadel, smh)
2. What's the vibe like in Samford-land? How has the season gone?
This season has definitely been up and down after losing Walter Payton Award (FCS Heisman) winner QB Devlin "Duck" Hodges to the NFL. Also lost on this offense was Duck's #1 target in WR Kelvin McKnight who has program records for career receptions (313), receiving yards (4,144), and TD catches (32). This team also lost defensive leaders like DE Ahmad Gooden and LB Aaron Harris, who were the team's leading tacklers in 2018 (McKnight and Gooden are both on the Denver Broncos practice squad). The Bulldogs have shown flashes with some good wins but also the schedule includes some terrible losses. The Dogs lost to Tennessee Tech 59-58 in 2OT and also lost to VMI 48-41 in OT. The Bulldogs have played FOUR OT games this year, going 1-3 in those.
3. I don't mean this in a disrespectful way, but it's well known that in this state you have to choose Auburn or Alabama. I have always looked at UAB has being mostly Alabama fans and Troy and Samford as being mostly Auburn fans. I don't know why. What do you think?
Haha nah, you're definitely not wrong stating that at all. I remember when I moved to Alabama before starting 3rd grade and even then I was asked to pick between Alabama or Auburn (Sad to say, I picked Alabama but that didn't last long at all). Samford is diverse in the fact that many out-of-state students attend Samford. It's kinda like anything in metro Birmingham, it's filled with a lot of Alabama fans, whether those are die-hard or bandwagon fans.
4. Who are your two favorite Auburn Tigers of all time and why?
It's kinda an easy answer but for me, I look to Cam Newton and Nick Marshall. Marshall wasn't the best QB throwing the football but Malzahn's offense was perfectly suited for him. He was a skilled athlete and Malzahn put him in positions to succeed. I had a friend who was in an elevator and missed the Marshall TD to Ricardo Louis vs Georgia, lol. Speaking of freak athletes, Cam led that monster comeback vs Alabama in Tuscaloosa so I definitely remember him most for that.
5. Who are two Bulldogs that Auburn fans should be on the lookout for?
I'll go with RB Jay Stanton and LB John Staton. I'm going with Stanton on the offensive side because he has helped alleviate Samford's main achilles heel, running the football. It feels like it's taken a long time for Samford to find a #1 back to go to. Stanton, a freshman from Florida, is the team's leading rusher and for the Bulldogs to have any chance on Saturday they're going to have to run it against this vaunted Auburn front seven. Staton, the team's leading tackler, is another guy who has been a key contributor after only totaling 27 tackles last year. He's going to have to keep being that dude he's been throughout the course of the year.
6. What are the major concerns for Samford in this game?
Defense, defense, defense, and oh did I mention defense? For the praise I gave Staton, the entire unit has had a rough year. This Samford defense is ranked 105th out of 124 FCS teams in total defense. They've given up 448 yards per game defensively with 230.5 yards of those on the ground. And in their 6 losses, they've given up an average of 47 PPG. They played well last week while only giving up 13 to Western Carolina but I expect them to regress this week.
7. Where do you see Samford having an advantage over Auburn?
Samford having an advantage, um, maybe at QB? Haha just kidding, I'd be hard-pressed to find a spot where Samford has the edge over an SEC foe. Bulldogs K Mitchell Finneran has made two more FGs than Anders Carlson (14-18). Other than that, it's pretty much it. I'd be interested to see Bo Nix compared to Samford QB Chris Oladokun (or whoever starts for Samford.) If Devlin Hodges would still around, I might say that Samford matches up evenly at QB.
8. What is your analysis/prediction for the game?
Well, Auburn opened as a 49 point favorite but I believe Samford can cover that big number. I think the Tigers will win 49-14. I was in Jordan-Hare the last time Samford came into town in 2014. Samford scored the first TD of that game but didn't score again and ended up losing 31-7. This Samford defense is much more troubled than that one. Nix should be able whatever he wants to do on offense and Anthony Schwartz should be able to fly against this much-maligned Samford defense. Also Derrick Brown scares me if I'm an SEC offensive lineman, I can only imagine what damage he might do on Saturday against an FCS O-Line.
9. Where do you see Samford/Auburn ending up this season?
As for the rest of the year, this is Samford's last game. Definitely not an easy way to end this up and down 2019 campaign. They are young this year, so they should be in line for a bounce-back 2020. As for Auburn, I would love to see them take down the Mac Jones' led Crimson Tide. Auburn has lost all their games close to top 10 teams and they should be able to pick off the Tide at home. Beating Bama might be enough to get Auburn in contention for a New Year's 6 bowl game. I can safely say they won't take part in the Birmingham Bowl lol.
10. Lastly, thoughts on Brookwood Village?
Haha, I had to scroll through your Twitter mentions to see where the Brookwood Village comment came from. First off, that Target has everything, Samford students are all over that Target. You can't hate that Target lol. As for the mall, I think it's dying a slow, painful death. The Chinese place in there is definitely underrated, Chick-Fil-A is there but other than those two, there's not much else. Restaurants like Cocina Superior and Hickory Tavern are great places to eat, Five Guys is there too. So yeah, don't hate too much on Brookwood Village, haha.