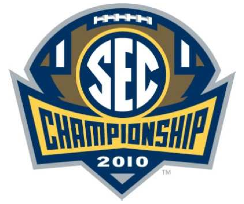 Depending on who you talking to, both teams have history on their side and both teams do not have history on their side when it comes to meeting in this year's SEC Championship game.
Auburn has won all of the meetings between the two teams since the Gamecocks joined the SEC in 1992, but aren't streaks bound to be broken? The team that won the first meeting has won the rematch in the Championship game the majority of the time, but the last two teams playing in their first Championship game has taken the title. So what does it mean? Nothing.
Streaks, the series record, what other teams have done in past SEC Championships, etc. mean absolutely nothing to this game. It's all random. Numbers are just fun to look at when we have nothing else to talk about. Now on to the game.
The easiest thing to do when trying to preview this game is to look back to the first match-up. Auburn was still trying to find out exactly what their offense was made of following an overtime win over Clemson. South Carolina came into Jordan-Hare playing their first true road test.
Auburn's questions on offense were partly answered on their first drive when Cam Newton went all Superman on the Gamecocks. South Carolina answered their challenge admirably with a 20-7 lead in the 2nd quarter, but as we all know Auburn would come back yet again and take the first meeting 35-27.

Those that are wishing for an Auburn loss may give you "facts" such as these:
South Carolina only lost the first meeting by a touchdown and they had four turnovers in the 2nd half.

True, but 14 of the Gamecocks' points came off two 1st half Auburn fumbles.

South Carolina is playing much better since that game.

The Arkansas beatdown might disagree.
The loss to Kentucky might disagree.
I'm not sure, but I think the Auburn offense has found their way and has turned a good and mysterious offense into a "hey, here's what we do, and we're still gonna run it down your throat" offense.

Alshon Jeffery is going to light the Auburn secondary up.

Been there, done that, won the game.
Find me a receiver who continued his first half success against Auburn in the 2nd half.

Yeah, but Cam Newton got paid…

You know what, just shutup.
When it comes down to it, Auburn was still unsure of what their offense was capable of and still beat a good South Carolina team that made mistakes on the road. Auburn made mistakes of their own and still found a way to hold on at the end. South Carolina is a better team now, no question. Most teams get better as the season goes along. However, their improvement isn't half as Auburn's. It just not even close. South Carolina squeaked into the SEC Championship game in the SEC East's worst season in years. Auburn won the best division in college football.
I'm really not trying to bash you, Gamecocks, just tired of the negativity from those that want nothing more than Auburn's season to go down in flames. You have a good team, but not as good as Auburn's. That's not mean. That's not trash talk. It's the truth.
Auburn has the better quarterback, who could also be considered the better running back, and is playing for more than just hopes of knocking a team off. Yes, South Carolina wants to win their first SEC Championship, but Auburn is playing to go to Glendale. As small as that difference may seem, it's not even close.
Here's how I see it happening: Auburn gets off to a quick start on offense, something like the Kentucky game. Just like every single game this season, Jeffery will have a good first half and catch two TD passes. In the 2nd half though, Auburn's offense goes into overdrive, and the defense once again goes into lockdown mode. The Tigers will completely take over the 2nd half and will be riding high going into Glendale.
Auburn 42, South Carolina 27