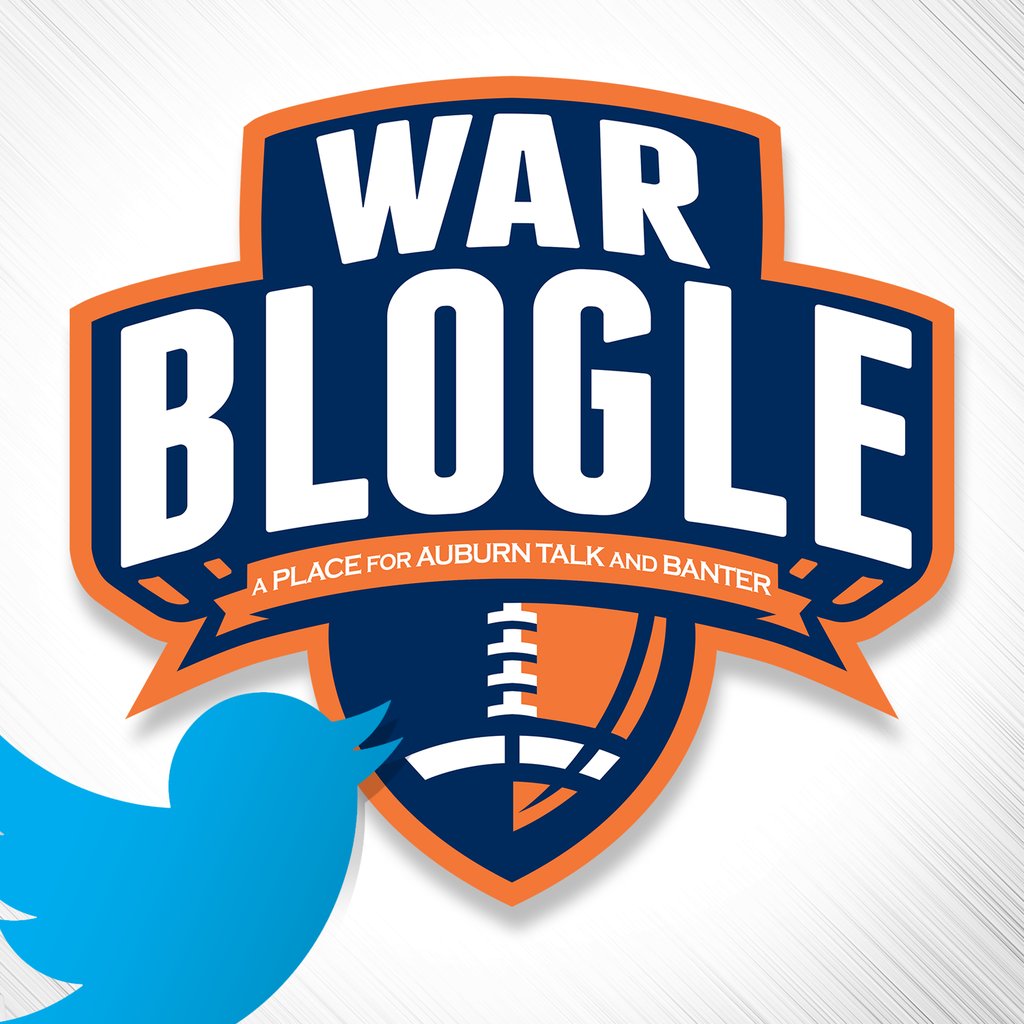 Life with two growing boys is hard, man. When this thing is your hobby, it's tough to sit down and pump out blogles like I used to. Don't get me wrong, I still get those standard football blogles out, but at last for 2019, you can call me WarTweetle. I plan on 2020 bringing a new site design, growing a team, and all that, but just in case coaching baseball takes my entire year again, go ahead and follow me on Twitter.
Below you will see four Top 10 lists: one for most liked tweets, one for most retweeted tweets, one for most engaged tweets, and one for most impressioned tweets. Retweets still mean the most to me, but likes are what really show the good stuff. Engaged tweets are those that someone clicked on (usually to see an image), and impressioned tweets are the number of people that saw it, so basically the more retweeted or liked a tweet was, the more people that saw it.
Anyway, here are my Top 10 tweets of 2019 (depending on what you use to define a successful tweet). It's obvious which one was best overall. You'll see.
---
Top 10 most liked tweets:
#10
If you want the best possible bowl
game for Auburn, you probably want Georgia to win. But if you don't want the worst fans in the SEC to be happy, you want LSU to win.

— War Blogle (@WarBlogle) December 7, 2019
#9
The 2018 Music City Bowl in a five second gif. #auburn #wareagle pic.twitter.com/6Xqw7o4gk1

— War Blogle (@WarBlogle) January 2, 2019
#8
Auburn loses to the #2 team in the nation on the road by 3.

Know the difference in being terrible and being able to beat the #2 in the nation on the road if you played just a tad better.

Know the difference. If you hate life, don't @ me. #wareagle

— War Blogle (@WarBlogle) October 26, 2019
#7
Rod was tasked with replacing a legend. He himself became legendary.
Rod called some of the most amazing plays ever. He made those plays legendary.

He called the game like one of us. He was one of us. #RIPRod

— War Blogle (@WarBlogle) May 26, 2019
#6
Imagine having a team full of McDonald's All-Americans, being taller at every position, getting every call, and losing. #auburn

— War Blogle (@WarBlogle) March 31, 2019
#5
Finebaum with a great point: Alabama fans using the "backup quarterback" excuse are forgetting that Mac Jones has been in Tuscaloosa since freshman Bo Nix was in 10th grade.

— War Blogle (@WarBlogle) December 2, 2019
#4
NBA DRAFT ROUND 1

1st: rejected by Horace Spencer
2nd: lost to Auburn
5th: lost to Auburn
7th: lost to Auburn
11th: lost to Auburn
12th: lost to Auburn
13th: lost to Auburn
16th: best player in draft
22nd: lost to Auburn (2X)
25th: lost to Auburn
29th: lost to Auburn

— War Blogle (@WarBlogle) June 21, 2019
#3
My 1st semester at Auburn was the Fall of 2000, and was paid for by a scholarship from my church.

Every other semester until my December 2004 graduation was paid for by student loans.

I have paid $100 towards those loans every month since. Today I completed my payment.

— War Blogle (@WarBlogle) April 19, 2019
#2
Auburn is the first university from the State of Alabama to send a men's basketball team to the Final Four. #wareagle

— War Blogle (@WarBlogle) March 31, 2019
#1
Auburn is the only school in the nation that won a bowl game in football, played in the Final Four in basketball, and made a Super Regional in baseball. #wareagle

— War Blogle (@WarBlogle) June 3, 2019
Top 10 most retweeted tweets:
#10
Remember when Dee Ford came in like a wrecking ball? #auburn #wareagle #UGAHateWeek pic.twitter.com/sD5kvUtkSf

— War Blogle (@WarBlogle) November 14, 2019
#9
Finebaum with a great point: Alabama fans using the "backup quarterback" excuse are forgetting that Mac Jones has been in Tuscaloosa since freshman Bo Nix was in 10th grade.

— War Blogle (@WarBlogle) December 2, 2019
#8
A Final Four Toomer's. #auburn #wareagle pic.twitter.com/q94TRlH2zK

— War Blogle (@WarBlogle) March 31, 2019
#7
Remember when Ricardo Louis made the bodies hit the floor? #auburn #wareagle #UGAHateWeek pic.twitter.com/TaczEJZ5Fy

— War Blogle (@WarBlogle) November 12, 2019
#6
Auburn is the first university from the State of Alabama to send a men's basketball team to the Final Four. #wareagle

— War Blogle (@WarBlogle) March 31, 2019
#5
Imagine having a team full of McDonald's All-Americans, being taller at every position, getting every call, and losing. #auburn

— War Blogle (@WarBlogle) March 31, 2019
#4
It has been 14,000 days since Georgia won a national championship in college football.

Tweet '14,000' to spread awareness.

— War Blogle (@WarBlogle) May 2, 2019
#3
The 2018 Music City Bowl in a five second gif. #auburn #wareagle pic.twitter.com/6Xqw7o4gk1

— War Blogle (@WarBlogle) January 2, 2019
#2
NBA DRAFT ROUND 1

1st: rejected by Horace Spencer
2nd: lost to Auburn
5th: lost to Auburn
7th: lost to Auburn
11th: lost to Auburn
12th: lost to Auburn
13th: lost to Auburn
16th: best player in draft
22nd: lost to Auburn (2X)
25th: lost to Auburn
29th: lost to Auburn

— War Blogle (@WarBlogle) June 21, 2019
#1
Auburn is the only school in the nation that won a bowl game in football, played in the Final Four in basketball, and made a Super Regional in baseball. #wareagle

— War Blogle (@WarBlogle) June 3, 2019
Top 10 most engaged tweets…
#10
LIVE: The Auburn basketball Tigers return to Auburn Arena. #wareagle #FinalFour https://t.co/26zNfh8IZB

— War Blogle (@WarBlogle) April 7, 2019
#9
Alabama was dominated by a boy that can only grow this. pic.twitter.com/EOZLK1G4cp

— War Blogle (@WarBlogle) January 9, 2019
#8
Got eem! #auburn #wareagle pic.twitter.com/mwk5vOo92P

— War Blogle (@WarBlogle) December 4, 2019
#7
Now that I've seen the new logo for about a week…

-I don't REALLY care about the change itself.
-It looks like a turtle.
-I want all my shirts and hats replaced.
-The band now has to update their pregame drill sheets.
-It still and never was "interlocking."#auburn #wareagle pic.twitter.com/OUNhPFNkpP

— War Blogle (@WarBlogle) August 9, 2019
#6
Auburn is #1 in the CBS RPI. It has not been updated since Ohio State's loss today. pic.twitter.com/6KSw8Ftbcn

— War Blogle (@WarBlogle) December 16, 2019
#5
Who let this happen? @AUJungle pic.twitter.com/dMdlMn1NLp

— War Blogle (@WarBlogle) February 6, 2019
#4
Gus Malzahn's lookalike on Clemson's sideline Monday night was actually Dr. Len Reeves, the team doctor, and tonight he came with some trash talk. #auburn #wareagle #gotigers pic.twitter.com/gAJFH0aE6s

— War Blogle (@WarBlogle) January 11, 2019
#3
I knew this would come up. pic.twitter.com/Q3tmGP9mv1

— War Blogle (@WarBlogle) August 26, 2019
#2
Bruce Pearl, our leader, got that high and tight cut (and maybe a little color). #auburn #wareagle pic.twitter.com/BkHq1NgwGR

— War Blogle (@WarBlogle) April 3, 2019
#1
They are showing the @AuburnSoftball game in Auburn Arena. A few thousand just cheered @kendallveach12's homer. #wareagle pic.twitter.com/MjmfvtXXbT

— War Blogle (@WarBlogle) April 7, 2019
Top 10 most impressioned tweets…
#10
If you want the best possible bowl
game for Auburn, you probably want Georgia to win. But if you don't want the worst fans in the SEC to be happy, you want LSU to win.

— War Blogle (@WarBlogle) December 7, 2019
#9
NBA DRAFT ROUND 1

1st: rejected by Horace Spencer
2nd: lost to Auburn
5th: lost to Auburn
7th: lost to Auburn
11th: lost to Auburn
12th: lost to Auburn
13th: lost to Auburn
16th: best player in draft
22nd: lost to Auburn (2X)
25th: lost to Auburn
29th: lost to Auburn

— War Blogle (@WarBlogle) June 21, 2019
#8
My 1st semester at Auburn was the Fall of 2000, and was paid for by a scholarship from my church.

Every other semester until my December 2004 graduation was paid for by student loans.

I have paid $100 towards those loans every month since. Today I completed my payment.

— War Blogle (@WarBlogle) April 19, 2019
#7
It has been 14,000 days since Georgia won a national championship in college football.

Tweet '14,000' to spread awareness.

— War Blogle (@WarBlogle) May 2, 2019
#6
Gus Malzahn called this play as Auburn's OC against Kentucky in 2009. https://t.co/HqPsVRi6rF

— War Blogle (@WarBlogle) December 12, 2019
#5
So a team with a 1-seed on the line couldn't get up to play for an actual trophy, in an arena 90% full of their fans, against a team that beat them a week ago? Either they are really stupid or this is really stupid. https://t.co/Q1u5JDJIrI

— War Blogle (@WarBlogle) March 19, 2019
#4
"We did it!" –@SEC & @SECOfficiating followed by strong handshake. https://t.co/ujlkQ7awW8

— War Blogle (@WarBlogle) October 28, 2019
#3
Tom Glavine just said "War Eagle" on the @Braves broadcast. #auburn

— War Blogle (@WarBlogle) September 6, 2019
#2
The bigger story is the trash behind him cheering when Harvey says "they're just trees." https://t.co/sedUeRGieG

— War Blogle (@WarBlogle) November 9, 2019
#1
Auburn is the only school in the nation that won a bowl game in football, played in the Final Four in basketball, and made a Super Regional in baseball. #wareagle

— War Blogle (@WarBlogle) June 3, 2019