After taking a step back in 2014 (71.1%), my regular season predictions made a nice little jump this season. It's better than most of the guys paid to do this stuff, I can guarantee you that. As always, I'll split the bowls up by week, and probably split week two into two parts. There are lots of bowls. 40 to be exact. So let's get started. Post yours in the comments section below the post.
Bowls: 5-8 (38.5%)
Regular Season: 110-36 (75.3%)
Overall: 115-44 (72.3%)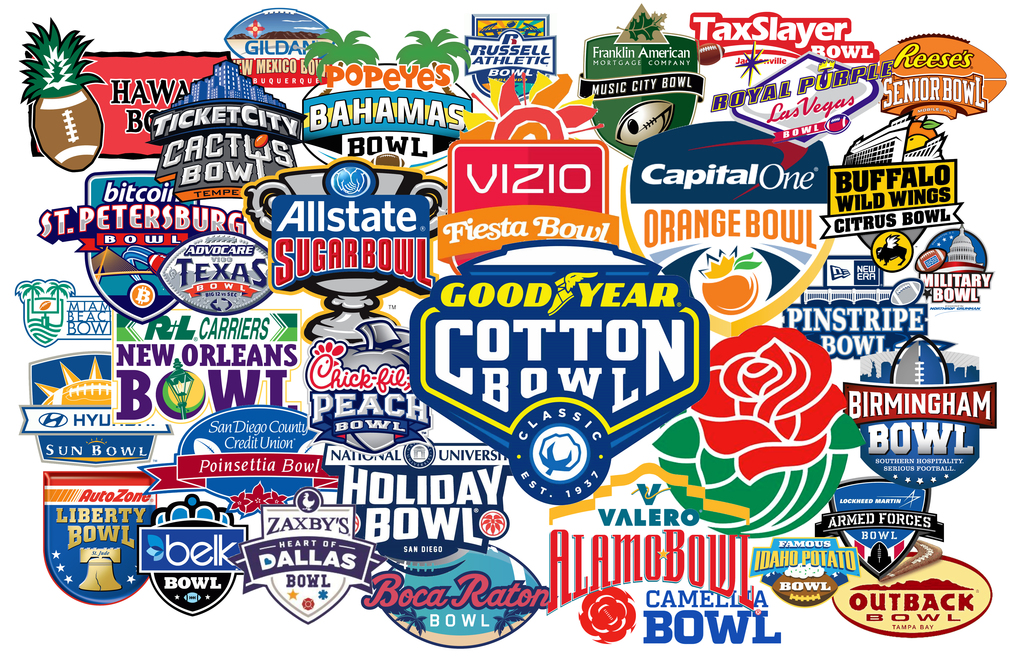 12/19
Air Force Reserve Celebration Bowl (11 a.m. ABC)
Alcorn State vs. North Carolina A&T – Is this really the first bowl game we get this season? I honestly had no idea these two teams were in divisions that played bowl games. I think I saw NCAT play a game on ESPN Classic once. But I am a Steve McNair fan, and he played at Alcorn, so… go… (looking it up) Braves! Let's Go Braves!
Alcorn State 28, North Carolina A&T 20
North Carolina A&T 41, Alcorn State 34 – FAILURE
Gildan New Mexico Bowl (1 p.m. ESPN)
Arizona vs. New Mexico – When I was younger I used to confuse Arizona's helmets with Auburn, so lots of times I'd get excited and then realize it was Arizona on TV. I have never recovered. New Mexico is once again in a bowl named after their state. No fair. Won't matter.
Arizona 45, New Mexico 14
Arizona 45, New Mexico 37 – SUCCESS!
Royal Purple Las Vegas Bowl (2:30 p.m. ABC)
BYU vs. Utah – This is about the only digestable bowl game of the opening weekend, and it includes two teams from Utah going to Nevada to play a game. Remember when Utah was a possible playoff team? Now they are playing on December 19th. I like BYU.
BYU 34, Utah 31
Utah 35, BYU 28 – FAILURE
Raycom Media Camellia Bowl (4:30 p.m. ESPN)
Ohio vs. Appalachian State – Bobcats. Mountaineers. The Gump. Nothing goes better in Cramton Bowl. Ohio is always a decent mid-major. Appalachian State is that team that beat Michigan that time, and is playing in their first bowl game as a member of the FBS. This might be too much. Ohio has been there, done that.
Ohio 42, Appalachian State 34
Appalachian State 31, Ohio 29 – FAILURE 
AutoNation Cure Bowl (6 p.m. CBSSN)
San Jose State vs. Georgia State – San Jose State won five games this season. But hey, Auburn beat them, so it was a good 5 games, right?! Georgia State is that school in those brick buildings in downtown Atlanta. Bill Curry was their first coach. He never beat Auburn at Alabama, you know? Spartans win.
San Jose State 35, Georgia State 17
San Jose State 27, Georgia State 16 – SUCCESS!
R+L Carriers New Orleans Bowl (8 p.m. ESPN)
Arkansas State vs. Louisiana Tech – Don't you always sort of feel a nice connection to Arkansas State? I guess it's the fact that Gus went there for a year, employing tons of guys that had been at Auburn or are now at Auburn. And who likes anything about Louisiana Tech? Maybe Terry Bradshaw or Phil Robertson.
Arkansas State 48, Louisiana Tech 28
Louisiana Tech 47, Arkansas State 28 – FAILURE
12/21
Miami Beach Bowl (1:30 p.m. ESPN)
Western Kentucky vs. South Florida – There's a rumor that Auburn is waiting until South Florida's bowl game is over to announce that Tom Allen, South Florida's defensive coordinator, has been hired as Auburn's defensive coordinator. Given the stats that Western Kentucky can put up, that might not be exciting right at that point in time. We'll see.
Western Kentucky 41, South Florida 24
Western Kentucky 45, South Florida 35 – SUCCESS!
12/22
Famous Idaho Potato Bowl (2:30 p.m. ESPN)
Akron vs. Utah State – This bowl sounds delicious. Ok, I use that joke every year, but it's true. Who doesn't like a Potato Bowl? I know Terry Bowden, Akron's coach, agrees with me. Sadly, he'll need to drown his sorrows in a big bowl of potatoes after this one. Utah State wins big.
Utah State 52, Akron 17
Akron 23, Utah State 21 – FAILURE
Marmot Boca Raton Bowl (6 p.m. ESPN)
Toledo vs. Temple – Temple is still ranked. Toledo beat Arkansas. That's about as far as the information and the interest goes in this one. Temple may be good, but Toledo is good enough to beat them. Rockets are very scary to Owls anyway. The Owls are not what they seem.
Toledo 23, Temple 21
Toledo 32, Temple 17 – SUCCESS!
12/23
San Diego County Credit Union Poinsetta Bowl (3:30 p.m. ESPN)
Boise State vs. Northern Illinois – The longest and most pointless bowl name returns and it couldn't have a better matchu… Remember when Boise was good? For some reason Auburn's blocking tight end, #99 Will Adams, is transferring there next season. Maybe they'll be good again. Oh, and remember when Northern Illinois beat Alabama? That was cool.
Boise State 31, Northern Illinois 27
Boise State 55, Northern Illinois 7 – SUCCESS!
GoDaddy Bowl (7 p.m. ESPN)
Georgia Southern vs. Bowling Green – The Eagles of Georgia Southern are playing with the big dogs and can play with the big dogs. But like Ohio/Appalachian State, it may be too much for the new guy against the mid-major that's used to things called the GoDaddy Bowl. I mean, you don't just win the GoDaddy Bowl in your first trip.
Bowling Green 27, Georgia Southern 17
Georgia Southern 58, Bowling Green 27 – FAILURE
12/24
Popeye's Bahamas Bowl (11 a.m. ESPN)
Middle Tennessee State vs. Western Michigan – Kodi Burns coaches for the Blue Raiders of Middle Tennessee State. Western Michigan still sounds like the team you get for a homecoming. But they're usually… okay. But Kodi Burns is better.
Middle Tennessee State 20, Western Michigan 10
Western Michigan 45, Middle Tennessee State 31 – FAILURE
Hawai'i Bowl (7 p.m. ESPN)
San Diego State vs. Cincinnati – Tuberville takes Hawaii! Cincinnati is a long way from Hawaii, while San Diego State can just hop on one of those Navy boats and be there in a few hours. But Tuberville in Hawaii, man. I don't think you can beat that.
Cincinnati 34, San Diego State 31
San Diego State 42, Cincinnati 7 – FAILURE
Now that I've picked the bowls, you should go join the bowl pick'em. Just make sure you have them in prior to each game, but go ahead and do them all so you don't have to worry about it. There's prizes and stuff.