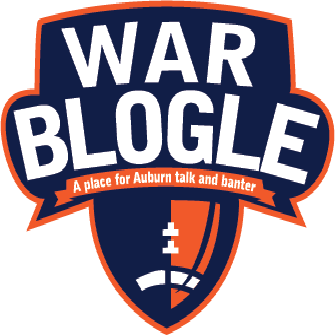 WiFi is the Blogler's best friend on gameday, and this being the first game I haven't attended in person in over a month, it was good to have an easy time tweeting for the whole day. It was fun being hopeful for the first part of the day, but once I realized things were going to be as we all realistically assumed, I just had fun being stupid. Me being stupid? Never.
Pregame:
Kodi Burns (@AUKB18), Tommy Trott (@T_Trott5), & Andrew McCain (@dragon_mccain) talk about their favorite Iron Bowls: http://bit.ly/XLgKwv .
Whatever you do today, just remember to be Never Never All In. http://bit.ly/pMJKSH  #auburn #ironbowl
If the trend holds true, Auburn will be starting a streak of 6 straight wins today. http://twitpic.com/bg2gs5  #auburn #ironbowl #alabama
Shoutout to the Auburn fans at @CollegeGameDay in LA today. Sign read "Hug an Auburn Fan." #wareagle
Desmond Howard in a very roundabout somewhat way says Auburn has a small shot today. #ironbowl
Auburn sign at @CollegeGameDay: http://twitpic.com/bg2ld2
"And as for today, Coach Jordan said it best, and that's beat the hell out of the University of Alabama." – David Housel #auburn #ironbowl
Alabama Preview: Go Crazy, Chizik, Go Crazy http://bit.ly/R8cwfz  #auburn #wareagle #ironbowl
Thats a good way to look at it. WE @pwallacep7 I look at it this way: LSU barely beat Auburn and Bama barely beat LSU so there's a chance…
WE @TheIronBowlHour: From the Lochamy brothers, happy Iron Bowl Day and good Tide-ings to all! http://youtu.be/ogXY6Q2ZIE8
RTing yourself? WE @finebaum @patsmithradio Funny Sanford & Son reference by Desmond Howard abt Iron Bowl,'This could get Aunt Esther ugly.'
For those in Tuscaloosa today, be sure to stop by and get your picture with the Andy Griffith statue. #ironbowl
'member that last time you were there? WE @lutzenkirchen: Heading to TTown for the iron bowl! Can't wait to root my guys on! War DAMN Eagle!
Here you go… WE @Blelliott89: @WarBlogle I'd rather have my pic made by a group of trees. Oh wait…..they're dead.
Ten years ago, an underdog Auburn went to Tuscaloosa with a running back named Tre to take on top ten Alabama. They won 17-7. #wareagle
Watching the game inside a garage with Ol' Glory above us. http://instagr.am/p/SbJ_QNmPKI/
Yes. http://bit.ly/eg21WU  WE @rosscollings: Someone remind me, was it Bama who wouldn't let us have a Tiger Walk in the 2010 game?
WE @BabyBlogle2: I been savin' this one for today, you guys… http://bit.ly/WKW9qE
Been'ere. WE @ESPNCFB: #OhioState (on NCAA probation) completes 12-0.
During/postgame:
Oh it's flag football…
Didn't realize Auburn football was playing Kentucky basketball today.
AFLAC TRIVIA QUESTION ANSWER!!!! WE WIN!!!!! #auburn
If Auburn throws the ball under 40 yards the rest of the game then maybe it's time for Chizik's job to be evaluated.
UNCLE BLOGLE!!! WE @ascottpvb: @WarBlogle you cant come back from 42 unless you get behind by 42…WDE
We've resorted to family pictures at the Blogle compound. #auburn http://twitpic.com/bg5nd7
FUMBLE! WOOOOOOO!!!!!!!!!!!!!
We got this guys…. ALABAMA'S PUNTING!!!!
Win of the day? The Lutzie has been mentioned on CBS multiple times today. I coined the name. Original, I know. http://bit.ly/dGQuRO
2nd win of the day? Saban getting mad at Auburn getting another play, giving Mason 1,000 yards on the season. #wareagle
If you want all of college football to burn with us, you'll pull for Georgia and USC the rest of the way.
At the moment, @BabyBlogle is serenading us with "All I Do is Win" and "All the Above" and it feels just as good. #auburn
Very telling… WE @BabyBlogle: Thoughts on today… http://bit.ly/TdbCtU  http://bit.ly/TdbElx