Not a bad week for ol' Blogle in Week 4. The only two misses were Florida's 2010 Iron Bowling of Tennessee and… Auburn's loss to Mississippi State. Dang pride.
Last Week: 9-2 (81.8%)
This Week: 6-5 (54.5%)
Overall: 46-15 (75.4%)
Not including Auburn, there are a few good games on the docket. There are quite a few that consist of very similar teams, good and bad. Who will join Vanderbilt in the cellar? Will Georgia and Alabama beat each other? Find out now!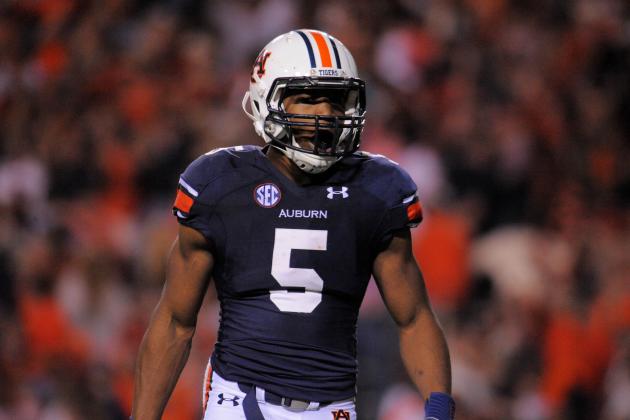 10/3
South Carolina at Missouri – It's the Battle of the Columbias. It's the Battle of Those Teams That Leave You Wondering How They Won the SEC East. Missouri just lost to Kentucky. South Carolina did earlier this season, too. Both teams will likely finish one spot ahead of Vanderbilt. For some reason I feel like Spurrier has this one. I don't know why.
South Carolina 31, Missouri 21
Missouri 24, South Carolina 10 – FAILURE
Alabama at Georgia – I don't think Alabama is very good, at least not by Alabama standards. I have no idea how good Georgia is, but I know they blew out South Carolina and didn't blowout Vanderbilt. What does it all mean? I think the home team wins.
Georgia 38, Alabama 31
Alabama 38, Georgia 10 – FAILURE
Ole Miss at Florida – Everybody's high on Florida because they are 4-0 and came back and beat Tennessee last week. Ole Miss beat Alabama, but then only beat Vanderbilt by 10 last week. So Florida is high (naturally) and Ole Miss had a hangover (naturally). I have a feeling some Swamp hype might work for a bit, but the Rebels defense is too good for Florida's offense.
Ole Miss 28, Florida 17
Florida 38, Ole Miss 10 – FAILURE
Eastern Michigan at LSU – Les Miles played at Michigan because the grass at Eastern Michigan was too dry in the Fall.
LSU 48, Eastern Michigan 10
LSU 44, Eastern Michigan 22 – SUCCESS!
Arkansas at Tennessee – Which team has fallen further from their media-made perch? Arkansas. But they did nearly knock off Texas A&M last week. Tennessee doesn't seem bad, but they just can't end a game. That being said, they won't have to worry about a comeback from the Hawgs, given half their offense is out.
Tennessee 21, Arkansas 17
Arkansas 24, Tennessee 20 – FAILURE
Vanderbilt at Middle Tennessee State – This is the equivalent of Auburn going to Troy. Think about it. It really is. Here's the thing: Auburn wouldn't go to Troy, and Auburn wouldn't lose to Troy. Vanderbilt will lose to Middle Tennessee State, though.
Middle Tennessee State 27, Vanderbilt 17
Vanderbilt 17, Middle Tennessee State 13 – FAILURE
Mississippi State at Texas A&M – Mississippi State's offense was shutdown by Auburn's defense last weekend. Was that Auburn showing up or the Bulldogs not having much besides Dak. I'd say both. Texas A&M could've easily lost to Arkansas on the road. Kevin Sumlin has yet to beat a ranked opponent at home since he's been at Texas A&M. That's a lot of analysis. The pick is in: Texas A&M.
Texas A&M 37, Mississippi State 28
Texas A&M 30, Mississippi State 17 – SUCCESS!
Eastern Kentucky at Kentucky – The Wildcats are hot. They've beaten two of the three worst teams in the SEC East, and that somehow doesn't include them this season. There's an Eastern Kentucky? Who knew?
Kentucky 41, Eastern Kentucky 10
Kentucky 34, Eastern Kentucky 27 – SUCCESS!
San Jose State at Auburn – Check my game preview tomorrow for my prediction, but SPOILER ALERT: the awakening is complete.
Auburn 51, San Jose State 21
Auburn 35, San Jose State 21 – SUCCESS!
Other Games of Note
West Virginia at Oklahoma – Here's your annual reminder that West Virginia is in the Big 12 and travels to Oklahoma, Texas, and the like each season. Jesco White probably hates this. Do you know how tough it is to get clogs through airport security?
Oklahoma 34, West Virginia 17
Oklahoma 44, West Virginia 24 – SUCCESS!
Notre Dame at Clemson – Dabo Swinney vs. the Golden Domers. There's a lot to hate in this one, right? I've never HATED Notre Dame, but if there are two teams that get the hype when there's just nothing there, it's these two. Dabo will win. And we'll all lose.
Clemson 38, Notre Dame 28
Clemson 24, Notre Dame 22 – SUCCESS!
Now that you know who will win, head on over to the 2015 War Blogle Pick 'em and get your picks in. There will be weekly prizes and and overall winner at the end of the season. It's easy. Do it.