Last week started strong and then Auburn lost, and then Kentucky lost, and then Alabama lost, and then our pets heads were falling off! It went from great to worst predictions ever with a quickness.
Last Week: 13-2 (86.7%)
This Week: 9-2 (81.8%)
Overall: 40-10 (80.0%)
With a pretty week slate, I look to get back on track this week. I'm saying week slate with Tennessee at Florida included. That's pretty sad. If Mississippi State at Auburn is the best game of the week, you know it's bad. What I mean is that a 52-0 win by Auburn is going to make this week bad.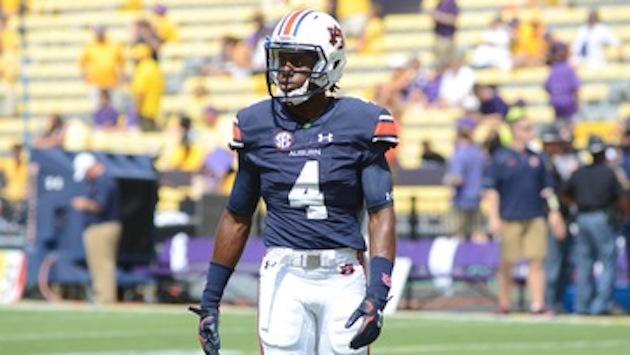 9/26
Southern at Georgia – There's a reason Georgia is under the radar at even at 3-0 and ranked in the Top 10. They've played UL-Monroe, Vanderbilt, South Carolina, and now Southern? Even Auburn's performance against JSU could beat those teams.
Georgia 63, Southern 7
Georgia 48, Southern 6 – SUCCESS!
LSU at Syracuse – This is weird. It was weird when Auburn went up there in 2001. It's going to be weird to see LSU playing in that tiny, awful little dome at noon on Saturday. What's not going to be weird is LSU putting up 500 yards rushing. I hope.
LSU 45, Syracuse 10
LSU 34, Syracuse 24 – SUCCESS!
UCF at South Carolina – If there's a team playing worse than South Carolina, it's UCF. The Golden Knights have lost to FIU and Furman in back-to-back weeks. Steve Spurrier will eat this weekend.
South Carolina 38, UCF 13
South Carolina 31, UCF 14 – SUCCESS!
Tennessee at Florida – Everytime this game comes up, I think of Peyton Manning and Danny Wuerffel and then I remember that one is in his 18th year in the NFL and one is a senator or something and they were the last to play in a truly meaningful version of this game. Tennessee is not awesome, but they are better than Florida this year.
Tennessee 24, Florida 17
Florida 28, Tennessee 27 – FAILURE
UL-Monroe at Alabama – <sound you make when you try not to laugh in church>
Alabama 34, UL-Monroe 3
Alabama 34, UL-Monroe 0 – SUCCESS!
Vanderbilt at Ole Miss – Ole Miss might end Vanderbilt's football program. They might score 100. They might overlook the Commodores. No, let's go with that first part.
Ole Miss 56, Vanderbilt 10
Ole Miss 27, Vanderbilt 16 – SUCCESS!
Texas A&M at Arkansas – I can actually see something really dumb happening in this one. I just feel like Bert has one inexplicable win in him every season and this is it. Arkansas has been very unlucky with injuries, but they've at least been close in their two losses. Nah, can't do it.
Texas A&M 42, Arkansas 31
Texas A&M 28, Arkansas 21 – SUCCESS!
Missouri at Kentucky – Welcome to SEC play, Missouri. Glad to get out of those close ballgames with Arkansas State and UConn? I really don't want Kentucky to win because I don't want them to have any good mojo when Auburn has to go up there on a Thursday in a few weeks, but they seem somewhat due for a good win.
Kentucky 21, Missouri 13 – SUCCESS!
Mississippi State at Auburn – Check my game preview tomorrow for my prediction, but SPOILER ALERT: Sean is good.
Auburn 31, Mississippi State 27
Mississippi State 17, Auburn 9 – FAILURE
Other Games of Note
TCU at Texas Tech – This game seems a little more interesting since the Red Raiders are 3-0 with a good win over Arkansas. TCU doesn't seem totally unstoppable, but are they to the level that Texas Tech can beat them? Maybe in an ab contest between the head coaches.
TCU 35, Texas Tech 21
TCU 55, Texas Tech 52 – SUCCESS!
USC at Arizona State – Both of these teams were ranked to go pretty far this season, but then Arizona State lost to Texas A&M in their first game and USC lost last week to Stanford. Shucks. USC is better, but is Sun Devil Stadium enough? No.
USC 28, Arizona State 24
USC 42, Arizona State 14 – SUCCESS!
Now that you know who will win, head on over to the 2015 War Blogle Pick 'em and get your picks in. There will be weekly prizes and and overall winner at the end of the season. It's easy. Do it.