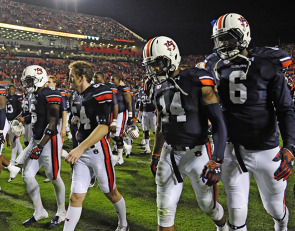 Auburn has two losses of the nine games they have played in 2014. Both involved inexplicable, football god wrath voodoo. The 2nd worst than the 1st.
As you read from my game preview, I had little to no concern about this game at all. I barely even thought about it. I was worried about beating Georgia and Alabama. I felt the same way with Auburn's previous home game against South Carolina. Needless to say, I'll take a break from feeling no emotion about a game for the rest of the year. I promise.
For the 2nd time in as many losses, Auburn turned the ball over on their first offensive play. Yeah, let's stop that. Texas A&M had already scored on a hugely busted coverage, which gave confidence to a freshman QB making his first road start. Giving them a short field off a turnover, and another touchdown a few plays later only pushed his confidence level even higher.
Even still, Auburn tied it up. And then Texas A&M scored their final two offensive touchdowns of the game with more than 10 minutes left in the 2nd quarter. Positive, right?
But then Auburn had to settle for a field goal after getting down to the three yard line and taking a sack. And then that freshman QB threw a bad pick to that guy we used to know named Jermaine Whitehead. Remember him? Things were rolling. Good stuff.
But then right before the half expired, Auburn had to settle for another field goal. I mean, it's okay I guess. They stole a possession from Texas A&M and were going to make it an 8-point game, getting the ball back after halftime. It would be like they scored a touchdown on the first field goal drive, but missed the extra point. (Yes, these are the thoughts that go through my head while watching a game.)
After Kevin Sumlin iced the kicker on a last second field goal before the half that would have dropped his lead from 11 to 8, something happened. Something bad. I don't know what it was, but the ball was blocked and then bounced out and to the only guy standing anywhere near it. He wore maroon, or whatever they call it, and he was running.
No big deal, just tackle him or at least knock him out of bounds and we'll go to halftime. Well the only person close enough was Brandon Fulse, and it didn't happen. The half of death ended with a spear straight through the skull. At worst, the lead was going to be 11, it should've been 8, but instead it was 18. And then I had to watch Texas A&M's band, whose lines were phenomenal. The pain was never going to end.
BUT HEY, it's just 18 points. Auburn's offense hadn't been terrible. Those 2nd half defensive adjustments were going to work and Auburn would come back and win the game like the better team they were.
Welp, Auburn's first drive of the 2nd half featured a 3rd-and-35 from their own 5-yard line. Seriously? Even with a 25 yard run, it still wasn't good enough. But that defense locked down(?) and Texas A&M was forced to kick a field goal that they missed, then another two that they made, and that was all they got the rest of the game.
The offense scored a touchdown somewhere in the 3rd quarter, and was driving as it ended. "We have to score early in the 4th to get it to a touchdown deficit," I said outloud to the people around me that wanted to hear it, and on the very next play, it happened. Nick Marshall thew one of the prettiest balls I've ever seen to Quan Bray, and a few seconds into the 4th, Auburn was en route to a comeback.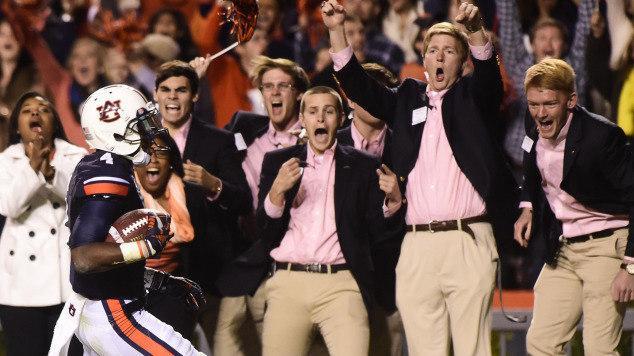 But after one of those aforementioned field goals by the Aggies, it was back to a 10 point lead. Shoot. Oh, but then Sammie somehow caught a ball in his gut as he was flying through the air after being interfered with, and Auburn was on the move again. A few plays later, Marshall scored and we were down to a field goal deficit.
Then Texas A&M punted for the 2nd time of the night (late in the 4th quarter), and Auburn was going to take six minutes off the clock and win the game with a touchdown. "Slow down," I yelled as Auburn moved down the field with ease. "Let's take a knee or two," as Auburn lined up inside the five yard line with at least 3 minutes left.
Texas A&M hadn't scored an offensive touchdown in eons, but I felt that after Auburn scored, they would be able to move the ball down and at worst kick a game-tying field goal as time expired. I should've been worried about other things…
..like a bad zone-read exchange that resulted in a fumble, then a pile-up, then a guy not in the pile pulling a guy out of the pile and running away with the ball. But wait! Look at the review. Cameron Artis-Payne clearly landed on the ball. He was down. The ball was in his hands way before the pile up. Auburn would keep the ball.
But wait! We're talking about an SEC crew that as a whole has somehow turned into a joke in one season. Even with hard evidence, regardless of what Kevin "Page Views" Scarbinksy says, the officials couldn't find enough of their type of evidence to give the ball to Auburn. The problem was, as with most reviews, is they gave the call to the most obviously wrong result, and then needed to see the guy actually step on the moon with their own eyes to prove it happened. Because they couldn't do that,  Texas A&M got the ball.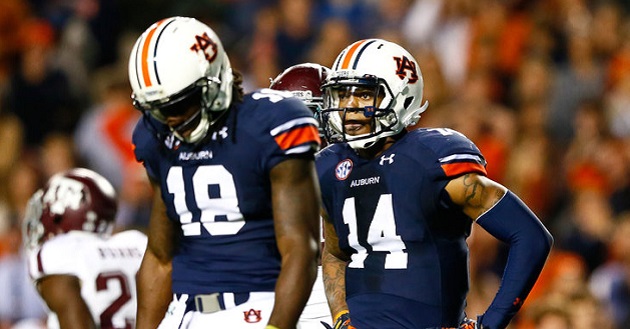 But wait! Auburn actually left enough time on the clock that a stop deep in Aggie territory would give them a punt return in good field position. And that happened. There probably could've been a safety called on 3rd down, in which they let all of the play clock run down before they decided to review it, but I wasn't sure Auburn needed it.
Here are the two scenarios that were debated throughout every section of Jordan-Hare Stadium during the review:
1) A safety is called, the score was then 41-40 Aggies, no time ran off the clock, and Auburn likely starts their game winning drive only needing a field goal to win around their own 25-30 yard line.
2) A safety was not called, nearly 40 seconds ran off the clock, and Auburn starts their game winning drive needing a field goal to tie or a touchdown to win around the Aggie 45-yard line.
I can see it both ways, but scenario #2 happened, and it didn't matter.
I had never been more positive that Auburn was going to score a touchdown. The Aggie defense was being torched, the Auburn offense looked like Auburn, and there was no way that voodoo priestess rubbing two stones together in College Station, TX was going to influence this game again. But then with less than a minute to go, with a game-tying field goal in their back pocket, a brain fart occurred. Or something. I don't know what happened, but you know what happened, and I'm not talking about it.
It was voodoo witchcraft football god wrath at it's finest, and so far it's the only thing that's been able to beat Auburn. Sometimes breaks don't go your way. Sometimes breaks break you in two. But there ain't a damn thing can Auburn do about it, but go lay their guts on the line again… and again, and again. It ain't over. It's Amen Corner.