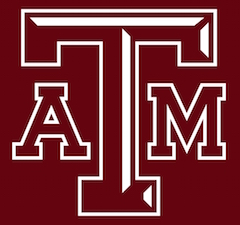 Johnny Manziel made his first and only trip to the Plains in October 2012. After one half, he and his Aggies led Auburn 42-7. It ended 63-21. It was one of the most unenthused performances by one of the most unenthused Auburn teams we've ever witnessed.
But because the Mayans were wrong, and 2012 was not the last year of Earth's existence, we are still playing football. Since that game, Auburn is 1-0 against the Aggies. Since that game, Auburn has played in a National Championship Game. Since that game, Auburn has risen and Texas A&M has fallen.
It didn't look like Texas A&M was going to go too far down this season after losing Johnny Manziel to the NFL, but after a few "big wins" that ended up being nothing, they've lost three out of their last four with a five point win over UL-Monroe. Talk about unenthused.
The one with the premature nickname, Kenny "Trill" Hill, started the season with a huge game against "Top 5" South Carolina. Since then, he feasted on teams like Rice and Lamar, and then struggled in the aforementioned losses. Then he was benched and then suspended, or maybe the other way around.
And now Texas A&M is bringing in a true freshman quarterback into Jordan-Hare Stadium for his first road start. That's happened once this season. Remember LSU? Remember the score? 41-7. And LSU actually has some sort of defense.
Texas A&M at best has the same defense that gave up 45 points at home to Auburn last year. This year's Auburn offense has more weapons and is probably a little more effective than they were at this point last season. Bottom line: Auburn has improved at what was already good enough to beat a better team on the road last year.
There are many members of the 2014 Auburn team that were playing on that awful night in 2012: CJ Uzomah, Reese Dismukes, Trovon Reed, Quay Bray to name a few. Those boys saw what that felt like. Sure, it was mostly taken care of with the win last year, but Texas A&M's only visit to Jordan-Hare was one of the worst beatdowns in Auburn and the stadium's history. It needs to be righted.
Auburn has a chance to get a quality SEC victory, and when I say quality SEC victory I mean a large beatdown of a big name team, while Alabama and LSU have to struggle with each other. What looked like was going to be one of Auburn's toughest games has turned into a a seemingly sure-win while other teams have to sweat. I haven't had that feeling all season.
I rarely feel like anything is a sure-win in the SEC, but I feel it this week. Maybe it's because all I know of Texas A&M is with Manziel and without Manziel, and maybe it's because there isn't much history and weird things haven't happened in this new SEC West rivalry yet, but I have had the least worry about this game over any other SEC game.
I said somewhat the same thing about the South Carolina game, the team Texas A&M slaughtered, and you saw how that turned out, but I just don't see it with this one. Bad defense, a freshman QB who did nothing against UL-Monroe and that's making his first road start never turns into a win. It's a football rule.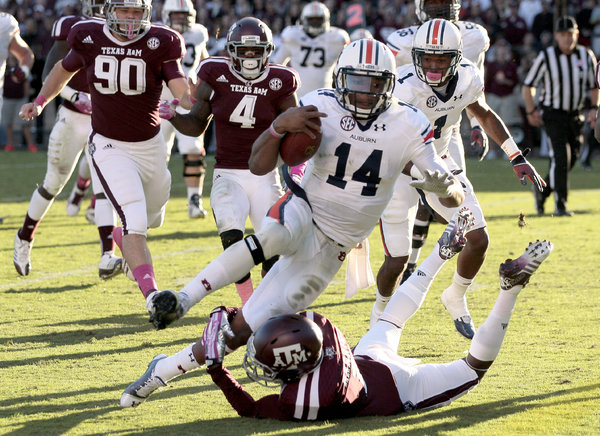 Nick Marshall and Cameron Artis-Payne will rack up yards in the first half as they jockey for Heisman positioning, and Auburn is able to use Jeremy Johnson in a welcome lighter SEC challenge. The defense will challenge themselves to keep the shutout because we saw what Alabama did, but this one is all about winning, staying healthy, and honing their craft. All parts of Auburn will do just that.
Auburn 49, Texas A&M 17