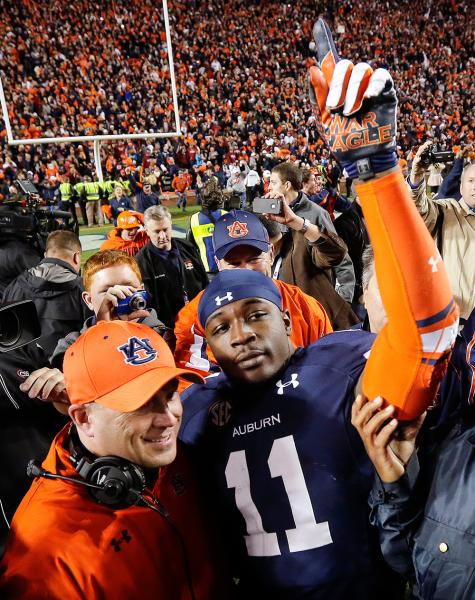 One second. One second is all it took. One second is all it took for Auburn to one-up the best play you'll ever see with the best play you'll ever see. One second is all it took to beat Alabama.
Well that was dramatic. The truth is that it took more than 60 minutes to beat Alabama, and that's what Auburn did.
Coming in to the game the story was heavy on the idea that Alabama's offense, which is more explosive than your normal Alabama offense, would be able to score points on Auburn's defense, keeping up with Marshall and Company.
On Alabama's 13 drives, Auburn forced the Crimson Tide to 3 punts, 3 missed field goals, 1 blocked field goal, and 1 turnover on downs. Of Alabama's 4 touchdowns, one came on a drive that began at the Auburn 36-yard-line, one came on a drive extended by a pretty inexplicable offsides from Dee Ford, and one came from a 40-yard pass, aided by a busted man-to-man coverage, that turned into a 99-yard score. All of that took more than one second.
Alabama was supposed to be the toughest rush defense that Auburn has faced. Nick Marshall ran for 99 yards. Tre Mason rushed for 164. The team rushed for 296. Alabama may have the best rush defense that Auburn has faced, but that didn't really matter.
After Tre Mason fumbled to give Alabama the aforementioned short touchdown drive, he ran like a bull-headed man possessed. He put the entire offense on his shoulders in the final drive before the half to keep the score from getting away. It was the drive that saved the game. All of that took more than one second.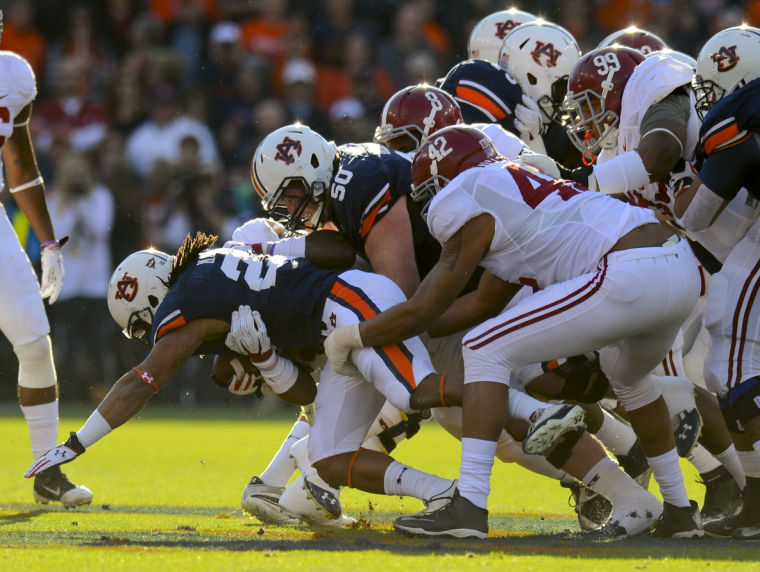 And what about the two perfectly thrown balls to CJ Uzomah and Sammie Coates on the best baitjob in college football history? The Alabama defense was going to force Marshall to beat them with his arm. Well, he only threw for 97 yards (why throw if you can run for 300?), but two touchdown passes are all that matter, especially the one with less than a minute to play. Multiple times in the game, the Alabama defense looked lost. The best defense Auburn has faced looked lost. And all of that that lasted for more than one second.
When Alabama got the ball back with less than a minute to kick a field goal, I was standing around the 50 yard line on the home side in the walk way between the lower and upper sections of the lower bowl. Minutes before Sammie's touchdown, my mom, one of my brothers, uncle, and @BabyBlogle came to meet me and @BeautifulBlogle there. That's where we watched the final minute.
I went Georgia-ending crazy when Sammie Coates scored. I realize it wasn't the same type of situation exactly, but the fake run pass tricked me as badly as it tricked the Alabama defenders, so I went ape. After telling @BabyBlogle how huge that was, we got nervous again for the last 30 seconds.
We stood there and watched as TJ Yeldon ran two draws further than we wanted him to at the time. We yelled at the head official giving Alabama one second on the clock. We told each other, "there's no way they make this kick, no way," and "but after the game they've had kicking, I bet he does." The overall feeling, though, was relief that Auburn was at least getting to overtime, given the way the 4th quarter had gone.
"Oh, we've got Chris Davis back there to run it out," said my brother. I thought that was cool, but that's about where that thought ended.
As the redshirt freshman kicker for Alabama kicked the ball, I initially thought Robenson Therezie had blocked it. Once I saw it in the air, I was nervous for a nanosecond before looking at Chris Davis preparing to catch the ball. "Alright good, let's win it overtime."
"Go Chris… Go Chris… Go… Go… Go! Go! GO! GO! GO! GO! GO! AHHHHHHHH!!!!!!!"
I turned and saw my uncle, who had been standing right next to me at the beginning of the play, running towards me from what seemed like 100 yards away. I had no idea what he was saying, but he had tears in his eyes. We high-five/half-hugged for about a second, I kissed @BeautifulBlogle three times, and then turned to @BabyBlogle. He was just standing there.
He could tell you half the roster, who Auburn plays in basketball in three weeks, and the score of every game this season, but he hadn't grasped what had happened. He really just knew that everybody around him was going Georgia-ending crazy times 109. I picked him up and told him the exact same thing I told him when Ricardo caught the pass against Georgia: "You just saw the best Auburn play of all time!" Is it? Maybe. Probably. Yes.
Once I told him that the play meant that Auburn beat Alabama, that's when he got it. That's when his 4-year-old smile showed up. That's when he turned into the rest of us going crazy.
We eventually made it down the steps onto the field, bumped into players, and hugged dudes that I knew that I would never hug in any other situation. It was a party. It wasn't until I had been at the party for a few minutes that I remembered that the win meant that Auburn was going to Atlanta. It completed the snowball of bonuses.
At first, I was just happy that Auburn tied the game, then I was happy that Auburn was going to overtime, then I was happy that Auburn won the game, then I was happy that Auburn won the West. It was the gift that kept on giving.
I took as long as I could to leave the field. College kids were reenacting the play. Younger kids were getting their picture made with Auburn Santa (I saw his 70+ year old self running on the field with the first wave). I saw people doing snow angels in the grass. I saw people taking pieces of the hedges that were destroyed as people found anyway to get on the field as quickly as possible.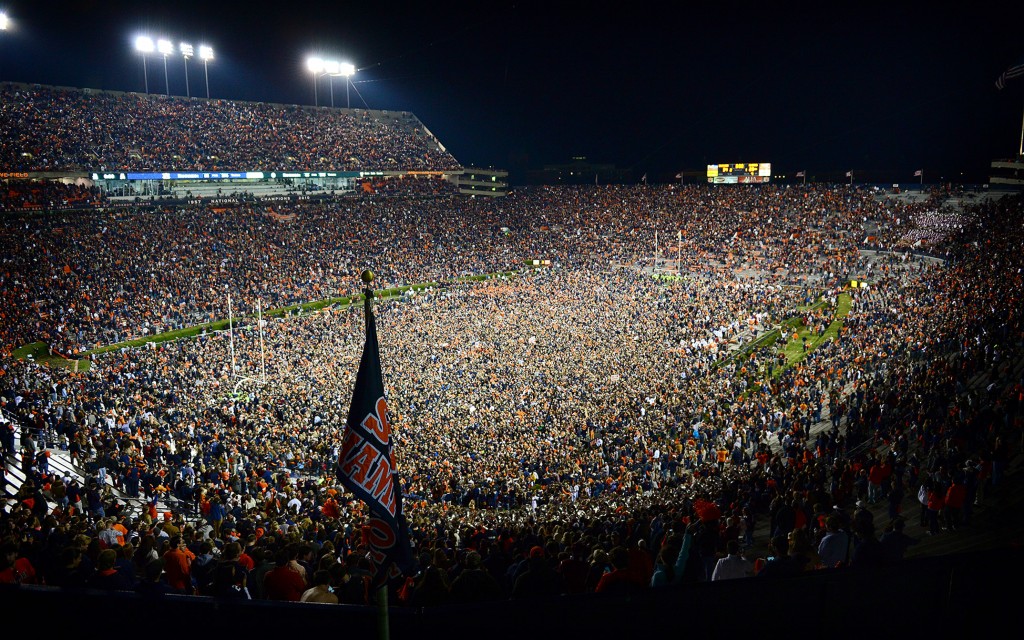 It was pure jubilation in every sense. It was everything that was 2012 in complete reverse. It was two years of frustration, two years of oppression, two years of ridicule, trash talk, and belittling lifted. It was gone. Nobody could say anything.
The 2013 Iron Bowl actually lasted 60 minutes and 17 seconds. The ball was kicked with 1 second to go, it lasted 5 seconds in the air, and it took Chris Davis 13 seconds to run from the back of the endzone to the goal line of the other. So while it's fun to rub in one second to your favorite Alabama fan, the truth is that for those 60 minutes and 17 seconds, Auburn played as equals with the perceived kings of football. For most of those 60 minutes and 17 seconds, Auburn played better than the perceived kings of football. It wasn't a 1 second fluke, it was a game that couldn't just be decided in 60 minutes.
Auburn beat Alabama. Now bring on Missouri.