I apologize for the lack of posts over the last few days, especially an Iron Bowl review. Beautiful Blogle's grandfather passed away last Sunday, and we've been out of town for the past few days. I promise to have a review for you tomorrow, but for now you will just have to deal with a Bammer's perspective of the game they should have lost.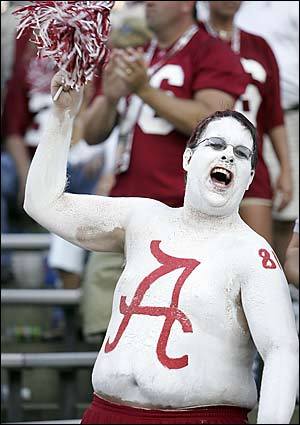 Season 2, Week 14 – Winners All Around
by FireWillHeath
How often do you leave the Auburn-Alabama game with both sides in a reasonably good mood?
It happened this past Friday, when Alabama rallied for a 26-21 victory at Jordan-Hare Stadium.
During most of the offseason — as 'Bama fans rubbed Auburn's noses in the 36-0 debacle of 2008 and national prominence, while Auburn fans (apparently) sniffed around in the hopes of catching Alabama cheating — it certainly didn't seem possible. As the season unfolded — and Auburn started 5-0, just like Alabama — it didn't seem possible. And before the game — as both sets of fans started wringing their hands about the possibilities (championships, Heismans, etc) — it certainly didn't seem possible.
But it happened.
Auburn fans should be damn proud of what their team accomplished in 2009, and how it played vs. 'Bama. Truth be told, ever since the Tigers went to Knoxville and dismantled the Volunteers to start the season 5-0, the team's been playing with house money in a sense — the program wasn't in the shambles a lot of us expected, and appeared to even be progressing. When Auburn carried it one step further by hammering Ole Miss on Halloween, it was obvious — Auburn was closer to "back" than it was to "oblivion."
Which is what Friday affirmed. Beyond Gus Malzahn's endless bounty of trick plays — I loved the onsides kick, by the way — what was most impressive was the defensive intensity. The raw numbers are impressive enough: Auburn held 'Bama to a measly 4.3 yards per play, 2.1 yards per rush and 291 yards of total offense. More impressive to me, though, was the sheer intensity Auburn delivered. The signature moment, at least for me: in the third quarter, Alabama needed two plays to make one yard … and couldn't do it.
Quite simply, against Alabama, Auburn looked like an SEC defense.
(Note: In last week's preview, I picked Alabama to win "going away." I was wrong. That defense, in that atmosphere, wouldn't allow it. I can do no more than tip my hat. Well played, gentlemen.)
By the same token, Alabama fans have every reason to feel positive about their team after Friday's game. I haven't been around forever, but I've now been around the Auburn-Alabama rivalry 29 years, at least 20 of which I remember. I know enough to know that wins at Auburn are precious, and deserve to be cheered. Furthermore, comeback wins, particularly on the road against bitter rivals, are always special, no matter the records.
Which is why Alabama fans deserved to stand up and cheer their team after Friday's game. I recall the 2005 version of this game, when Auburn scored 21 first-quarter points. That Alabama team, frankly, quit. This one did not, even though it had multiple opportunities. Instead, it kept coming, and as a result, left town 12-0 (fun fact: Alabama now has consecutive 12-win seasons for the first time … well, ever).
Going forward, I don't anticipate the 2010 version of this game to have such an ending. For one thing, Auburn should be a better program in 2010 (considering recruiting and the natural boon most programs have in Year 2 of any coaching regime). Alabama may not be as good — certainly a lot of experience is leaving town on the defensive side of the ball — but still should contend for the division crown. Could be we'll finally get that "winner-take-all" divisional showdown we've wanted from this game for some time.
Regardless, it won't be like it was in 2009. This time we were all winners.