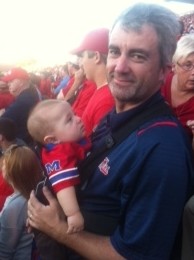 In this week's "Other Sideline," we continue through the 2012 schedule, and now it's time to talk Ole Miss. Jake Adams of The Ole Miss Blog is a lawyer, lifelong Ole Miss fan, sports junkie, and wannabe famous novelist. He answered a few questions for us last year, and was good enough to bring him back this summer. You can follow him on Twitter at @adamsjaken or on Facebook.

1. Let's just cut to the chase. Will Ole Miss win an SEC game this year?
Ha! Great question, but hurtful. Ole Miss has lost 14 in a row, and with the SEC opener this year against Alabama you can go ahead and make it 15. And it could get even worse. The best chances the Rebels have to finally end the conference losing streak will come at the end of the season against Vanderbilt (the Rebs were 1-3 against the Commodores during the Houston Nutt error, I mean era) and Mississippi State (lost three straight to the Bulldogs).
2. What are the fanbase's thoughts on Hugh Freeze? Are people excited or frozen in fear? See what I did there?
Amazing wordsmithery. See what I did there? Well, he's not Mike Leach. I was a strong proponent of the Pirate, but as usual, I was ignored. That said, Hugh Freeze is a very likable coach. He did some pretty amazing things in his brief stay at Arkansas State, and is doing a bang-up job in his first full-year on the recruiting trail. He also gets the benefit of being a mystery. The Red Wolves weren't on TV much last year, so the imagination of the fanbase is captivated by visions of Leach-like offensive wizardry. But the most important thing from a fan's perspective is that Freeze is currently undefeated. Ole Miss fans love being undefeated. It's July. The Rebels haven't lost a game yet. How could anybody not be excited?
3. What are the overall expectations for the season from the common Ole Miss fan?
Things have been so bad in Oxford the last two years that Ole Miss fans are excited at the prospect of seeing effort from the players. I'm serious. It was that bad. That said, the schedule is brutal. Ole Miss travels to Tuscaloosa, Baton Rouge and Athens and is hosting the Texas Longhorns in a non-conference game. It's sick. The Rebels will be underdogs in all but three games. Even the crazy dreamers don't expect more than five wins. Six would be a fairy tale.
4. I'm just going to be honest, I have no idea who will be the Rebels' starting quarterback, nor do I even know who's in the running. Can you help me out?
Bo Wallace, a JUCO transfer gunslinger from East Mississippi Community College by way of a redshirt year at Arkansas State (Freeze was his offensive coordinator) has the inside track in a two-way battle with returning starter (3 games) Barry Brunetti. Freeze says the competition is tied, but it's coach speak. Wallace had the far better spring game and looks more comfortable throwing the ball. Word has it Freeze's is a pass-happy offense. Wallace should eventually win the job.
5. Who are two unheard of Black Bears that Auburn fans need to know about?
Wide receiver Donte Moncrief led Ole Miss in receiving last year as a true freshman. He's the real deal. He's fast and physical with good hands and a knack for creating separation between himself and the defender. On a better team you would have heard of Moncrief already. Safety Charles Sawyer is entering his third year as a starter. The talent's there and after two years of play there isn't much he hasn't seen. Expect him to cause some headaches for quarterbacks and offensive coordinators in the defensive backfield.
6. Name two Auburn Tigers from the past and the present, two each, that scare you.
I'll never forget watching Bo Jackson shred Ole Miss for 240 yards in a night game at Auburn back in 1985. I secluded myself in my aunt and uncle's bedroom so I could watch it. It was terrible and awesome all at the same time. The TV commentators were laughing for most of the game. "Silly Ole Miss defense" they'd say. "They keep lining up on the other side of the ball like they are going to actually tackle Bo Jackson." That's the way I remember it anyway. The other Auburn player from the past who I'm glad to never have to watch play Ole Miss again is Cam Newton. The 1st quarter touchdown catch was showing off and completely unnecessary. The Tiger Eagles deserve what they are going to get the next few years.
Speaking of which, I confess that I don't know any current Auburn players, so there's no fear of any present Auburn players.
7. Which unit is the strongest? Which is the weakest? Which has the most questions?
Ole Miss was bad in pretty much every area of the game last year, so there's questions everywhere. Will the defense be able to hold a running back, any running back, under 100 yards this season? Will the offensive line be able to block? Can the quarterback complete a pass to his own team? These are the riddles I can't wait to solve. If I had to name a strongest unit I'd have to say special teams. The Rebels have some pretty great kickers. I'm serious.
If there's a strength on the Ole Miss team you'd have to say it's at receiver. The Rebels have a fleet of receivers who can get the job done. If Freeze really is the next-coming of Leach then he's got the tools at receiver to make life interesting for defensive coordinators. Of course he still needs an offensive line, a running back and a quarterback, but these are small details.
8. What's your prediction for this year's matchup between the Rebel Black Bears (are you tired of people saying that yet?) and the Tigers?
Auburn is one of the Rebels' best chances at an SEC upset. The game is in Oxford. The Tigers' season will be on the ropes following humiliating home losses to LSU and Arkansas. Chizik will have already had at least two press conferences with his jaw set in stone atop that cool black leather jacket of his. Tigers fans will be in full panic. Meanwhile Freeze will be looking for his first marquee win. It sets up perfectly for an upset. But I've followed Ole Miss for too long to believe that will actually happen. I'll take Auburn, 24-21.
9. Where will the two teams end up this year (record/bowl)?
Auburn will finish 6-6 and go to an obscure bowl game. Ole Miss will finish 4-8 and not go to an obscure bowl game.
10. How many games will you wear a bow tie and full seersucker suit to this year?
I'm middle-aged with kids, which means I've graduated to khaki shorts and one of those Nike golf shirts.