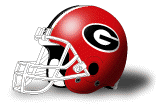 As of the minute that I am writing this, Cam Newton will be the starting quarterback for tomorrow's game against the Georgia Bulldogs. Yes, even after the report by an Atlanta TV station that Cecil Newton admitted to discussing money with an ex-Mississippi State football player. So I am going to preview this game as if Cam Newton is still playing because that's what we know right now, and that's what I believe will happen.
Let me just be honest, it's been hard to think about this game this week. I think most Auburn fans would agree. That's not a slight at Georgia, though. They are playing much better lately than their record indicates, and if you actually think about how they match-up with the Tigers, we could be in for another game like Arkansas.
However, not one player on the Auburn roster has beaten Georgia. Well maybe there's a fifth-year senior or two, but they obviously weren't actually playing in 2006 when Brandon Cox connected with Devin Aromashodu to set up John Vaughn's game-winning field goal. Why does that matter? I think you know.
Fate.
It worked against LSU, and it will work against Georgia. Auburn owed LSU one, and Auburn really owes Georgia one. The Tigers gave up a 14-point lead last year, had a dropped pass in the endzone at the end of the game in 2008, had a lead in 2007 and watched Knownshon dance to a victory, and was blown out by a 4-loss Georgia in 2006.
Needless to say, this series has been very unkind to the Tigers over the last four years. The Tigers broke the Bulldogs' hearts in 2005 and have been paying for it ever since. It's time to make that end.
Do you think Mario Fannin wants to go out saying he never beat Georgia? What about Zac Etheridge? What about Josh Bynes? No, they won't let it happen.
Aside from four years of frustration, there's one other Tiger that has something to prove. Although his smile would have you believe otherwise, Cam Newton has had to be going through his own personal hell over the last week. What better way to bring something positive to the table than to go out and beat the team from your home state, and end the streak for Auburn and their fans?
I have a feeling that being on the field will be a huge breath of fresh air for Cam. For four hours, there will be no distractions, no news reports, nothing. Just running over, around, and through Bulldogs.
I do believe Auburn will struggle a little on defense with AJ Green on the field and quarterback Aaron Murray playing well, but when they absolutely have to, the seniors will make a big stop as the Bulldogs try to mount a 4th-quarter comeback.
I predict a lot of points, and I predict two focused teams. One will be focused on playing for championships, and one will be focused on saving their season.
I'm not positive how it will happen, but I am positive that it will happen: the streak will end tomorrow.
Auburn 35, Georgia 27