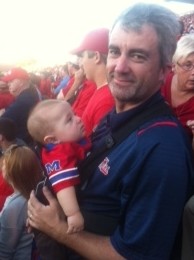 Jake Adams of The Ole Miss Blog is a lawyer, lifelong Ole Miss fan, sports junkie, and wannabe famous novelist. He also still resents Auburn for stealing Tommy Tuberville. You can follow him on Twitter at @adamsjaken or on facebook.com/jakesolemissblog. By the way, Ole Miss beat reporters are the only guys to give me the shaft in three years of doing this series, and they've done it both of the last two years. Ah who cares, I'll gladly take a fellow blogger. We know more than they do anyway.

1. Based on the comments from each of Auburn's previous opponents' fan bases, Cam Newton really hurt a lot of people's feelings last season. How do Ole Miss fans feel in that regard?
I was fine with Cam Newton all the way up until he caught that touchdown pass against Ole Miss. It's one thing to own everybody around you, it's quite another to own everybody around you while playing a completely different position. That feeling I had after Newton caught that pass allowed me to have some empathy with Al from Dadeville. Poor guy.
2. What is the Ole Miss fans' confidence level coming into this game? Do they expect a win?

After the way Houston Nutt went off on Rivals.com writer Neal McCready last Saturday for picking the Rebels to lose to Arkansas 49-10, many Ole Miss fans are afraid to express their feelings. Not me. I expect Michael Dyer to have a career day on Saturday, just like each tailback who has faced the Rebels before him. Playing Ole Miss is a great way to vault a player into Heisman contention. It's also a great way to discover a quarterback. I understand Auburn is still looking for one. Expect the headlines on Sunday to say that Malzahn found his man. This is what I call "The Ole Miss Defense Effect". To answer your question, no, I don't think any Ole Miss fan expects to win this game. Hopes, yes. Expects, no.

3. Have the fans turned on Nutt yet? If so, who do they want to replace them?

You obviously do not read theolemissblog.com. Here you go.

4. Who are two generally unknown Rebel Black Bears that Auburn fans should watch out for?

Nick Brassell and Donte Moncrief are a pair of freshmen receivers whose speed and talent have vaulted them into being significant parts of the Ole Miss offense. Expect the Rebels to try to make big plays happen with both of these guys. But please don't tell Ted Roof I told this information.

5. What are the Rebels' major concerns for this week?

DEFENSE. The Ole Miss defense gives up too many big plays and too many yards rushing. The real fear is that Michael Dyer will have at least one run of 50 + yards. If this happens, Ole Miss will lose. This year, the big play almost always happens. Saturday should be no different. Dyer will be the SEC offensive player of the week on Monday.

6. What positional match-ups do you see Ole Miss having an advantage over Auburn?

Tyler Campbell can out-punt Auburn's punter any day of the week.

7. Who is your favorite Auburn Tiger of all time, and why?

Bo Jackson. Mostly because he was awesome. I remember him as being more akin to a runaway freight train than to a human being. In my mind, Jackson will always be larger than life. His injury was one of the saddest I've ever experienced as a sports fan.

8. What is your brief analysis/prediction for the game?

Call it a hunch, but despite all my negativity above, I think this game might be closer than people think. Auburn is struggling on offense and Ole Miss is improving. It's going to come down to whether the Ole Miss defense can stop giving up inexcusable big runs like the one it allowed in the 2nd quarter to Dennis Johnson last week. They haven't yet. Therefore, I'll pick Auburn 24-20.

9. Where do you see Auburn/Ole Miss ending up this season?

Auburn will lose to Georgia and Alabama and take its seven wins to the Peach Bowl. Ole Miss will finish either 4-8 or 3-9 depending on what happens in the Egg Bowl.

10. Lastly, what did you vote for: the black bear, the shark, or the faceless frat guy? Or were you in the Admiral Ackbar camp?

I voted for the Shark because it was based on the Landshark nickname given the Ole Miss defense back when it was playing well in 2009. Luckily the Bear won the vote. There hasn't been much on the field reminiscent of sharks the last couple years.