Earlier today, I posted a picture that confirmed a few of the uniform rumors that had been floating around ('War Eagle' on belt line, stars on jerseys, etc.). One rumor, that began at Under Armour's merchandise bus in Glendale, was that Under Armour would be adding white space between the pant stripes to look more like the helmet and jersey stripes. The aforementioned picture squashed that one like a 24-point lead in Tuscaloosa.
But as my friend Stephen A. Smith says… HOWEVA, a new and very strange change has been spotted in a picture that was tweeted by the Auburn Athletics Twitter account. Take a look at Michael Dyer's knee. You know, the one that didn't go down in the BCS National Championship Game. What's up with his pants? Did they run out of fabric? They just need adjusting, right?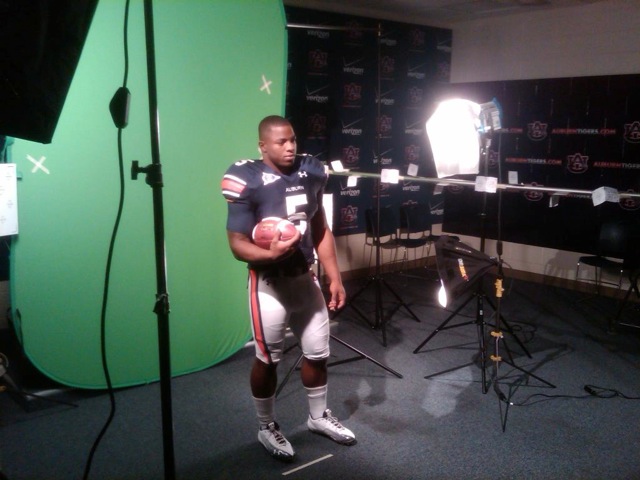 I thought this might be the case. I mean, it does somewhat look like his pants are just folded over or just got caught on something. But then someone sent me a link to a video from Auburn's team picture day. Here are a few screenshots. The change is real.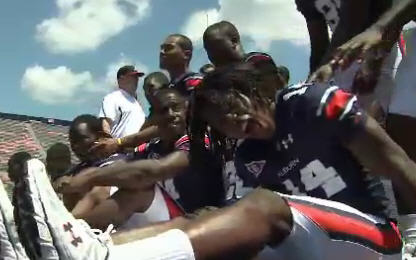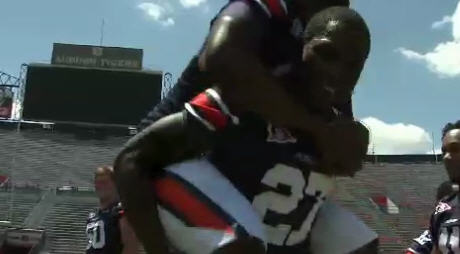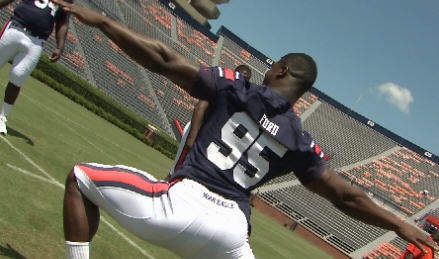 Alright, I'm going to try not to whine, but I don't like it. I'd rather have the white space stripes. I don't understand the whole coming to a point thing. And if I can get really technical, and I will, why doesn't the blue stripe continue all the way to the bottom. It literally makes it look unfinished.
Update: To me it looks like the white area where the stripe should continue is a different type of fabric. This could be the reason for the change.
Update #2: Thanks to a little digging by one of the commenters, Brian Johnson, we have somewhat of an explanation for some the changes from Under Armour:
The material used to make the new football jerseys and pants is more stretchy, so less fabric is needed, said Adam Clement, senior on-field designer for Under Armour. Also the numbers are an inch or two smaller. Combined, they cut the weight of the jerseys by 20 percent, he said.

The new stretchy material is a little harder to get on and off.

Linemen will get some help with pants that have openings that stretch more easily over knee braces, said John Holschuh, Under Armour's senior product manager. Before, teams cut pant legs to accommodate the bulky hardware. The pants also stretch more around the crotch so they don't slide down when players crouch, he said.

Under Armour is breaking out a new belt buckle, replacing metal double D-shaped rings with a composite plastic clasp similar to that used on its backpacks that slips less and is lighter.
Oh well, they're just pants. What do you think?
Thanks to @JoshuaBBlack for the initial heads up.