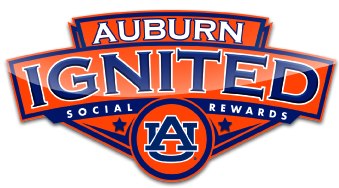 For the past two seasons, I've watched Auburn students earn prizes from racking up reward points by attending Auburn sporting events. I always wondered if I would get the chance. Today, that dream came alive.
Auburn has announced a new and improved version of the Auburn Ignited rewards program that has been opened up to fans as well. All you need is a Twitter, Facebook, and/or Foursquare account to start earning points to get signed footballs, jerseys, Under Armour gear, etc. It doesn't just stop at check-ins at events, though. Once you've joined, you can also earn points by using social media.
With the new Auburn Ignited program, points can be earned for:
Checking in at Auburn events on Foursquare
Retweeting the @AUAthletics twitter account
Sharing a message or liking a post from the Auburn Athletics Official Facebook page
Submiting an accepted photo on CrowdCameo at home football, men's basketball, women's basketball, and gymnastics events
Posting a tweet using an accepted hashtag (#auburn, #wareagle, #WDE)
Inviting a friend to join the program
Scanning in at events using an Auburn Ignited card (Students only)
Each semester the top five point leaders will become exclusive members of the AU Social Club, who will treated to an elite hospitality event at Auburn. So hop on over there and join, and try to get more points than me. You won't. I've been doing all of this since I was a Baby Blogle.