Let's see, last week it was the 'War Eagle' and the two stars that were spotted on the replica jerseys in Auburn's bookstores. A few months ago it was the 'War Eagle' on the belt line of the back of the pants that was spotted in the EA Sports NCAA 12 preview. I come to tell you today that all are real, and all are on Auburn's uniforms this year.
When I attended Fan Day yesterday (post later), I made a point to check out the jerseys on the players, and sure enough, the 'War Eagle' and stars were there. I didn't get a picture for fear of looking like I was taking a snapshot of their package, but I promise you they were there. No big deal, unless there is some major holding going on and a shirt tail gets untucked, you'll never see either.
Today, a picture has surfaced that seems to have been taken by freshman defensive tackle, and self-proclaimed Nick Fairley replacement, Gabe Wright. You will plainly see the 'War Eagle' on the belt line. It doesn't have the "bulging" effect like the NCAA 12 picture shows, but it looks like EA Sports wasn't just messing with us. Seeing it in this picture, I have no problem with it.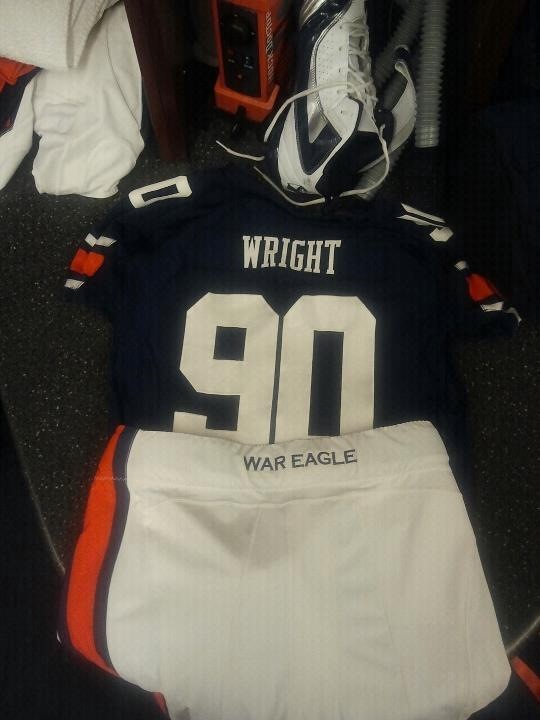 One other thing you may notice is the size of the last name. It's pretty dang small (as I tweeted yesterday), don't you think? Unless you sit on the first few rows of Jordan-Hare, you might want to start memorizing numbers. It doesn't look like the names will be helping any. This is also not a big deal. At least the numbers aren't tiny like they are in the video game.
Update #1: As a few of my tweeps have noticed, the pant stripes have not been changed as Under Armour may have suggested they would be.
Update #1.1: That is not entirely true. More on that soon.
Update #2: Last week I emailed Under Armour about the stars and asked if they did actually represent Auburn's two national championships. They responded just after I posted this. I knew they were 'Blogle readers.
Thank you for your patience. As you suspected, the stars on the Auburn Jersey represent the Auburn championships, so the newest jerseys have two embroidered stars. The stars will appear on the actual team jerseys, as well as the replicas.
There you have it. Two championships. Two stars. Soccer style.
Picture thanks to many.