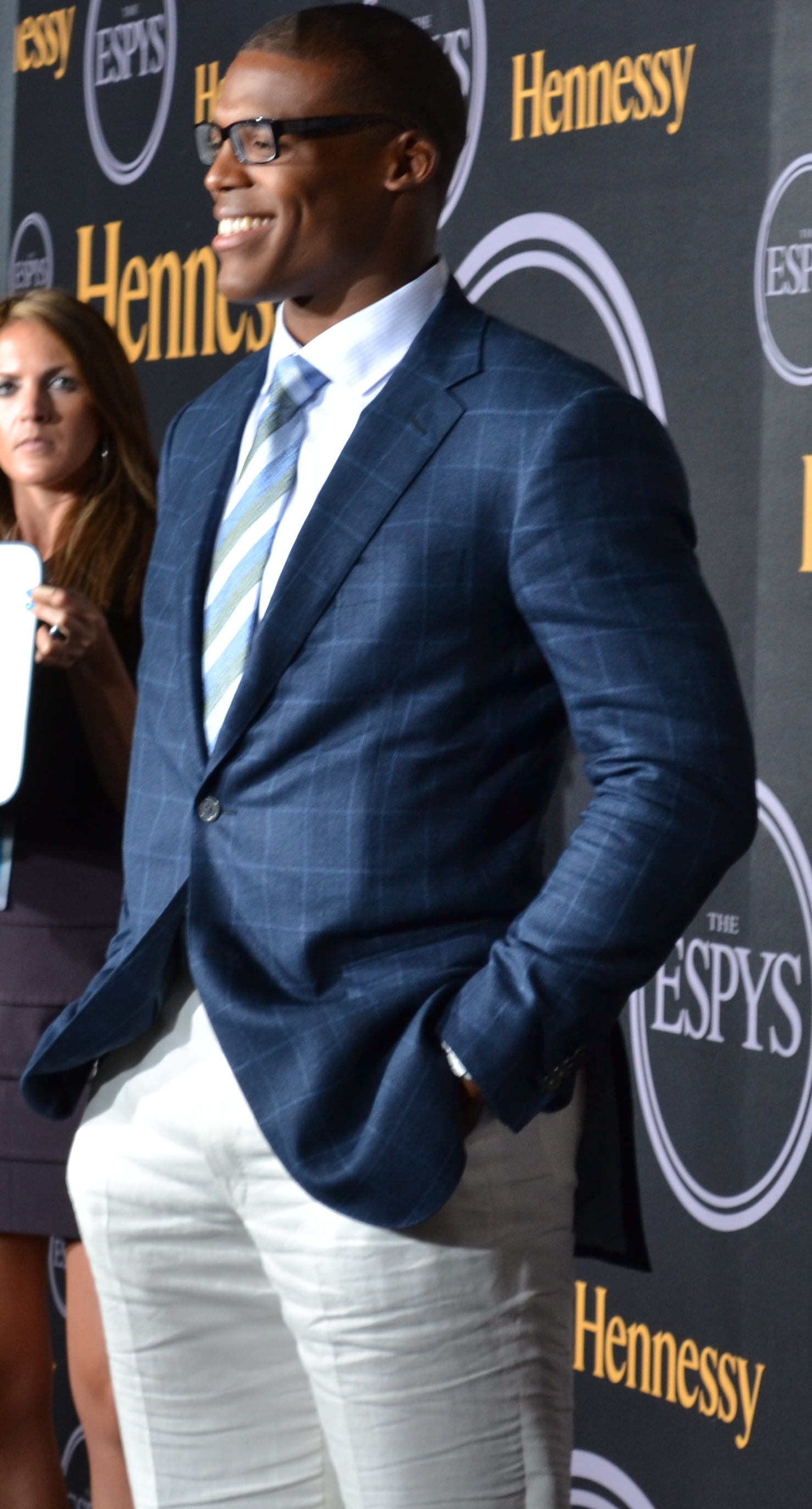 As I'm sure you know by now, thanks to a shot in the dark tweet and some very generous donations, I was invited and able to cover the 2011 ESPYs in Los Angeles last week. The night before the show (last Tuesday), most to all of the presenters, nominees, and other big names in the sports and entertainment world attended the ESPYs pre-party at Spot 5750 in Hollywood.
There was a short red carpet (actually black) outside the entrance where most of those in attendance (list) would stop for pictures and interviews. Being a 'Blogler and only that, it took me a while to warm-up and get the courage to shove myself into a spot and ask someone for an interview, but I eventually mustered up the courage to do so. I wanted to keep all of my questions Auburn-related because that's all you really care about, but because of that, I was limited in who I let myself talk to.
My first interview was with Stephen A. Smith, followed by Warren Moon, followed by a valiant attempt at Cam Newton. I got one quick message from him, but he was whisked down the line (you'll notice a theme with that in later posts), where he eventually stopped at Vibe Magazine. I did get that whole interview on video (below) as well as another quick exchange with another media outlet.
After everyone was inside, thanks to Keri Potts of ESPN, who set this whole thing up for me, I was able to go inside as well. Here's the ticket: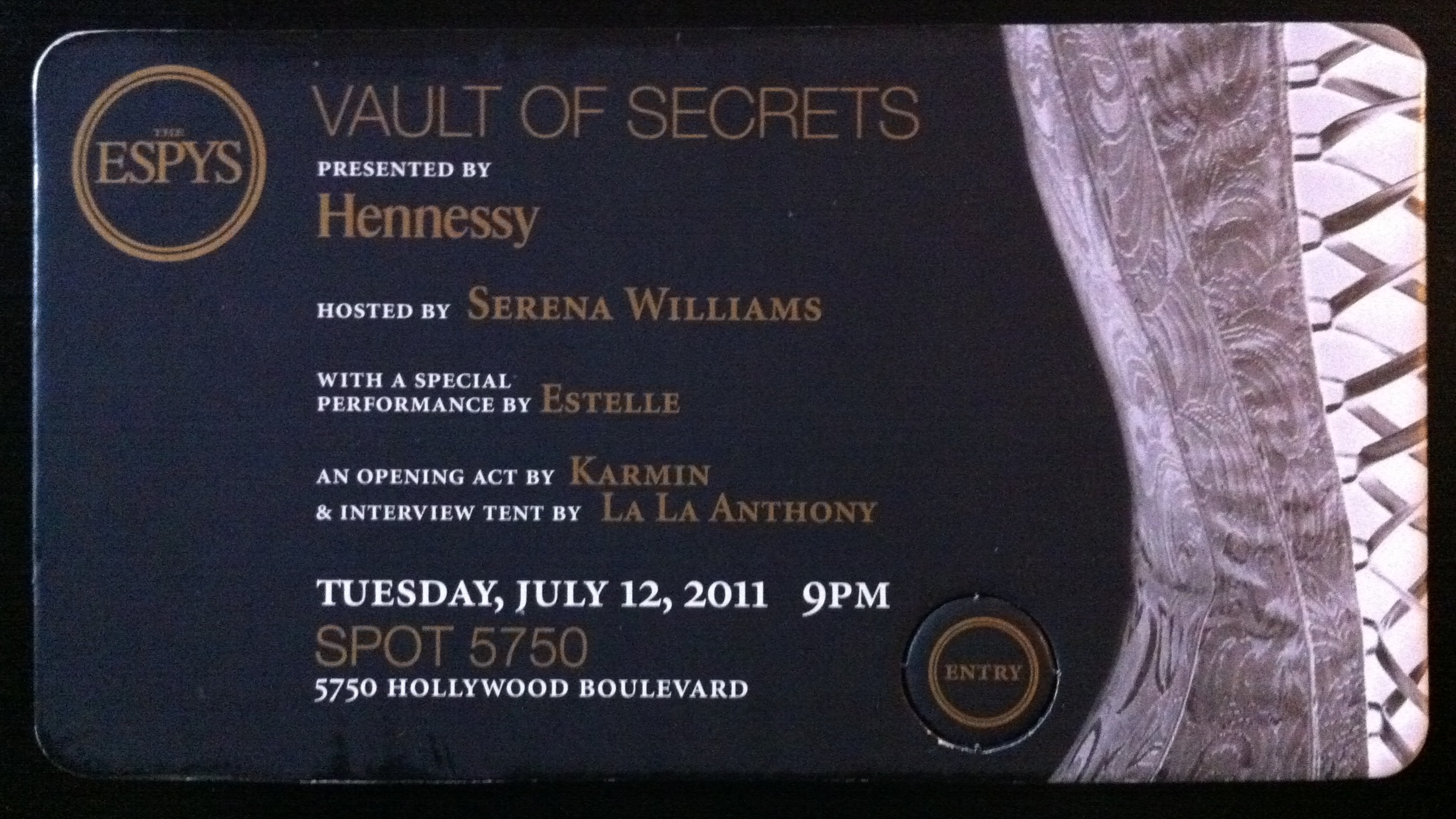 Once inside, it was just like any loud club, except in this club I wasn't accidentally bumping into some sloppy drunk dude. Instead, I was bumping into Dirk, Tebow, Serena, and at one point former Auburn basketball player and native Brett Howell (I beat him in a golf tournament once), who was busy introducing himself to Cam.
A few minutes later, I noticed Cam just sitting on a bench by himself while everyone else around him was drinking up the free Hennessy and having a good time. I loved it. Everybody wants to think he's just some cocky playboy and here he was, the Heisman trophy winner just sitting down, hands crossed, looking all shy like he wasn't sure how to act at such a big time party. I took that moment to go tell him I was from Auburn and thanked him for a great season. He was very appreciative.
I have tons of little anecdotes like this one that I plan on putting in a lengthy post once I get the actual ESPYs Blogle done (hopefully tomorrow). It was definitely a crazy, fast, eye-opening trip and I have plenty of stories to share.
So go ahead, take a look at the video. It includes my interviews, a few shots of the carpet, and a little bit of the party. It was very dark and I wasn't exactly supposed to have a camera in there, so there wasn't too much good footage to use. Still take a look, though, it was definitely an interesting shindig.
Below is my best attempt at being paparazzi. It was tough manning a video camera and a still camera, but I did my best. Make sure you look at the one of Julio and Mark Ingram skipping out on the red carpet as they walked behind us. You know, they're big time.
Look for the actual ESPYs post tomorrow, and an 'everything else that happened on the trip' post in the next two days or so.